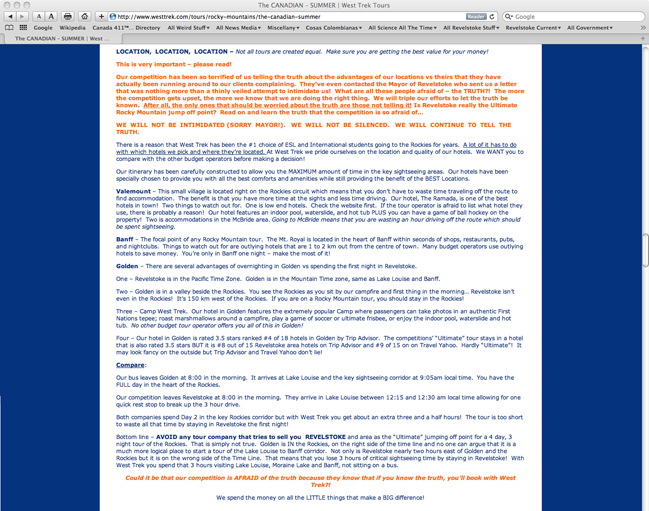 By David F. Rooney
Competition between two out-of-town tourism companies appears to have our city trapped in the crossfire after Mayor David Raven objected to one company's negative advertising calling on visitors to "AVOID REVELSTOKE."
"The City of Revelstoke spends a great deal of resources promoting and marketing our community as a tourism destination," Raven said in his letter to Jim Noonan of West Trek Tours Inc. "A large number of people in our community are dependent on the tourism industry for their livelihood. We do not appreciate a marketing from an external company that tells potential visitors that they should avoid our community."
Raven's letter infuriated Noonan, who wrote a six-page response and threatened retaliation. The company has now cancelled its winter bus block of more than 100 rooms at local hotels.
"Your Mayor jumped on his high horse without bothering to do any background checking, research, or look into the history of West Trek," Noonan told The Current. "But what really galled me was that in his first and only contact with West Trek he copied Pat Bell, Minister of Tourism, the Better Business Bureau of BC, Chris Dadson, Executive Director, Kootenay Rockies, Brydon Roe, President, Revelstoke Chamber of Commerce (and) Norm Langlois, President, Revelstoke Accommodation Association.
"The Minister or Tourism?! To us this was seen as nothing more than an attempt to intimidate us."
West Trek has retaliated by jerking at least 100 room bookings from local hotels for the winter season.
The original content, which was geographically challenged and has since been altered, said Revelstoke was "two hours east of Golden and on the wrong side of time line… that means you lose three hours of critical sightseeing time by staying in Revelstoke."
The new content says "there are several advantages of overnighting in Golden vs spending the first night in Revelstoke.
"One – Revelstoke is in the Pacific Time Zone.  Golden is in the Mountain Time Zone, same as Lake Louise and Banff.
"Two – Golden is in a valley beside the Rockies… Revelstoke isn't in the Rockies.  It's 150 km west of the Rockies.  If you are on a Rocky Mountain tour, you should stay in the Rockies."
Noonan said Raven should have tried to be "diplomatic" about the content of his website and suggested he is a pawn of Uniglobe. As a result, West Trek has cancelled its winter bus block of more than 100 rooms at local hotels.
The amazing thing about this tiff is that this situation is really all about competition between two out-of-town tour companies – West Trek and Uniglobe Specialty Travel.
Chamber of Commerce President Brydon Roe says he has never seen anything like it and is very concerned about the situation. He has spoken personally with Noonan and but says, "I got absolutely nowhere with him."
Roe said the mayor's letter was the right thing to do and suggested that West Trek's decision to suggest visitors avoid Revelstoke makes no sense.
Revelstoke Accommodation Association President Norm Langlois said he supports the mayor for writing his letter.
"God bless him for supporting us," he said, adding that he has called Noonan and is awaiting a reply.
In the meantime, he said West Trek has eased back on its commentary about Revelstoke but still maintains a fairly negative tone.
"I'd like to see them say more positive things about their destination and their services instead of all this… negativity," Langlois said.
In the meantime, you can read the mayor's original letter to Jim Noonan here and read Noonan's reply here.