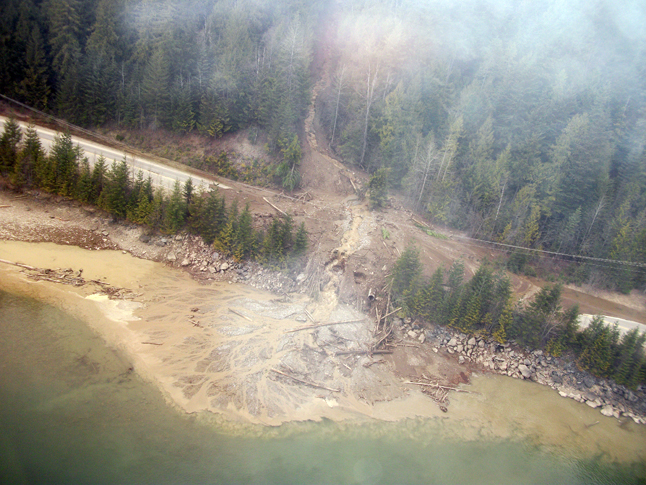 By David F. Rooney
Resources are being mobilized to eventually clear the slide that cut Westside Road on Monday night but "confidence remains low" the road will be reopened anytime today, Brian Mallett, director of Engineering and Public Works said this morning.
"It's an unstable area with a lot of water running through the ground," he said, adding that an initial examination of the site, located about 400 metres south of the Jordan River Bridge,  showed "material perched above the slide area that could come down at any time."
That chunk of mountainside is believed to be about 100 cubic metres in size.
Mallett said BC Hydro has found an excavator that is suitable for clearing the slide. It is expected to be onsite later today.
"BC Hydro has also been good enough to permit essential traffic — workers, Glacier House Resort guests and others — across the top of the dam," he said.
However, that traffic is extremely limited. While garbage is being collected here in town, the garbage trucks have been refused access to top of the dam and arrangements are currently being made to permit Revelstoke garb age trucks to dump their loads of trash at the Sicamous landfill.
Several people have also called Engineering and Public Works to complain that they have things they want to take to the dump and they don't want to wait. At least four of these callers have threatened to dump their trash illegally.
An update of the situation issued Wednesday afternoon said Westside Road will remain closed "to all traffic." Another update will be issued on Thursday morning. In the meantime, here is a selection of photos provided to The Current by the Department of Engineering and Public Works: