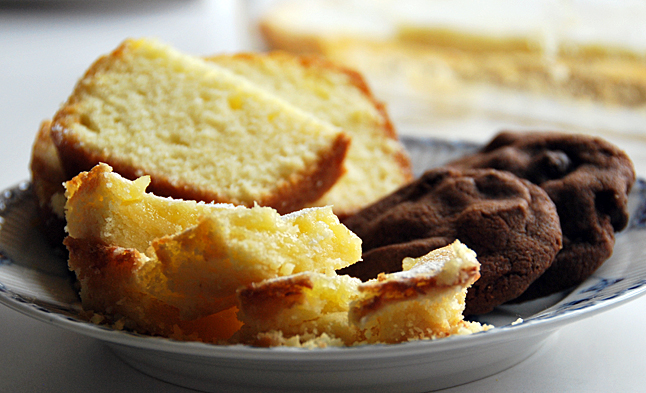 Lemon Squares
Chocolate Chocolate Chip Cookies
Orange-Glazed Pound Cake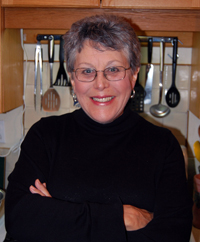 When I was a child growing up in Ottawa, dropping-in was commonplace. Among family and good friends, a drop-in was regarded with some pleasure — a sign of trust and good will, hospitality on tap regardless of timing. One family we knew, a fairly well-known Ottawa sculptor and his wife and four kids, dropped in, totally unannounced, several times a year, often staying not just for lunch but also for supper.
It was a less busy era. Parents were home more. Kids played street hockey or sandlot baseball, or went for a bike ride. We had a great deal more physical freedom than children do today, and our parents thus had more freedom from their offspring. "Go play outside," was a key phrase, and we did, even after school in January, when temperatures were minus zero Fahrenheit and it got dark at 4 pm. We slid down the hill on cardboard or toboggans until suppertime. In summer we had to be dragged in for dinner. On rainy days, we built canals and floated boats down the hillsides, and in the snow we made forts and had snowball fights rivaling military operations. So with the kids mostly out of the house, dropping in, for parents, wasn't the imposition it seems today.
All the same, you wanted Something in the House. Anything that would make a cup of tea seem like a special event. And Something meant something made at home. I grew up with vague guilt about store-bought cakes or cookies — offering these to a guest somehow implied a minor lapse not just in protocol but in morality. The 50s ideal of the home-maker was real: offering a "boughten" cake suggested a slatternly way of keeping house, as though one was just not up to the task of managing resources or time in quite the right way.
Context is all, and neighbourhood bakers were rare. Unlike European cities, Canadians put up with mass-produced "wonder" bread and cardboard pies made in a factory and sold in by the breadman in his wagon — pulled by horses! or later in grocery stores in paper wrappers. So homemade cookies, squares and cakes were much appreciated.
Visiting Ottawa, as I've been doing for the past two weeks, reminds me of all this. Also, of course, the fall my mother had that's occasioned my staying on longer than planned means she isn't very mobile in the kitchen. Having Something in the House falls this week to yours truly. So far I've made three batches of lemon squares, and for next week have added an orange-glazed pound cake and some chocolate cookies to the stash.
Seems a good time to share these family favorites with you. The chocolate cookies and lemon squares are from an 1987 Gourmet's Best Desserts book; the pound cake is one given years ago to my mother by her neighbour Lorna—a recipe I have used too for 30 years.  I wanted to add brownies, because everyone loves them, but you probably know as well as I do that the best brownie recipe is on the Fry's cocoa tin.
NB: You could add chopped walnuts, hazelnuts of pecans to either the pound cake or the chocolate cookies; I haven't done so because nuts are not these days kid-friendly, and because they're expensive. If you want to add them, try ¾ cup chopped walnut pieces, hazelnuts with skins rubbed off, or pecans. You could also add ¼ cup chopped toasted almonds to the pound cake on top for the glaze, for a touch of gustatory sophistication.
Orange-Glazed Pound Cake
Simple and foolproof, this keeps well refrigerated in waxed paper. It's also called Lorna's Lovely Lemon Loaf, when you use a lemon glaze.
Real pound cake is a pound of butter, a pound of flour, a pound of sugar. This version is less rich and less expensive, but baked in a loaf tin offers similar flavour and practicality.
½ cup butter
1 cup sugar
2 eggs
1 ½ cups flour
1 tsp baking powder
½ tsp salt
½ cup milk
1 orange – juice and zest
¼ cup sugar for glaze
Preheat the oven to 350F.
Prepare a 7" X 4" loaf pan by buttering it well and covering the bottom insides with a custom-cut piece of waxed paper, then butter the waxed paper and shake 1 tsp flour over the inside of the pan, tilting it back and forth to ensure a thin layer of flour coats the inside walls of the tin.
Cream the butter and sugar in a large bowl, and add the eggs. Beat well. Add dry
ingredients alternately with the milk. Mix well. Pour into the baking tin and bake at 350 F for 1 hour and ten minutes. (Seems like a long time but it's necessary.)
Mix the orange juice and zest with ¼ cup sugar and stir well until all the sugar is dissolved.
When the loaf comes out of the oven and is still warm, poke it with a skewer all over the top, and spoon the glaze over the top while the loaf is still in the pan. When it's cool, remove from the pan.
Chocolate chocolate-chip cookies
A soft, very chocolate cookie with chips or chocolate lumps. Delicious with coffee or as a dessert with a scoop of vanilla ice-cream. These are a bit delicate, so don't make them too big, and plan to store them in a solid container.
You can use either chocolate chips or chocolate chunks made from chopping solid chocolate (semi-sweet) into crumbs.
2 sticks (1 cup) softened but not melted butter
1 cup firmly packed brown sugar
½ cup white sugar
1 tsp vanilla
2 eggs at room temperature
2 ounces semi-sweet chocolate, melted
2 ounces unsweetened chocolate, melted
2 cups all-purpose flour
1 tsp salt
1 tsp baking soda
1 cup chocolate chips or chocolate chunks
In a big bowl, cream the butter, and add brown sugar, white sugar and then beat in the eggs and the vanilla. Melt the chocolate in the microwave, 20 seconds at a time, until it is soft, then stir it into the mixture (not the chips, the semi-sweet and the unsweetened chocolate.) The mixture will be quite runny. Stir in the flour, salt and baking soda and mix very well. Add the chocolate chips and stir. Let the mix sit for 10 minutes or so and it will firm up a little. You might put it in the fridge for 10 minutes if it seems too soft.
Rub a bit of paper with ¼ tsp butter on it over your cookie baking sheet, and place the cookies on it, shaping them with a spoon and your fingers into slightly flat balls about the size of a large strawberry. Bake for 15 minutes at 350F.
Lemon Squares
Make a pastry base, then add the lemon cream; when cooked, sprinkle with powdered sugar before cutting into fingers. I make this in a food processor, and it takes just minutes. Tangy and utterly lovely.
Preheat oven to 350F
Pastry Base
Put into the main bowl of a food processor
1 cup flour
¼ cup icing sugar
the grated rind of 1 lemon
1 stick (1/2 cup) of cold butter, cut into squares
Process for 1-2 minutes, until the whole thing masses into what will soon be a ball. Remove from bowl and put into an 8" square pan. Bake for 18 minutes.
Lemon cream
Without washing the food processor, put it back on the base and put into it
2 large eggs
1 cup white sugar
6 tbsp lemon juice (the juice of 1 ½ large or 2 small lemons),
2 tbsp flour
½ tsp baking powder
Whizz for about a minutes, until well blended.
When the pastry base is done, take it out of the oven and add the lemon cream, then return to the oven and bake for another 25 minutes.
Cool. Sprinkle with sifted icing sugar—about 2 tsp, through a fine sieve—and cut into fingers 2" X 1". Makes 32.