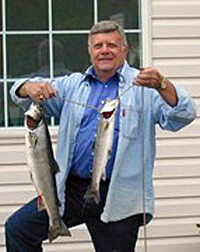 Bill passed away on May 7 with his wife by his side after a very strong and courageous battle with cancer.
Bill was born in Newburgh, New York. Bill served in the U.S. Navy for a few years then went to school and worked very hard at getting three degrees in Electrical Engineering.  Bill was proud of his accomplishment and went on to work for some very large companies such as NASA and Boeing.
Bill loved to travel and take short trips.  He was also very passionate about gold prospecting and got out every chance he could. Bill was also a very avid fisherman.
Bill is survived by his loving wife Geordie Fekishazy; two children, Bill (Laura) Fekishazy of Virginia and Sue Fekishazy of Florida; three step children David (Sheena) Fowlie of Summerland, Ashley (Justin) Buckmaster of Salmon Arm and Tiffany Fowlie of Revelstoke; three granddaughters: Megan and Ashley from Virginia and Brooke from Salmon Arm. Bill is also survived by his three brothers Donald, Terry and Tom and his beloved sister Sharon.
Bill will be greatly missed by his faithful four legged companion, Dakota.
By Bill's request there will be no service.