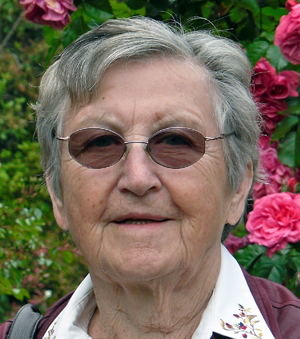 Catherine Berry (Kit to her family and many friends) died Wednesday April 27, 2011, in Queen Victoria hospital in Revelstoke. Born in Jancani, Yugoslavia on February 17, 1929, to John and Ana Bartolac, Kit came to Canada when she was 11 and grew up in the Kootenay region of British Columbia.
Kit met Valmore Berry (Val) while they were both working for CP Rail in Tadanac. They were married in 1949 and moved to Revelstoke in 1960 where they raised their family and lived until her passing.
Kit is predeceased by her parents and sister Mary and survived by her husband Val and her four sons Kenneth (Esther), Lee (Carole), Rick and Timothy (Charlene). She is also survived by five grandchildren; Jessica, Kristina, Melanie, Manda and Daniel, as well as one great grandson Oliver, whom she did not have the chance to meet.
Kit began working for CP Rail and after taking time out to raise a family, worked for many years in the Revelstoke Post Office. She was an avid gardener who loved to travel and often planned trips with friends.  Kit enjoyed skiing, golfing and curling, in which she actively participated until recently. She was a proud member of the Red Hat Society of Revelstoke.
A celebration of life for her family and many friends will be held at 2:00 PM Friday, May 6 at the Revelstoke Seniors Activity Centre at 603 Connaught Avenue. In lieu of flowers, donations may be made to the Revelstoke District Health Foundation, Box 2421 Revelstoke BC, V0E 2S0.
Messages of condolence may be sent to the family by visiting www.brandonbowersfuneralhome.com.