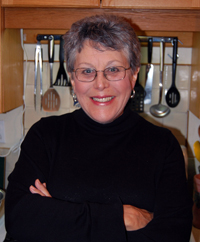 Moving day in Montreal was always May 31 — the day we all played musical apartments. Streets filled with U-HAULS, pickups, vans, baby carriages and wheelbarrows as the tenant population, which during my student-and-after years included me, searched for a slightly airier place, fewer stairs, a bathroom free of mold.  And moved.
In those days, the big KFC was the answer — the only time I allowed my kids to enjoy finger-lickin' good imported-from-the-USA fat-crunchy juicy-chicken treats. A single wing today would send me running.
This year, we are in Sarnia to help our son Adam and his wife Patty move into a new house on Huron Shores north of Sarnia, Ontario. It's not particularly remote, but the chaos of move-in day can make anywhere seem distant.
Moving house can also mean moving to the cottage, or taking up residence somewhere far not only from KFC but from the now-fave pizza delivery shop and 24-7 beer store. If this is the case for you, here are a few ideas to nourish your exhausted moving-house brain and shoulders when the crowd starts shouting about food and drink. If you're not moving farther than the Trout Lake campground, this dinner is an easy campfire one.
Plan and buy in advance, and equip a single cooler with enough grub for one lunch, dinner and breakfast. Be sure to include a thermos of tea or
coffee, and some munchies.
The challenge of moving day food is to make it filling enough, and good enough, to preclude taking everyone to a restaurant, which is always my own secret preferred option. But after a day shifting boxes and cleaning closets, you may be just too pooped for public appearance. And filling up totally on potato crisps will leave your crew depleted the next day.
In Sarnia, we were helped out enormously by the arrival — at the very moment I was about to break ranks and leave the site for coffee and Timbits, by the arrival of Friend Ian who drove in beside the Billie Box bearing gifts beyond measure: a box of coffee, muffins, doughnuts, chocolate-cranberry health bars,  and a raft of cardboard cups. Later that day, Linda and Ruth-Ann arrived with a lovely tray of cut-up fruit and yogurt dip. However, not everyone has such generous friends.
No prep, no cooking, no clean-up: the three cardinal rules of food on moving day. The kitchen may not get unpacked until late in the day or until tomorrow, so it's a good idea to take a cooler with you in the car.  Pack in this order
• ice. Make two blocks in yogurt containers two days ahead. Put the whole thing including lids into the cooler. Then when the ice melts it won't get absolutely everything wet.
• a package of frozen shrimp, large, peeled and deveined
• sour cream or spinach dip
• red peppers, bottled or deli-packed
• ready-made real bacon bits
• one Portobello mushroom for every three people, sliced and packaged beforehand
• deli meats — three kinds
• a box of cut-up celery, carrots, cherry tomatoes and other crudité veggies
your favorite cheeses—three kinds mean you can vary lunch and dinner choices
• a dozen hard-boiled eggs
• a container of sliced fresh tomatoes, not too ripe
• fresh fruit—anything not requiring cutting, peeling or washing: oranges, bananas, organic strawberries, or cut-up pineapple/melon mixtures
• a large baking potato for each crew member
• rolls: Kaiser rolls, very fresh, from Le Chalet Bakery are a good choice
mustard
• salsa or bruschetta topping
• small olive oil and balsamic vinegar
• natcho chips
• tin foil
• tea bags
Now roll in a clean dish towel, enough cutlery for each crew member, a sharp knife, a package of skewers and a salt shaker with the holes covered with plastic wrap and held in place with a rubber band. If there's room, also put in paper towels for use as clean-up, napkins and tear-wipers, toilet paper, and a kettle.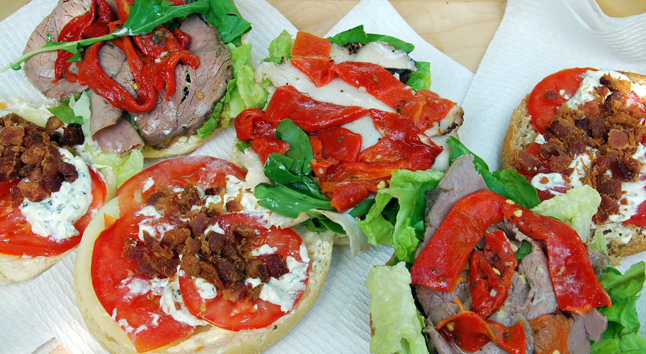 Lunch: bunwiches: Make sandwiches with meat, cheese, tomatoes and spinach dip. Serve wrapped in paper towel. Use the top of your cooler if needs be for an assembly table. Dessert: fresh fruit.
Dinner on moving day: broiled shrimp and baked potatoes
Remember, you may not have any kitchen equipment, and you may be far from Revelstoke Pizza, Emo's, Isabella's, Little Caesar's or Nomads. And miles from Subway. Pray that the power is on and that the stove works.
Baked potatoes
Pre-heat the oven to 400°. Bake the spuds for an hour or until easily pierced with a fork. Remove from oven. Cut each one in half. Put each half on a square of tin foil.
With a fork, mash into each potato half a little. Add a spoonful of spinach dip, one of bruschetta topping or salsa, turkey breast, roast beef or salami, according to diner preference — roll it and slice, a slice of mushroom, a good whack of your favorite cheese and a slice of red pepper. Sprinkle bacon bits over top. Lay each spud on a tray of tinfoil, and put them back under the broiler for no more than 5 minutes or until the cheese is melted and the whole thing smells really scrumptious. Serve on tinfoil with a fork.
Broiled shrimps
Soak the skewers, if they are wooden ones, in water for about 10 minutes. Open up each shrimp and skewer them sideways. Make a vinaigrette of the olive oil and the balsamic vinegar, and drizzle this on the shrimp. Put the skewers on a big square of tinfoil you make by tripling a piece 4 feet long. When the spuds are done, stick the prawns in the oven for about two minutes, or until they just turn pink. Serve one skewer to each person.
Fresh veggie crudités
Fresh fruit
Breakfast the day-after-the move
Hard-boiled eggs dipped in bacon bits, and fresh fruit. If anyone needs carbs, make sure you buy enough rolls, and slice the egg into a roll with some spinach dip, then top with bacon bits. Almost an omelette, for pete's sake.
For drinks
Bring pop and beer, and when they run out, boil water in a pot for billie-bung tea — black and unsweetened is thirst quenching.