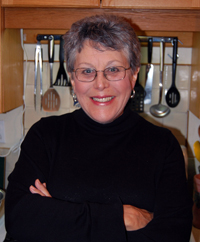 Among the pleasures of visiting my parents recently was discovering three generations of Fannie Farmer, that 19th century cookbook writer whose Boston School of Cooking is long defunct but whose recipes live on as evidence of the practicality and essential simplicity of North American, as opposed to French or English, cooking.
The 1906 Fannie Farmer was my grandmother's. It's crumbling into gossamer shreds, the binding barely holding, edges torn, and pages fragile as brittle tissuae paper. You can easily see which recipes Nana preferred — the Lemon Pie page is especially tattered and bespattered. Also on the shelf were the 1959 Fannie Farmer's Boston School of Cooking Cookbook, and the brand new 2008 Fannie Farmer Cookbook edited by Marion Cunningham.
At the same time, I was reading Mrs. Woolf and her Servants, a history of domestic service in England as seen through the letters and writings of Virginia Woolf and her sister, Vanessa Bell. Fannie Farmer, running a cooking school in Boston and publishing her first book in 1895, illustrates the essential difference between early American and European cookery: the average American — and Canadian —housewife did not hire a cook. The Stevens (Virginia and Vanessa were daughters of  the writer Leslie Stephen), the Woolfs and the Bells had not just a cook but often other servants as well, and this book about them illustrates the moral quagmire of radical women of the English upper middle class in the early 20th century. How could they proclaim the rights of the masses and at the same time quibble, as they often and insistently did, about paying a decent wage to those who laboured as domestics in their households? Given that these households often lacked both running water and any sort of indoor plumbing, one can easily visualize the arduous nature of this work: carrying bathwater, emptying slop pails and pee pots, bringing in water for laundry. Cooks of course were at the top of the servant roster, deferring only to the butler and the chief housekeeper.
Such help was often, in North America, simply unavailable. In telling North American women how to kill and pluck a chicken, how to cook for the sickroom, and how to choose and prepare food that contained the most nourishment for the least cost, Fannie Farmer's cookery books embody a classlessness that didn't appear in English cookbooks until Elizabeth David went to the Med in the 1950s. Compared to the fancies of British cookery and recipes at the time, American cooking was simple and unfussy.
An example is Fannie's recipe for boiled asparagus. Asparagus is just coming into season in Ontario — some grows wild in my parents' garden — and it soon will be available locally in BC. One of my mum's favorite and best dinners is plain boiled asparagus, poached salmon and parsley potatoes. Hollandaise sauce is the usual companion, but given contemporary concerns about calories, a hearty squeeze of lemon may do just as well.
Asparagus comes in white or green, thick or thin. It's a good source of folic acid, rutin and B vitamins, has only about 4 calories per spear, little sodium and no fat. If you're concerned about the pee smell supposedly associated with asparagus," have a look at http://www.whfoods.com/genpage.php?tname=foodspice&dbid=12. It seems that asparagus contains a food element called purine, making it not a great choice in quantity for those suffering from gout. Otherwise, there is little to substantiate rumours of health issues associated with asparagus. The joke is one mainly purveyed by greens-haters and their adolescent boy humour, so far as I can see.
Broiled asparagus, cooked tender-crisp,  is all the rage these days — even on the BBQ. Best to use thin stalks and lots of oil and balsamic for this method of cooking. Personally, I prefer thick stalks boiled in water in a deep frypan or an asparagus steamer for about 7 minutes. Underdone asparagus lacks the silky meaty consistency that is to my mind the great pleasure of asparagus. Once it's cooked, remove the asparagus from the cooking water and plunge into a potful of cold water. Then drain.
By the way, the early version of Fannie Farmer, originally published in 1895, was reproduced by Little Brown & Co. in 1997, and can be purchased for as little as about $7.00 in a used version. Or you can order the 2008 one through Grizzly Books.
Asparagus with lemon quarters
The classic and simplest method of cooking fresh asparagus. Serve hot, cold or room temperature with lemon quarters. Or hollandaise sauce. Or the dill cream in the recipe below, flavoured possibly with tarragon or chervil rather than dill.
1 pound asparagus, fresh
1 lemon, quartered
Break the woody bits off the bottom of the asparagus stalks, and trim the ends evenly. If stalks are thick, peel the skin off the bottom 2 to 3 inches with a peeler. Bring a deep frying pan full of water to a boil and slip the asparagus stalks into the water. Cook for 6-7 minutes, depending on thickness of the stalks. Plunge stalks into cold water to stop cooking, and drain. Serve on a platter with lemon quarters.
Asparagus and Smoked Salmon with Dill Cream
Serves 4-6
This is one of the nicest salads I know for springtime. Don't prepare it ahead of time—you need to eat it almost as soon as the asparagus is cooked. Freshness is all, and the lovely dill cream is at once zingy and smooth.
1 lb asparagus
1/3  pound smoked salmon
1 cup whipping cream
2 tbsp white wine vinegar
1 tbsp lemon juice
zest of ½ lemon
1 tsp flaked salt
2 tbsp finely chopped dill
lettuce or arugula leaves
Make the sauce: mix cream, vinegar, lemon juice and zest, salt and dill in a small bowl. The cream will curdle after about one minute. This is intended. Mix it up with a small whisk or a fork until no lumps remain. Stir in the dill and the salt. Keep refrigerated until time to eat.
Cook the asparagus in boiling water for 7 minutes after peeling and de-stemming it of the woody ends. Drain and plunge into icy water. Drain again.
Compose the salad: wash and dry the lettuce or arugula; arrange about 3-4 slices of smoked salmon on top, and over this place 5-6 stalks of asparagus per plate. Drizzle the dill cream over top.
Asparagus with Cheese Sauce on Toast
Serves 4
I tried this on croissants, and it was delicious but the croissants burned on the edges before the cheese was browned. You can use your own favorite cheese sauce recipe — this one is from Fannie Farmer but uses grainy mustard and a teaspoon of red pepper flakes for extra flavour.
½ pound asparagus
sourdough toast, 1 piece per person
2 tbsp butter
2 tbsp flour
¾ cup milk
½ cup grated cheddar or cheddar plus mozzarella mix
1 tsp grainy mustard
1 tsp red pepper flakes
Make the cheese sauce:
Melt the butter in a small saucepan. Add the flour, stirring into a paste. Add the milk, a little bit at a time, stirring all the time to prevent lumps.  Use a whisk to ensure a smooth mixture. When all the milk is added and no lumps remain, add the grated cheese, mustard and pepper flakes, and keep stirring. Remove from heat and reserve until the asparagus is cooked and the bread toasted.
Cook the asparagus in boiling water for 7 minutes, Drain thoroughly.
Make the toast.
Assembly: place toast on a flat baking tray, butter it; add 5-6 spears asparagus, and top with a good dollop of cheese sauce. Broil under hot broiler for 4-10 minutes (depends on the heat of your broiler), placed near the top of the oven, until cheese browns.