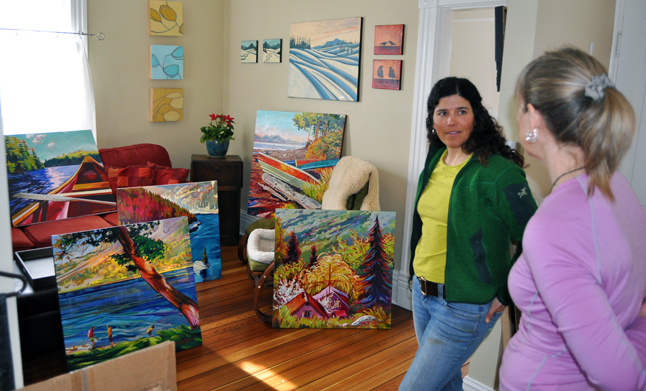 By David F. Rooney
There has been a major change at Tina Lindegaard's Begbie Studios. It has gone from being simply a venue for showing artists' work to a home-based art gallery, with its first new show scheduled for April 30.
The Flow of Summer is a lovely exhibition of paintings by Rossland painter Stephanie Gauvin.
Her brilliant acrylic on canvas works embrace summer scenes from Quebec across the country to Alberta and British Columbia.
"There great energy in these works," Lindegaard said as she took delivery of the paintings from Gauvin on Saturday.
For Lindegaard, the show marks the true debut of Begbie Studios as a home-based gallery.
Although she opened Begbie Studios last year as a venue for viewing artists' work, she couldn't sell them.
"At the end of the day I now have a business licence," she said.
And that means that now you cannot only go to Begbie Studios, located in the ground floor of Lindegaard's home at 721 Fourth Street East, and view fine works of art but purchase them as well.
For more information about Begbie Studios call 250-814-9798 or send her an e-mail at holatina@hotmail.com.