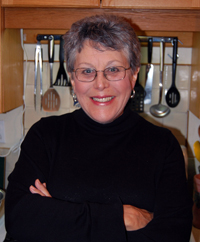 When I was a university student, my friend Donna invited her boyfriend and a prof to Easter dinner. Donna had never cooked a bird. We all gave advice, including the notion that if you wrap the turkey in foil, it will stay moist. Come the day, Donna found she had no tinfoil. Never mind, she thought, Saran Wrap will do. She bound the turkey tightly in several layers of Saran and put it in the oven. Four hours later, she had a nicely browned and shiny bird—encased in an impenetrable shield of clear plastic.
A note about turkey
Turkey has become a holiday staple in North America. Delicious, nutritious and versatile, turkey can extend to unexpected guests. Cooking time is about 22 minutes per pound of bird, at 325 F. The website of Turkey Farmers of Canada <http://www.turkeyfarmersofcanada.ca> offers a nifty calculator showing how much turkey to buy and how much stuffing you'll need, as well as cooking charts for stuffed or unstuffed birds of varying sizes. They recommend using an oven thermometer to ensure the internal temperature of the bird is 170 Fahrenheit in the breast and 180 Fahrenheit in the thigh area.
| | | | |
| --- | --- | --- | --- |
| Number of people | 6-8 | 10-14 | 15+ |
| Turkey weight | 8 lbs | 13-15 lbs | 16-20 lbs |
| Roasting time / 325F | 3 ¼ – ¾ hours | 3 ¾- 4  hours | 4-5 hours |
| Stuffing quantity | 6 cups | 9 cups | 12 cups |
If you want leftovers, add more weight, or see the Turkey Farmers' web site.
What if you run out of time and the bird isn't done? Crank the oven up to 400F, but cover the tender breast meat and skin with tinfoil.
If your turkey is frozen, thaw it but keep cold. It will take 2-3 days to thaw a turkey. It's imperative that you cook it the day after it thaws, and keep it in the refrigerator between thawing and roasting.
Wash the turkey in lukewarm water. Check for any unplucked pinfeathers, especially around the wings, legs and back. Pull them out with tweezers or pliers if they don't come easily with your fingers. Wash inside the cavities as well, then sprinkle insides with salt.
SERVING A LARGE FLIGHTLESS BIRD
A survey of friends this week showed that in the past, most of us served the bird on a platter, brought to the table to be admired by all, and carved by a senior male family member. These days, it seems to be more usual to carve the bird in the kitchen and present a plattered arrangement to diners who help themselves. Some people love the wingtips and the pope's nose, some can't abide either, and this way everyone chooses their own favorites. If you slice the skin into crispy strips, the way the Chinese do for Peking Duck, it's more likely to be eaten—as it should be, slathered with all that lovely butter and oregano.
The kitchen is now more of a gathering place than in the past, so the oohs and aahs and compliments to the cook can be done as everyone gathers around the counter—often an island.
Buffet style dining means that dinner tends to be warm when you eat it, which in the old style of carving à table rarely happened, what with plates passed from one end of the table to the other and the kids not daring to ask for seconds until dad or grandpa had at least sat down from the carving chore. If you have a hot tray—an electric heated trivet—so much the better. Somewhere in my collection is a vegetable serving dish that plugs in to keep the potatoes hot. Warm plates help, though I rarely manage to make space in the oven to do this.
Turkey with Fennel and Lemon-Glazed Pecan Fresh Bread Stuffing
Our children loathed sage, thyme and anything mushy in stuffing, so over the years I developed a fresh bread stuffing that is fairly mild but still flavourful; the pan-cooked version is crisp rather than soft. A traditional version of this would use sausage and add raisins or apples. If you halve the lemon, it will be even more traditional, though all but one of my guinea pig diners liked the lemon tang. The secret is fresh bread cubes, and the better the bread, the better the stuffing.
4 slices bacon, chopped into small dice
1 baguette loaf
2 bulbs fennel
1 large onion
1 tbsp olive oil
¼ cup butter
salt, pepper
½ cup chopped flat-leaf parsley
juice of 1 lemon
To glaze pecans
1 egg white
1 ½ cups pecans
2 tsp lemon zest
2 tbsp sugar
1 tsp basil citrus salt
Heat oven to 325F.
Line a rimmed cookie sheet with parchment paper.
In a bowl, beat half an egg white until frothy. Add the lemon zest, salt and sugar, stir, then add the pecans. Sieve to remove excess egg white. Spread the nuts on the parchment paper and bake for 15 minutes. Cool completely.
Slice the baguette and quarter each slice. Using the same parchment paper, toast the slices in a 325F oven
for 15 minutes or until crisp.
STUFFING
Dice the bacon, onion and the fennel, and sauté in the olive oil. When well cooked and beginning to brown, deglaze the pan with the lemon juice. Add the butter and the toasted bread. Stir. Add freshly ground pepper. Remove from heat and add the pecans and the parsley. Stir, taste, adjust seasoning. (Usually the bacon contains enough salt but tastes vary.)
You'll have leftover dressing after you stuff the turkey. Cook this for 40 minutes in the oven once the turkey is out, in a 9" X 9" baking pan covered loosely with thick tin foil.
OREGANO RUB
Mix ¼ cup soft butter with 2 tsp oregano, 1 tbsp lemon zest and 1 tsp salt plus ½ tsp black pepper.
PREP THE TURKEY WITH THE RUB
Wash turkey well inside and out in lukewarm water. If you must delay stuffing and roasting, fill the cavities with ice cubes and put the turkey in the fridge or in a bath of ice water. Before stuffing, drain well and dry with paper towel or an old clean dishcloth. Salt insides.  Reserve giblets for gravy stock. (Simmer them in 1 cup water for 30 minutes.)
To apply the rub, lift up the skin on the turkey from the cavities (you may have to cut with a small knife, sharp side away from skin) and slide your fingers under the skin, pressing down on the meat to gently loosen the connective tissue between skin and meat. Then scoop some of the rub in your fingers and massage it into the meat from the thigh right up to the top of the breasts, on each side of the turkey.
STUFF the TURKEY
Gently spoon into both cavities enough stuffing to just fill the bird. Overstuffing results in a messy-looking bird. Close the seams with  string on a needle or with short metal skewers. Truss the bird to keep it neat: take a piece of cotton string about a meter long. Tie one end to the end of the leg. Wrap the string around the bird diagonally, end to end, tucking the wings under and ending up with the second leg.
PAINT WITH BUTTER OR OIL
To ensure a golden glaze on the skin, melt 2 tbsp butter (nuke butter for 20 seconds) and paint it all over the skin using a pastry brush. Grind some pepper over the top, and a sprinkle of coarse salt. (White pepper avoids the little dark spots, if they bother you as they did Julia Child.)
ROAST AND BASTE TURKEY
Sit turkey on a rack in roasting pan at least 2" deep.
Roast at 325 F for  22 minutes per pound, basting every 20 minutes with pan juices. Use a meat thermometer to check temperatures: 170 F in breast and 180 F in breast are temperatures recommended. Stuffing should register 165 F. When done, remove from oven and let sit ½ hour before carving, covered with tin foil.
GRAVY
Remove turkey and grill from roasting pan. Use the baster to remove excess fat. Stir in 1 heaping tbsp flour, and whisk into the juices over low heat. Add the broth reserved from cooking the giblets, and add 1 dry cup red wine. Stir all the time with whisk or wooden spoon until perfectly smooth. Add salt and pepper to taste – about 1 tsp each.
Additions to the gravy: add any or all of these, if you think your guests will like them:
• 1 cup mushrooms, sautéd ahead of time until crisp in butter
• the giblets, diced into mince (2 mm cubes)
• 1 tbsp each parsley and thyme, finely minced
• ½ cup finely diced onion and celery
Or add nothing, and strain the gravy for a very smooth sauce. (I like it with pan bits in it, but some prefer a velouté—very smooth sauce.)
A tbsp of brandy at the very end adds that je ne sais quoi, but personally I'm pretty much beyond managing it at this point, and just want to get the bird to the table while everything is hot.