By David F. Rooney
Ready or not, here they come: five candidates for election to the House of Commons on May 2.
The four men and one woman seeking your votes have varying degrees of experience but in the weeks to come they will all do their best to convince you — the electorate — that they deserve your votes.
So who are these people?
David Wilks is the Conservative Party of Canada candidate. A former Mountie, he is mayor of Sparwood in the Elk Valley. He wants a strong economy, low taxes, a well-financed armed forces, accessible health care and legislation that is tough on crime.
As the party's candidate to succeed popular MP Jim Abbott, Wilks is generally considered the man to beat. You can find out more about Wilks at his Facebook page.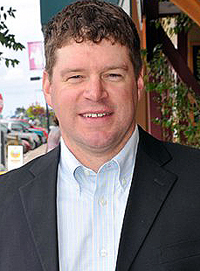 Mark Shmigelsky is the New Democratic Party of Canada candidate. Young, articulate and politically savvy, Shmigelsky was a three-term mayor of Invermere. He owns a small dust-control business and works at the Tembec mill in Canal Flats. He is environmentally aware, supports measures to overhaul the inadequate Employment Insurance system, as well as better supports for resource-sector workers. You can out more about Shmigelsky at his Facebook page and his campaign website.
Betty Aitchison is the Liberal Party of Canada candidate. This is Aitchison's second campaign, having run in the 2008 general election. A long-time organizer for the Liberals in Kootenay Columbia, Aitchison believes Liberal leader Michael Ignatieff's commitment to improving education and women's rights will resonate with voters in Kootenay Columbia who are tired of being subjected to hot-button politics. She believes passionately that voters in Kootenay Columbia should be interested in this campaign, its outcome and what that means for the future. While there is not much on it now you should eventually be able to find out more about Aitchison at her Facebook page.
William Green is the Green Party of Canada candidate. A biologist, Green is the founding director of the Canadian Columbia River Inter-tribal Fisheries Commission. You can find out more about Green at his page on the Green Party website.
Brent Bush is the lone independent in this campaign, but no one should write him off because of that. Bush has more experience on federal campaigns than any of the other candidates, having run against Jim Abbott as the NDP candidate in 2004 and 2006, coming in second place both times. A postal worker who also serves on Kimberley City Council Bush is disillusioned with the mainstream parties' tendency to straightjacket candidates by insisting they parrot the party line. He is presenting himself as an environmentally aware candidate who believes that, in this riding, the upcoming renegotiation of the Columbia River Treaty should be a major issue. You can find out more about Bush at his Facebook page.
As tiresome as it may seem, this election campaign (the fourth in seven years) is important. If you profess not to care about politics and don't vote, don't be surprised if you don't like the outcome of the election.
Local residents in Revelstoke who do believe that voting is important are attempting to raise public awareness through the Revelstoke Votes 2011 Facebook group. Check it out, inform yourself and… please vote.