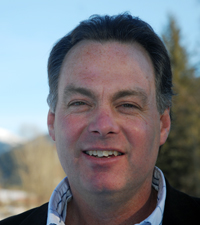 My job as your MLA is to represent your views in the Legislature in Victoria.  You tell me what is important to you, and I do my best to put forward those priorities.  This is an important part of ensuring that our democracy is functioning.  You need to have faith that your MLA is working for you.
But the most important part of a functioning democracy is the active participation of citizens.  As we've seen across the world, people are standing up to governments that are not listening and demanding that they be heard.
In British Columbia, there have been a number of examples of citizens getting active and sending a clear message to government.
Locally, residents have been really clear that they oppose private river-diversion projects.  In the Columbia Valley, for instance, the consistent and vocal opposition to the Glacier Howser project has made it very difficult for the company and the government to proceed.
And across the province, 700,000 British Columbians signed a petition against the HST which was implemented against the wishes of the people.  In fact, it was the BC Liberals' insistence that they would not bring in the HST, and their betrayal of that promise immediately after the election, that upset British Columbians the most.
Over the next number of months, British Columbians will have many opportunities to send a message to their political representatives.  There is the federal election on May 2nd, the referendum on the HST which begins in June, and likely a provincial election in the fall.
If we do nothing else as citizens, we all have a responsibility to vote.  You can also volunteer on an election campaign, attend all candidates' meetings, and ask the candidates tough questions.
Ultimately, you make the decision about who is in charge.  Make sure your choice puts the public interest, both for the present and the future, at the top of the agenda.
Norm Macdonald is the New Democratic MLA for  Columbia River – Revelstoke. You can reach him toll free at 1-866-870-4188 or at 250-344-4816. You can also contact him through his website at  www.NormMacdonald.ca.