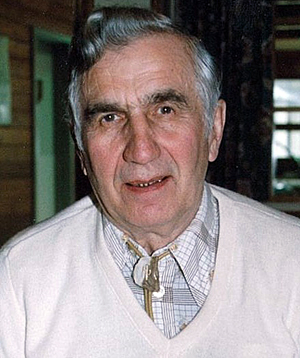 Mr. Walter Koronko passed away peacefully at Queen Victoria Hospital, Revelstoke on Wednesday, April 13th, 2011 at the age of 89 years.  A Funeral Service will be held at the Revelstoke 7th Day Adventist Church on Wednesday afternoon, April 20th at 1:30 p.m. with Pastor Frank Johnson officiating.  In lieu of flowers, memorial contributions may be made to the charity of one's choice, in memory of Walter.
Walter was born on February 16, 1922 in Perdue, Saskatchewan, and had been a resident of Revelstoke since 1945.  He enjoyed playing baseball and hockey here in Revelstoke and liked to go fishing and hunting.  Walter could also be found at Tim Hortons on most mornings.  He made friends easily.  Walter worked for C.P. Rail as a Switchman in the yard for 28 years before going to work on his own.  He opened the first car wash in Revelstoke in the summer of 1967.  He sold cars from the house for many years, even up until the time of his death.  Walter owned a number of backhoes, loaders, uniloaders and a dump truck.  He worked with many of the companies in town –  B.C. Hydro, Parks Canada and the City of Revelstoke, along with anyone else that needed his services – doing the work he was required to do for them, until he decided to retire and sell his business.
Walter was predeceased by his wife Dorothy in 1987, daughter Kellie in 1960 and second wife Vera in 1997, brothers Richard, Bill, Nick and Peter and sisters Mary and Anne.  He is survived by his son Dan of Revelstoke, brother George of Lacombe, Alberta as well as numerous nieces and nephews.
Messages of condolence may be sent to the family by visiting www.brandonbowersfuneralhome.com.
Arrangements are in the care of Brandon Bowers Funeral Home, Revelstoke.