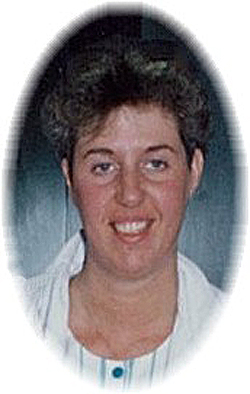 Janet Elizabeth Lenzi passed away in the Kelowna General Hospital on Wednesday, April 13th, 2011 at the age of 52 years.
A Celebration of Janet's Life will be held at the Revelstoke Community Center on Tuesday afternoon, April 19th, at 2:00 p.m. with family and friends officiating.  In lieu of flowers, memorial contributions may be made to the Heart & Stroke Foundation, 201 – 635 Victoria Street, Kamloops, B.C. V2C 2B3, or the Canadian Cancer Society, 1633 Pandosy Street, Kelowna, B.C. V1Y 1P6, in memory of Janet.
Janet was born in Summerland on April 12, 1959 and had been a resident of Revelstoke since 1988.  She enjoyed figure skating, golfing and playing Bridge.  Janet especially enjoyed travelling with her mom.  She also liked to read and watch TV.
Janet was predeceased by her parents Renzo and Elizabeth; her brothers Tom in 1999, Rob in 2007 and Joe in 2010; and her sister-in-law Doreen in 2006.  She is survived by one brother, Ray (Paulette) of Heffley Creek, B.C.; sisters-in-law- Ellen Lenzi and Jan Pearson both of Revelstoke; nephews: Todd (Tanya), Clinton (Jennifer), Trevor (Michelle) and Jeff (Sarah) and niece Tanya (Justin); seven great nephews and niece Abbi Vigue and nephew Cole Vigue as well as good friends Rena (Dave) Chuback and girls of Summerland.
Online condolences may be made by visiting www.brandonbowersfuneralhome.com.
Cremation with arrangements in the care of Brandon Bowers Funeral Home, Revelstoke.
The family would like to send a big thank you to Pat Dillman and the Homecare Ladies for their excellent care of Janet.