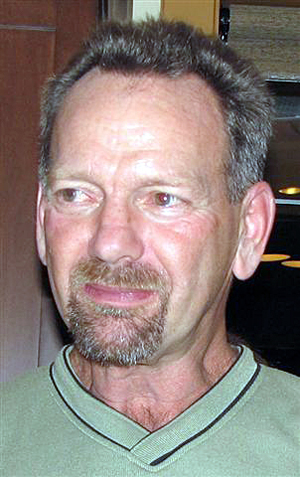 It is with great sadness that we announce the sudden passing of our dear father, son, grandfather, brother and friend Jim Buhler on Sunday April 10, 2011, in Kelowna, B.C.  Jim was born in Provost, Alberta, on September 15, 1947. His father's vocation as an evangelistic preacher moved the family to the towns of Herbert, Saskatchewan; Winnipeg, Manitoba; Nipiwan, Saskatchewan; and Banff, Alberta.  Jim started his career in construction in Manitoba, settling and marrying in Thompson where son Tim was born. The family eventually moved to Revelstoke, B.C. where daughter Tammy was born.  Jim worked throughout the province on various construction jobs, including working as a partner in a family business, for Braniff Construction and for the last 27 years with Vic Van Isle Construction.  Jim was a dedicated employee who always went above and beyond what was required, earning both the respect and life long friendship of many of his fellow co workers, and his employers.
Jim loved life and lived it to the fullest. He was a talented athlete who especially enjoyed golfing, fishing, horseshoes and bowling. He was the B.C. Bowling Champion in 1986, representing the province in the Canadian championship.  But Jim's greatest attributes were those he demonstrated throughout his life to his family and friends. He was kind, loyal, funny, generous, and someone you could count on to be there for you no matter what the circumstances. Jim touched numerous lives, and his absence will be felt for many years to come.
Jim is predeceased by his father Dan and his sister Grace. He will be forever missed by his mother Ann of Langley, B.C.; daughter Tammy Galloway (Scott) of Estevan, Saskatchwen; son Tim (Nicolle) of Newton, Kansas; former wife Carolyn Buhler of Hutchinson, Kansas; brother Ron (Sue) of Dauphin, Manitoba; brother Art (Bev) of Thompson, Manitoba; sister Lois Kostianos of Hong Kong; brother Milton (Sarah) of Langley, B.C.; brother Philip (Sharon) of North Vancouver, B.C.; grandchildren Christian James of Estevan, Saskatchewan and Jordyn Rachel, Holly Danielle, and Caleb Richard of Newton, Kansas; numerous nieces and nephews; special friend Brenda Dean of Salmon Arm, B.C.; and many many friends.
A Memorial Service will be held on Monday April 18th at 4pm at the Springfield Funeral Home. A reception will follow the service.  In lieu of flowers the family asks that donations be made in Jim's memory to the Heart and Stroke Foundation. Condolences may be sent to the family by visiting www.springfieldfuneralhome.com.