By David F. Rooney
If you've been walking on the flats south of the airport you'd undoubtedly come up against a low fence around a clearly-staked area of land that cuts the main trail.
No doubt you've been mystified and perhaps a little miffed at having to find a way around the barrier.
Here's what it is: a new site for the airport's remote weather station.
"NAV CANADA is relocating their Remote Weather Station from its current location within the active portion of the airport to the location alongside the runway," says Loni Parker, director for Area B of the Columbia Shuswap Regional District.
"This will allow them to gather more accurate information and releases their large tenured area nearer the terminal for airport related use."
NAV CANADA describes itself as "the country's civil air navigation services provider, is a private sector, non-share capital corporation financed through publicly-traded debt. With operations coast to coast to coast, NAV CANADA provides air traffic control, flight information, weather briefings, aeronautical information services, airport advisory services and electronic aids to navigation."
Parker said the Automated Weather Observation System will include a wind tower, ceilometer (A ceilometer is a device that uses a laser or other light source to determine the height of a cloud base. Ceilometers can also be used to measure the aerosol concentration within the atmosphere.), weather gauges and cameras. The new location will also allow for the altimeter readings that are necessary for certification of the airport in the near future.
The Ministry of Environment, BC Hydro, Nav Canada, and Airport Management were involved in site selection.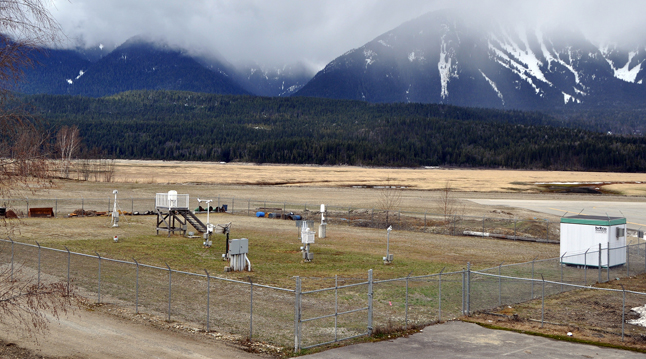 "It is unfortunate that the site will block pedestrian access but after taking the many interests into account it was decided that this was the best location for the station," Parker said, adding that the compound will be fenced for security.
The site is located on CSRD-owned land — not Crown land or a public park — and while the regional district has "all along weighed public concerns," it based its decision on "the greater public good,"  she said.
"The CSRD has been working towards getting the airport certified for Instrument Flight Rules (IFR)," she said. "This will allow for more reliable all-weather access to the airport. All types of aviation will benefit from the certification.
"Currently air traffic consists mainly of medical air service, forestry aircraft, corporate and some general aviation. Also there is no scheduled passenger air service and an IFR approach will enhance the possibility of having this service in place in the future. We hope to have certification next spring or summer."
That certification could eventually result in regularly scheduled air service into Revelstoke, something that has long been desired by the Chamber of Commerce, Revelstoke Mountain Resort and other entities.