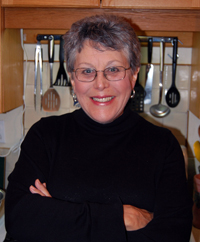 The Orion Fish truck will be in Revy this Thursday, April 21, and you may want to stock up on some frozen fish for the post-Easter weekend—or have fish on Good Friday.
When I was a kid, Friday was the ONLY day to eat fish, as Thursday was the only day when supermarkets had any — this was in Ottawa, a half-French Roman Catholic city, in an era when Catholics didn't eat meat on Fridays. Hard to believe, now, but it was also an era when large numbers of veiled women – Roman Catholic nuns — pounded the pavements and knocked at our door, regularly, for what was then called alms. We were Presbyterian Protestants, but my mother never failed to give them something, or to buy fish for Friday.
My dad once ordered — in one of his "good" years as an artist — a barrelful of live lobsters from Nova Scotia. This to me now seems the absolute height of both luxury and decadence.
Fish stew is a fisherman's dish. It uses a variety of available fish, feeds many, and relies on freshness. In the Interior, this is always frozen fish. An ex-shrimp-fisher who turned up in one of my classes once told me that fishers on the coast, unless they eat their catch the same day, won't ever buy what's called "fresh" fish in a supermarket, preferring the deep-frozen-at-sea variety. "Think about it," he said. "A day to come in from the boats, a day on a truck, possibly another day in the shop — what they call fresh is at the very least three days from really fresh. Whereas frozen-at-sea means it's deep frozen right on the boats. Lots of them process the catch aboard and freeze it right there."
Here are several versions of fish stew — Brazilian, Thai, and Italian — that will be handy for whatever fish Orion has on hand, or that you have in the freezer. A great way to stretch a small fishy into a dish for many.
Brazilian Moqueca
Thai Fish Curry
Cioppino-the Italian version of Fish Stew
Step One: Marinate the fish
Buy about a pound of fish per person: white fish including halibut, black cod or sablefish, haddock, pollock, bream, monkfish if you can get it, snapper or grouper; you can also use salmon, for a slightly different stew but one that is still terrific. For the cioppino, mix it up with shellfish and as wide a variety of seafood as you can get.
3-4 cloves fresh garlic
juice of 2 lemons or 4 limes
½ tsp salt
½ tsp freshly ground black pepper
Thaw the fish (in its plastic wrappers, overnight in the fridge, all day in the sink, or for one hour in a huge pot full of lukewarm water.) Wash the fillets in cold water.
Mince the garlic and marinate the fish in garlic and lemon juice until you are ready to cook it. It will need only a few minutes under the grill or in the stew.
Fillet the fish. This is done easily with needle-nose pliers, cleaned.  Hold each fillet and remove the bones. If you hold the fish firmly with one hand and pull gently on the little bones with the pliers, you should be able to remove the bones without wrecking the shape of the fish. Then cut the fish into neat 2-inch cubes. For steaks, cut the bone out with a sharp fish knife. Alternatively, you can leave the fillets or steaks whole, and use the broil option described below.
In all fish stews, make the stew first, then add the fish and cook it as little as possible.
To broil: for Moqueca and Thai Fish Curry, put the veggies from the hot stew broth into a shallow baking pan. Lay the fillets on top. Broil under maximum heat for 3-5 minutes, depending on the thickness of the fish pieces. Then add the rest of the hot broth to the baking pan, sprinkle garnish on top and serve from the pan.
Brazilian Moqueca (pronounced moh-kay-kah)
A mild-flavoured fish stew served over rice. Quinoa would be great too. For a fantastic appearance, serve over black rice.
1 tbsp olive or sunflower oil
1 onion, chopped
½ green pepper, chopped coarsely,
½ red pepper, seeded and chopped coarsely,
½ yellow or orange pepper, seeded and chopped coarsely
2 cups fresh tomatoes, chopped coarsely or tinned whole tomatoes, drained and chopped
1 tin lite coconut milk
1 tbsp paprika
handful of cilantro, chopped finely
Sauté the onion and peppers in the oil until the onion is translucent. Add the tomatoes, coconut milk and the paprika. Simmer for 10-15 minutes. Three minutes before serving, bring the mixture to a boil, reduce the heat and add the fish. Simmer for 2-3 minutes, until the fish flakes easily with a fork. Remove from heat. Do not overcook or the fish will be mushy.
Thai Fish Curry
Marinate the fish as above.
Make the curry sauce:
1 tbsp sunflower, olive or canola oil
1 onion, chopped
4 scallions, sliced
6 cloves garlic, minced
2 tbsp finely grated fresh ginger
1 red, green or yellow pepper, seeded and diced
1 tbsp Thai red curry paste* (available at Mountain Goodness or Malone's)
1 tin lite coconut milk
1 tbsp Thai fish sauce
2 tbsp lemon or lime juice
½ cup minced basil
2-3 kaffir lime leaves, minced, or 1 tsp lime zest
½ tsp red pepper flakes or 1 jalapeño pepper, seeded and minced
2 tsp sugar
Sauté the onion, garlic, peppers, ginger and curry paste in the oil, then add the coconut milk, fish sauce, lemon or lime juice, basil, lime leaves and the sugar. Add pepper flakes to taste. Once the curry sauce is mixed, bring it to a boil. This can be done ahead of time — a day ahead allows the flavours to blend really well. Refrigerate it in between making the sauce and cooking the fish.
Fifteen minutes before you want to eat, bring the sauce to a boil, reduce the heat and add the fish. Cook for just long enough for the fish to cook through, 3-5 minutes.
Slice the scallions on the diagonal and sprinkle a handful on top of each bowl before serving.
Eat with a fresh green salad including papaya or mandarin oranges, perhaps some fennel, and a lime yogurt dressing. Or serve over cellophane noodles.
* Thai curry paste comes in mild, medium or hot. Unless you really like the heat, I recommend mild or medium; let each person put on their own extra hot pepper flakes, or piri-piri hot sauce.
Cioppino
An easy pre-prep 15 minute supper, if you make the broth the night before and have all the fish ready to go.  Make a salad as the cioppino simmers, and serve.
The original word for this is the Italian ciuppin, which some people have (somewhat fancifully) translated as "chip in," meaning you add whatever you have. Cioppino is the Ligurian version of Italian fish stew, of which there are many.
You have the idea by now that the main difference between different national fish stews is the seasoning. Cioppino relies on making a stock first, with some veg and the fish trimmings — this is where you get to use up those fishheads. Then you add some wine, or for non-A households some orange or grape juice tempered with lemon to cut the sweetness, and some garlic and parsley.
Also, cioppino uses a variety of fish—some white, some red, some shell, some not. Locally, we can get the fish, some squid, clams or mussels and shrimp or prawns. Crab and lobster are also available frozen from Orion, so for a real treat, go for the whole lot, use a paper tablecloth and have a great time messing about at the table.
8 lbs mixed fish and shellfish
2 carrots, diced
2 onions, diced
1 stalk celery, diced
handful of parsley, minced
3-4 fish heads or 2-3 whole small smelts
6 cups water
1 tsp salt
1 large tin tomatoes, or 2-3 cups fresh chopped tomato
1-2 cups red wine
juice of 1 lemon
1 tbsp tomato paste
3 cloves garlic, minced
handful of fresh flat-leaved parsley, minced, for garnish
salt and pepper to taste
Make a broth: Put carrots, onions, celery and parsley in the pot with the fish heads, add the water and bring to a boil..Simmer for 30 minutes. Strain, reserve the broth, and discard the rest. Add 1 tsp salt. Return to a large pot and add the wine, tomatoes, tomato paste, lemon juice, another onion chopped finely, and the minced garlic and parsley. Bring to a boil, then turn off the heat until you are ready to cook the fish. (Up to here you could do in the morning, or even the day before, or way ahead of time and freeze it.)
Next, prepare the fish and shellfish:
Thaw the fish, crab and lobster.
Debone the fish.
Clean the mussels or clams of their beards and scrub the shells under cold water with a firm brush, if seaweed clings to the shell. You may have to pull hard to get the seaweed off. Discard any mussels that are already open — they should be shut tight until cooked. Once cooked, however, you must discard the ones that don't open.
Clean the shrimp by removing head, whiskers and the little turd (the brown stripe along the back) with a sharp knife but leave the tail on. (Or buy cleaned prawns. But buy them uncooked and flash frozen.)
Slice the squid into circles about 1 cm thick. Leave the tentacles attached in bunches. If you buy uncleaned squid, you'll have to remove the inksac (do this under cold running water) beak — the cartilage that forms a sort of mouth and backbone. Once you try this you'll see that it's easy. But most squid now is sold already prepped.
Ten minutes before dinner is ready, heat the broth to a nice steady simmer and add the
fish to the pot: lobster and crab if any first; then the cubed, cleaned white fish in 2 inch pieces; finally, the clams, mussels, or shrimp. You will have to watch like a hawk to make sure nothing overcooks. The final cooking should take no more than 10 minutes, to ensure all the fish is cooked. However, the litmus test is the mussels — they should open almost fully, otherwise they are not cooked and will be difficult to open.
Discard any clam or mussel shells that don't open.
Serve cioppino with foccacia or a firm baguette or potato-rosemary loaf, to soak up all the lovely juices. This is a wonderfully messy meal — fingerbowls or napkins, and a plate for the shells, will come in handy.
If you want a salad with this, try one with lettuce, orange slices and sweet onion or fennel.  Or if you can get Meyer lemons — a cross between a lemon and a mandarin orange, try slices of this in a salad.