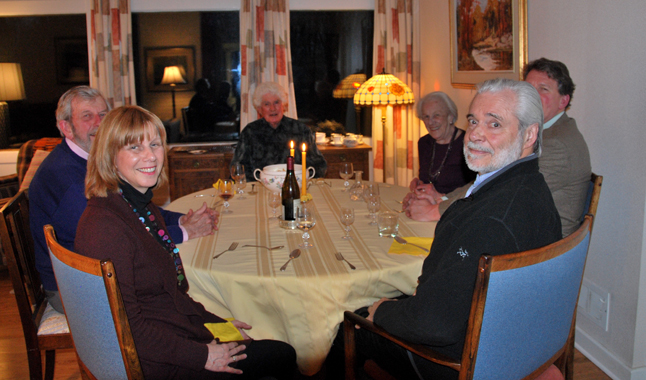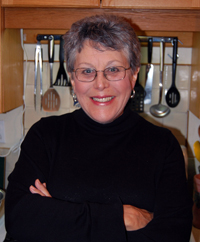 Not invited to the wedding? No time to sulk, every royal watcher in the country shares your angst. Try this wedding menu instead, chez vous, or celebrate by whipping up just this decadent trifle—it's amazing, and truly a British dessert. We are visiting my family in Ottawa, so revealing the secret to Savage Delights' culinary skills—I learned to cook at home, where the gastronomic standards are high and the cellar impeccably stocked. My parents love to cook and eat, and this menu is the work of Ian Ferguson, officially my stepfather but unofficially my mentor in all things gastronomic and oenophilic.
We drank two wines with this dinner — a 2007 Domaine de la Mavette from the south of France, and a 2009 Chianti Ruffino with the cheese course. If you're staying local, a Shiraz will do nicely.
Standing Rib Roast of Prime Beef with Red Wine Gravy
Yorkshire Pudding
Roast Potatoes
Carrot and Parsnip Gratin
Cheese Plate
English Trifle
Surprisingly, this is a relatively straightforward dinner to prepare. The cheese plate doesn't need a recipe — just a trip to see Sonia at La Baguette, then dash into Cooper's hoping they have either Caerphilly or Wensleydale Cheese at the deli counter. The trifle is takes a little time, but believe me, it's worth every second—quite boozy and rich, and meltingly scrumptious.
Standing Rib Roast of Beef
Put the rib roast, at room temperature, on a roasting pan with a grill to keep the meat off the bottom. Start at 425 F in a preheated oven to sear the outside and keep the juices in. After 20 minutes reduce oven heat to 350 and cook according to chart below.
4 – 6 pounds                        Rare: 1 ¾ hours            140 °
Medium  2 hours            160 °
Well done  2 ½ hours            180°
8+ pounds                        Rare: 2 ¼  hours            140 °
Medium  2 ½  hours            160 °
Well done 3 hours            180°
Red Wine Gravy.
Remove the beef from the roasting pan and remove the grill. Put the roast on a serving platter, cover loosely with foil and let it stand for 30 minutes before serving. Add 2 tbsp flour to the roasting juices, and blend in with a whisk. Add 1 cup hot stock, a little at a time, stirring in well as you heat the gravy gently over a stovetop burner. Add, also a little at a time, about 1 ½ to 2 cups dry red wine. Season with salt and pepper, tasting to make sure you have it right — about a teaspoon of each.
Roast Potatoes
Peel and quarter the potatoes. Put 2 tbsp olive oil and 1 tsp oregano in a bowl, and toss with the potatoes. Roast in a shallow pan in the oven as the beef cooks, about 1 ¼ hours, or until soft on the inside and crispy on the outside. You may have to turn them over a couple of times to achieve evenly browned outsides.
Yorkshire Pudding
This is the recipe from Fannie Farmer's 1956 Boston Cooking School Cookbook, modified by my parents, Barbara and Ian Ferguson. David's mother Beatrice Savage also made wonderful Yorkshire. A great addition to a roast beef dinner—very little trouble but impressive looking and great for sopping up gravy.
2 eggs
1 cup milk
¾ cup all-purpose flour
¼ tsp salt
Beat the eggs and milk until evenly blended. Add the flour and stir. Don't overbeat. Pour a little fat from the roast into muffin tins (for individuals puds) or a 9 inch square cake tin. Pour into each muffin tin ½ inch of batter. Bake until puffed up high and brown, about 25 minutes. For the large pud, cut in squares. Serve with beef and gravy.
Carrot and Parsnip Gratin
A beautifully orange dish with the texture of mashed yam but the flavour of carrots with parsnip interest. We make this especially for my Aunt Ann, and we have all come to love it.
6 carrots
6 parsnips
¼ cup thick cream
2 tbsp butter
1 tsp salt
1 tsp white pepper
Peel and chop roughly the carrots and parsnips. Cook in unsalted boiling water for about ten minutes, or until very soft. In a blender or food processor, or by hand, puree until smooth. Add the cream, salt and pepper and stir. Turn into an ovenproof serving dish and dot the top with butter. Bake until hot and slightly browning on top.
An Excellent English Trifle
This recipe is adapted from the 19th century cookery books of Eliza Acton, one of the first of many English cooks who wrote a book. It's decadently rich and boozey, and you really can't believe how delicious, even if you are one of those (like me) who generally doesn't really much like food laced with alcohol. Ian Ferguson made this for our dinner while I kibbutzed in the kitchen; he managed the whole production in about two hours over two days. His tutti-frutti, however, had marinated for months.
This is in three parts: syllabub, custard, trifle. If you can, make the syllabub a day ahead. You could do the same with the trifle, but same morning is better. (It blends better warm than cold.) If you want to use tutti-frutti, soak fresh fruit in brandy for 3-6 months, then strain and use. Otherwise, a mixture of tinned peaches and frozen raspberries is nice.
NOTE: the zest in the syllabub and the custard must be peeled, not grated, as you remove it after infusing the milk or cream.
Ingredients:
to serve 8-16
¾ cup white wine: a Reisling is very nice. 00 to 01 on the sweetness scale.
¾ cup brandy. Do not use anything called "Cooking brandy," which isn't.
20 ladyfinger biscuits (Amaretti biscuits are okay) or 1 ½ loaf type pound cakes
1 cup heavy whipping cream
2 cups tutti-frutti or mixed fruit
¼ cup peeled almonds, chopped and toasted until light brown
For the Syllabub
2 large lemons
½ cup superfine white sugar
1 ½ cups Madeira wine
1 ½ cups brandy
2 ½ cups heavy whipping cream
Equipment: electric beaters, a large sieve, and clean cheesecloth
Make the syllabub: peel the two lemons and use the finely pared peel to infuse the juice of the lemons for some hours. Strain, and add the sugar to the juice, then add the Madeira and the brandy. When the sugar has dissolved, add the cream.  Beat with electric beaters for 5-10 minutes, until the mixture is as thick as you think it will get. The original recipe called for Devonshire cream, but this is impossible to get in Canada, so the whole thing is a little soupier than might be ideal. When the mixture is a solid froth, pour it into a sieve lined with cheesecloth and let it drain. (Save the liquid in the fridge and serve later as a sort of Brandy Alexander, in a small open glass decorated with a leaf of mint.) Let it sit for a few hours, then use the strained cream, which will be almost but not quite solid.
For the lemon custard
the zest of one large lemon, peeled and very thinly pared in strips large enough to later remove
1 cup milk
½ cup superfine sugar
1 cup whipping cream
6 egg yolks, beaten thoroughly
Add the melon peel to the milk and infuse for 30 minutes, then simmer together for a few minutes and add the sugar. Mix the beaten eggs with the cream. Stir the boiling milk quickly into the eggs and cream, and remove the lemon zest strips. Turn the custard into a double boiler and cook over but not in boiling water, stirring constantly, until the mixture is thick enough to coat the back of a wooden spoon. You must watch this carefully — if the custard boils it will curdle, so you remove it when it is just below boiling temperature and getting thick. Have a bowl ready, and pour the custard into a cooled bowl. Keep on stirring until it cools a little
Assemble the trifle
Mix the wine and brandy together. Line a large bowl, tureen or glass salad bowl with HALF of the ladyfingers or cake. Pour over these, a spoonful at a time, HALF the wine/brandy mix, until all is absorbed by the cookies or cake. Put the fruit in a layer on top. Pour over these the custard. Layer on top the rest of the cookies or cake, and the rest of the brandy/wine mixture. On top of all this, spoon over the syllabub. Whip the remaining cream (1 cup) and dot this on top of the syllabub. Sprinkle over top the toasted almonds and refrigerate until serving time.
Call the taxi for any guests who might have arrived by car.