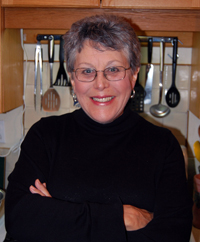 Some families don't eat turkey at Easter, others never have anything but. Whether you opt for turkey, ham, lamb or beef, an upbeat take on veggies is refreshing for the Easter season of renewal.
It's a difficult time of the year for veg: we are all getting tired of roots, however delicious, but the only thing really available locally so early in the season might be radishes, or imported asparagus from the south Okanagan. Also, economy dictates that we keep the veg part of Easter dinner in the "normal" cost range—fiddleheads imported from Pender Island or Nova Scotia can be appealing in theory, but unless you can get to the coast and pick them yourself—remembering that not all ferns are edible and being equipped with a good wild foods manual showing which are—carrots and beans are a more realistic choice.
Ginger, balsamic vinegar and citrus can add some light and bright flavours that echo springtime, so here are some "trimmings" to go with the main Easter dish. The carrot dish is very subtle—green tea shifts the flavour ever so slightly, but the ginger is a real hit of flavour. If you haven't done brussel sprouts this way—my cousins and I used to call them poison balls—try these pan roasted balsamic glazed brussels with either walnuts or hazelnuts. The point is to have a range of tastes and textures that complement one another and stand up to the meat dish, but you don't want a huge clash of competing tastes.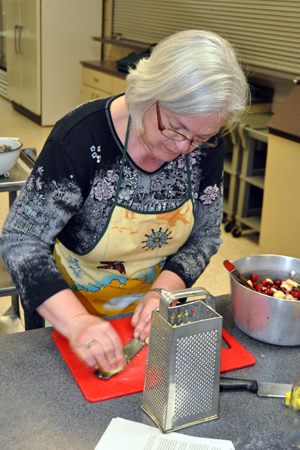 Cranapple Lime Chutney
This chutney is quite different from the cranberry sauce on the back of cranberry packages. Another similar version cuts out the apple, adds cilantro and doesn't cook the chutney. This one is cooked, so it keeps longer, and the apple adds a sweetness that offsets the tart cranberries. The ginger and jalapeño along with the lime zest and juice add zing. For really hot, include the seeds of the jalapeño.
2 cups fresh or frozen cranberries
1/3 cup sugar
½ cup chopped red onion
juice and zest of 1 lime
1 apple, peeled, cored, chopped
1 jalapeño pepper, cored and seeds removed and diced finely.
2 tsp fresh ginger, grated
pinch salt
Put everything in a saucepan and cook  over medium high heat until the cranberries pop and the apple  is cooked. Cool.
Turn into clean jar with a lid, or serve warm.
Keeps fresh in the refrigerator for 1-2 weeks, or frozen for 2-3 months.
Smashed Potatoes
The smallest potatoes are the most delicious. In Latin America, they sell potatoes the size of marbles that we used to cook and eat as finger food appetizers, with salt. Yukon Golds are marvelous, or small purple, red and yellow spuds.
2-4 new potatoes per person, depending on size of potato.
1 tbsp butter for each 6 potatoes
2 tbsp cream ditto
salt and pepper
Scrub the potatoes well but don't peel them. Cook in a pot of rapidly boiling water until done, which depending on the size of the potatoes will be from 15-35 minutes. (They're done when a fork inserted into the middle of one causes the potato to split.)
Drain.
Put back into the pot with the butter and the cream. With the back of a slotted spoon or a masher, crush each potato once to split the skin. Leave some parts of the potatoes whole. The idea is not to mash them, but to create a "smash" of potatoes, butter and skins. The skins are nutritious and once cleaned, add texture and flavour to potato dishes.
If you want garlic, nuke a whole bud (chop in half first so the buds don't burst in the micro) and push the nuked cloves into a little bowl. Mash them with a little butter and add them to the spuds.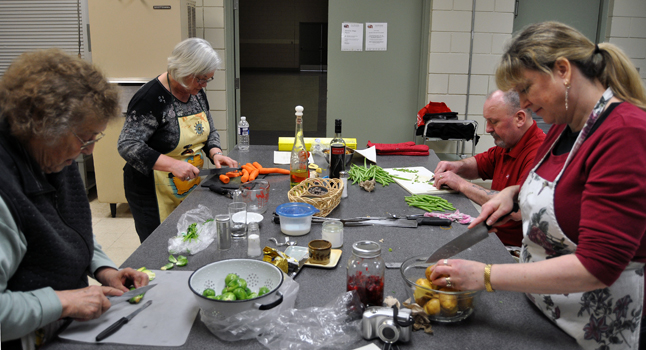 Mandarin Green Beans
Cook your favorite green beans from fresh or frozen, leaving them whole, adding ½ cup orange juice to the cooking water. When done (about 8 minutes for fresh and 10 minutes from frozen), drain and reserve juice.
Peel and destring 3-4 mandarin oranges, and add the segments to the beans, with a little coarse salt. Put ½ cup juice back into the pot and reheat with the mandarins, stirring to incorporate the juice, until mandarins are hot. If you like a VERY orange glaze, add 2 tbsp orange marmalade to the juice.
Drain and serve.
NB: I used to use tinned mandarin oranges. These days, I find the tinned variety so soft and mushy that they fall apart when heated, so I now use fresh – healthier and more flavourful.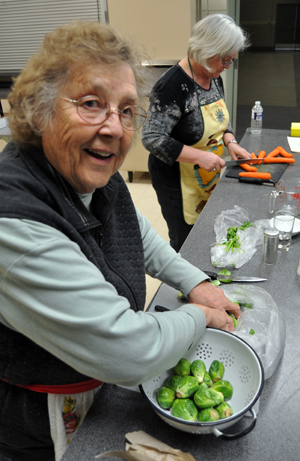 Brussel Sprouts with Balsamic Drizzle and Walnuts
2 lb brussel sprouts
2 tbsp balsamic vinegar—use Star Apple from Crescendo for a real balsamic high in this dish
¾ cup walnut pieces, some chopped fine. (Or substitute hazelnuts.)
2 tbsp peanut or safflower oil
½ cup to ¾ cup white wine
1 tsp leaf crystal salt, such as Maldon (available at La Baguette)
Wash the sprouts and cut off the ends. Slice each sprout into two lengthwise.
Heat the oil in a wide, shallow sauté pan and add the sprouts, cut side down.
Sauté the sprouts over medium high to high heat until they are brown and begin to stick to the pan. Add, a little at a time, just enough white wine to deglaze the pan and steam the sprouts a little.
Cook at low heat, turning often, for about 20 minutes, adding wine a tablespoon at a time so as to keep the pan deglazed. Add the balsamic vinegar, drizzling it over the sprouts, then add the nuts and stir in. Continue to sauté for 2-3 minutes more. Add a sprinkle of leaf crystal salt and some freshly ground pepper. Remove and keep warm until dinner time.
Carrots Infused with Green Tea and Ginger, with Ginger Matchsticks
2 lb medium carrots
1 large knob fresh ginger—about the size of two eggs.
1 pot green tea
1 tbsp maple sugar crumbs
Peel and julienne the carrots.
Make a pot of green tea.
Peel the ginger. Slice off one egg-sized piece. Grate it finely and mix into the tea. Put this in a wide, deep saucepan and bring to a boil. Put in the carrots and cook under tender-crisp, about 5-6 minutes. When done, remove from tea with slotted spoon and reserve in a bowl.
Continue to let the green tea-ginger mix boil away, literally, until the tea is reduced by about half. Reserve one cup of this and discard or drink the rest.
While this reduction takes place, prepare the fried ginger sticks. (You might also do this the day before, and keep the ginger sticks in a covered container overnight.) Shave one piece of ginger with a vegetable peeler, and then slice the shavings very finely. Fry these briefly in 1 tbsp peanut oil and 1 tsp butter until they are brown, watching like a hawk. Drain on paper towel.
When ready to serve the carrots, return them to a pot with the tea and the maple crumbs. Toss to coat the carrots with the reduction, drain, and toss with the ginger matchsticks.