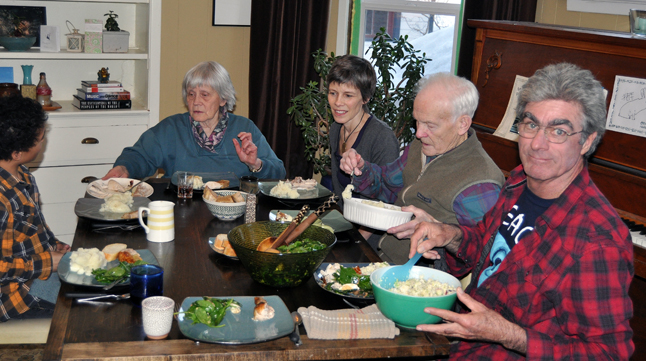 By David F. Rooney
Two years before he began walking around the world Jean Beliveau had a normal life. He owned a shop in Quebec's Eastern Townships that specialized in neon lighting  and things were looking up. Then the Ice Storm of 1998 struck. His business was destroyed and he went into an emotional tail spin.
One day, depressed and at very loose ends, he stood on Montreal's Jacques Cartier Bridge and wondered what it would be like if he just started walking — first to New York and then various points south. It was, for him, a powerful image and he went home and told his wife, Lucie about it.
She thought that perhaps their marriage was over and he simply wanted to escape but he convinced her it was something else.
"I was going through some kind of mid-life crisis," he said in an interview Sunday.
He had a passport and $4,000. How far could he get? How could he inject some kind of meaning into what was rapidly becoming a quest for meaning in life?
Luce suggested he connect his planned walk around the planet with the United Nations declaration of 2000-2010 as the decade dedicated to bringing peace to the children of the world.
So on August 18, 2000, he set off, heading south through the United States, then Central and South America. Along the way he has had made many adventures and met thousands of people. With 71,000 kilometres so far logged on this adventure, Beliveau expects to be home in Montreal by October.
It's been a challenging and, at times, difficult journey. His father died while he was in Belgium and he missed the birth of a grandchild. And, too, he has seen his wife for only a short period every year that he has been away (she has flown to be with him for two weeks every year).
For now he is in Revelstoke, billeted at Krista Stovel's Sixth Street home and eager to pit himself against the Rogers Pass and the mountainous barrier that separates him from the flat lands of the Prairies, then Ontario and — finally — home and the challenges that loom ahead of him.
Embarking on this kind of quest has changed Beliveau in fundamental ways, It has taught him much about himself and about people in general.
"People have different cultures, different religions, but they are really the same everywhere," he said. "They want the same things and have the same dreams."
Beliveau has kept detailed diaries and taken hundreds of photos that he plans to incorporate into a book about his trek around the world, some of the proceeds of which will go towards a foundation he has created to help children and communities around the world.
You can find out more about Jean Beliveau and his amazing walk around the world at his website www.wwwalk.org. And if you know someone who can help him get to Golden and beyond you can call him on his cell at 778-926-6235. or contact him through Krista Stovel at 250-837-7112. He especially needs to find some kind of accommodation in Rogers pass Summit and perhaps between the summit and Golden. If you can help please call.