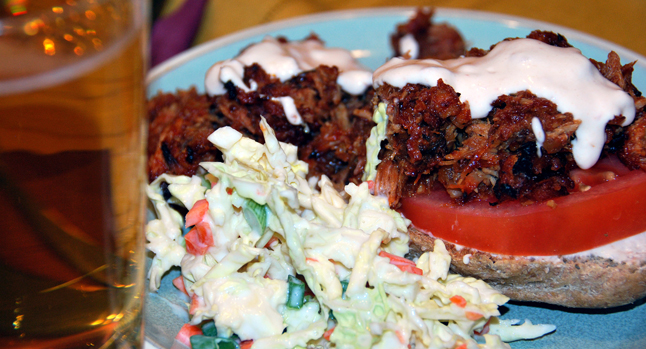 Pulled Pork with Sweet-Savory Rub
Chipotle Yogurt Mayo
BBQ sauce
Great après-ski fare, pulled pork cooks all day long in a slow cooker or hot crock. So you hit the slopes and come home to a pot full of tender, succulent meat and a house steamed up with its aroma. Add some coleslaw and buns, chipotle mayo and a little guacamole and you can feed toute la gang. A cold lager or dark ale is the perfect companion to pulled pork!
Deenie Ottenbriet has a great selection of slow cookers at Chantilly Kitchen and Bath, and slow cooker cookbooks are back on the shelf since the in-crowd has rediscovered low-cost meat cuts. Even my daughter in Toronto, who a year ago was disdainful at my suggestion that she might like a slow cooker, is now into this latest trend and sent me the recipes below.
Pulled Pork in a Slow Cooker
Make the paste to rub on the pork, put it into the slow cooker with the cooking liquid, leave it, then mix with BBQ sauce before you let people pile it onto buns with chipotle mayo and guacamole. Serve with coleslaw. I bought two small pork loins, about 2 lbs each, bone out and tied, with most of the fat removed, but many recipes call for pork shoulder. This recipe is for 4-5 lbs of meat.
Rub
Make a paste of the following and rub it all over 4-5 lbs pork, preferably the night before
5 tsp brown sugar
2 tsp coarse salt
1 tsp each paprika, pepper and cumin
2 tbsp Dijon mustard
Cooking liquid and apple-onion mix for the pork
2 cups finely sliced onions
2 cups diced apples
1 ¼ cups apple juice
½ cup honey or maple syrup
2 tbsp apple cider vinegar
1 tbsp Maletti or Star Apple Balsamic vinegar
1 whole bulb of garlic, end chopped off, nuked for 30 sec and cloves squeezed out
Put the onions in the bottom of the slow cooker. Lay the pork, fat side up and well rubbed Mix the other ingredients and pour over the pork.
Set the slow cooker to high and leave for 5-7 hours.
When pork is done, remove from slow cooker and slice/pull apart into a shallow baking dish. Cover with the cooking liquid and apple/onion mix. If there are fat bits showing, make sure these face up. Put the pan into a 450° F oven for 15-20 minutes until the fat crisps up and browns. Drizzle with BBQ sauce, below, and serve with buns and chipotle yogurt mayo.
BBQ Sauce
1 cup bottled Chili sauce
1/3 cup honey
1/3 cup grainy mustard
2 tbsp ancho chili powder
2 tbsp tomato paste
1 tbsp brown sugar
1 tsp smoked paprika
2 cloves garlic
Drizzle this sauce over the pork before serving, and deliver any leftovers in a bowl.
Chipotle Yogurt Mayo
Chipotle peppers come in a can with tomato sauce. I use some and freeze the rest, then dig out a little at a time when I need it. The particular smoky flavour is irreplaceable, but if you don't have chipotles, use 1 tsp smoked paprika instead and add Tabasco to taste. The point is sweet, sour and hot all at once. Using yogurt rather than mayonnaise from a jar delivers fewer calories than store-bought mayo, and also avoids that particular slick sort of texture that mayonnaise seems to coat your tongue with.
Mix together
½ cup Balkan style yogurt
½ cup sour cream (you can use a whole cup of yogurt if preferred)
2 cloves garlic, minced fine
1 -2 tsp chipotle peppers
juice of ½ a lemon
1 tbsp Star Apple balsamic vinegar
Serve with buns—homemade, if you like, from our January bread recipes, and
Guacamole
2 avocados, ripe
2 large tomatoes, ripe
1 large sweet onion, chopped finely
2 tbsp vinegar
juice of 2 limes
1 jalapeño pepper, seeded, chopped
red pepper flakes to taste
2 tsp salt
1 tsp sugar
Chop all the above and mix well. Add more salt, sugar or pepper flakes according to taste.