The Revelstoke Ski Club's young competitors yielded some solid results in their two-day race series at Revelstoke Mountain Resort last weekend, with some of the best results coming from the youngest skiers.
Nora Sidjak came first and Aislin Buchanan came in sixth in the five-year-old girls category during the first day of racing on Saturday. The club practically swept the five-year-old boys category with Reed Kelly and Mavic Shaw placcing second and third respectively while Parker Aucoin, Jared Manzo, Andrew Sheppard and Kale Jay occupied the seventh through 10th places.
In the six-year-old girls category Sidney Musseau and Erika Peasgood came in fifth and sixth places and in the six-year-old boys Teigan Lenzi occupied the seventh spot. Among seven-year-old girls Jaclyn Elliott came in 10th while Alex Jay came in eighth among seven-year-old boys.
Sophie Humphreys was one of two local kids to place in the Top 10 in the eight-year-old girls category with an eighth-place finish. The other was Hannah Vickers with an 10th place finish. Among the boys in that age group, Kaleb Prunkle came in second while John Sidjak came in sixth.
In Race No. 1 on Sunday, Jenna Knight came in sixth place among the the nine-year-old girls while Zach Wroe came in seventh for the boys.
Claudia Cinelli and Elizabeth Elliott came in eighth and ninth, respectively, among the 10-year-old girls. No local boys made the Top 10 in their age bracket in the first race.
There were no local kids in the 11-year-old girls, category and among the boys Olin Mosher was the top boy with a ninth place finish.
In Race No. 2, Jenna Knight placed sixth among nine-year-old girls, while Zach Wroe came in ninth for the boys. Among the 10-year-old girls, Claudia Cinelli came in 10th and among the 11-year-old boys Olin Mosher came in eighth place.
You can see Saturday's results here.
Sunday's Race No. 1 results are here.
And Sunday's Race No. 2 results are here.
Local photographer Mike Welch (you can view his terrific professional work at his website) kindly forwarded photos of our kids in action and we are happy to publish a selection of those images here:
Saturday, March 5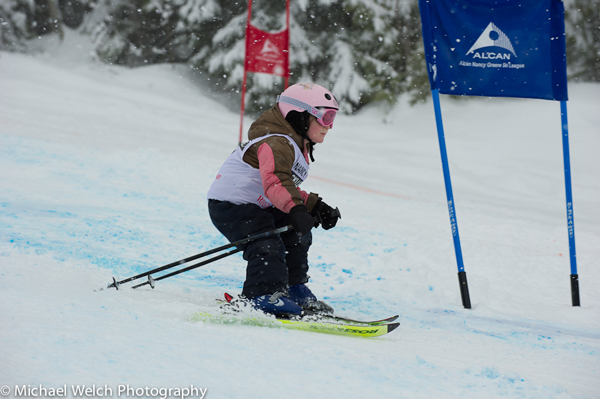 Sunday, March 5