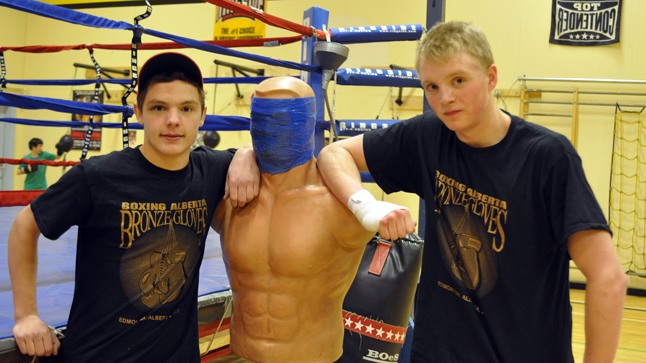 Revelstoke Amateur Boxing members Conner Null, 15, and Mitch Demone, age 17, both had winning bouts in Vernon last weekend.
Appearing in A Night of Amateur Boxing hosted by Vernon's Counter Punch Boxing, the Revelstoke boxers showed their opponents what skilled boxing looks like.
Conner Null boxed against Isaiah Holt from the Peachland Boxing Club. Even though Conner's opponent had more experience, Conner was more aggressive and had better skills.
Coach Sam LeRose said that after his opponent received two eight counts in the third round, the referee had to stop the bout and give Conner the win with a unanimous decision from the judges.
Mitch Demone, meanwhile, boxed Alex Young of Victoria's Capital City Boxing Club.
"Mitch came out strong in the first round and won the first round easily," LeRose said. "Between the second and third round the fight turned into a slug fest and at the end of the fight the split decision went to Mitch.
"Both boxers deserved the wins.  Although the Revelstoke Boxing Club is small, we have very few losses compared to wins."
On another note, Null was boxing in the Silver Gloves Tournament in Prince George this weekend.  Results will be posted as they become available.