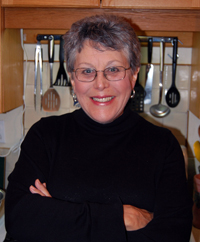 With orange and olive groves hundreds of miles away, it can get pretty frustrating to read about Eating Local. And it's not only olives and lemons. Despite the 175 hog producers in BC, only 10% of the pork we eat in the whole province is produced here.
There are just 28 family major hog-raising farms in BC — not counting the mixed small family farms who raise a few hogs for family use.  BC pork is considered a specialty product, and local pork products go mainly to local butchers, independent grocers, and to restaurants.
The easiest way to get local pork, if you want organic, is through Comfort Zone Delivery run by Tim Dolan, the guy with the cow truck who also delivers Dutchman Dairy milk and cream in glass bottles. We've had Tim bring our milk since we first arrived in Revelstoke. Tim has since then expanded his business to include veggies from Herman's crew at Wild Flight Farm as well as deli meats and cheese from the Chalet Bakery and now Hills Foods organic meats. Tim delivers on Fridays in Revelstoke, and you can contact him at 250-837-4967.
Hills' organic pork comes from First Nature Farms, run by Jerry Kitt and his wife Sam in the Peace River Valley near Goodfare, Alberta—four miles east of the BC border. First Nature Farms operates as a wildlife preserve, and produces hand-raised beef, pork, poultry, bison and eggs, all organically. Animals are raised on plant foods, with no medications, and in clean, uncrowded conditions. The pictures of pigs with their piglets in the woods looks like something from a Pooh Bear storybook.
The Kitts' neighbours Tim and Linda Ewert also produce a small quantity of organic pork at Wildwood Farms, also in the Peace, at Pouce Coupe, BC. Tim and Linda run their farm with 5 Percheron horses, rather than a tractor, and rely on solar panels for their only source of limited electricity. They tell their story at  http://www.organicagcentre.ca/VirtualFarmTour/vft_wild_profile.asp, a website (not their own — their limited electricity supply doesn't extend to online communications, one gathers) interesting for both general and specific info about organics.
You can buy BC non-organic pork if you're prepared to travel to the Lower Mainland, or to order meat online and have it shipped. The BC Pork Marketing Board runs an excellent website highlighting a few of the 28 commercial hog-raising operations in BC. Gelderman Farms, Lepp Farm, and Sundance, Benlo, Aurora, Verard and Saar Bank Farms, all family hog producers associated with Johnston's Packers. The photos of the families who produce BC pork, and of their operations, make it clear why BC Pork is a specialty item — the barns are large and spacious and clean. It's hard to visit them because even the farmers have to shower and change every item of clothing before entering the pig barn, but you can visit the Lepp Farm Market on Claybourne Road at the corner of the Abbottsford/Mission Highway (#11.)
If you're interested in buying a side of pork or beef, click here for a pdf of Iowa' State University's Beef and Pork Whole Animal Buying Guide.