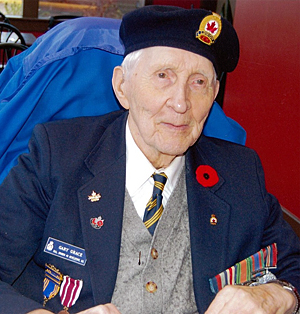 Thomas Gerald "Gary" Grace passed away at Mt. Cartier Court Extended Care, Revelstoke on Sunday, March 13th, 2011 at the age of 86 years.  A Funeral Service will be held at St. Peter's Anglican Church, Revelstoke on Thursday afternoon, March 17th at 1:30 p.m. with Reverend Dan Meakes officiating.  Legion Honours were presented by Legion Chaplain Marlene McQuarrie.  Pallbearers will be comrades of the Royal Canadian Legion Branch #46.  Interment will follow in the family plot of Mountain View Cemetery, Revelstoke.  In lieu of flowers, memorial contributions may be made to the Parkinson Society British Columbia, 600-890 West Pender Street, Vancouver, B.C. V6C 1J9, or to the Revelstoke Community Foundation, Box 2398, Revelstoke, B.C. V0E 2S0, in memory of Gary.
Gary was born in Revelstoke on November 5, 1924, and had been a life-long resident.  He was a veteran of World War 2, serving from March, 1941 to January 1946 at the rank of Private.  Gary was a Life Member of the Royal Canadian Legion, Branch #46 Revelstoke, the Revelstoke Golf Club, the Senior's Curling League, CPR Bowling League and the Revelstoke Ski Club where he was also assistant hill captain for many years.  He liked ski jumping and was very active in skiing in his younger years. Gary was an avid golfer, curler and bowler throughout his life. Gary built his own home and duplex, both according to Helen's architectural details.  He also built his own television and cabinet to hold it.  Gary was an avid ham radio operator – VE7 AZD.  He also enjoyed camping and at one point built his own home-made trailer.  Gary was a quiet, intelligent man who enjoyed fishing and spending time with his family.
Gary was predeceased by his parents Tom and Bertha Grace, brother Reg, sister Marjorie and son Bill.  He is survived by his loving wife of 60 years, Helen of Revelstoke; sons Bob (Rose) of Kamloops and Tom (Wendy) of Golden; daughter-in-law Connie of Revelstoke; eight grandchildren: Jaclyn, Lindsay (Ryan), Nicole, Alayne (Daragh), Bryanna, Micheal, Matthew and Nicholas; great grandchildren: Jalaina, Landon and Addison; brother Frank of Revelstoke; brother-in-law and sister-in-law Jim & Laura Pavey as well as numerous nieces and nephews.
Messages of condolence may be sent to the family by visiting brandonbowersfuneralhome.com. Arrangements are in the care of Brandon Bowers Funeral Home, Revelstoke.