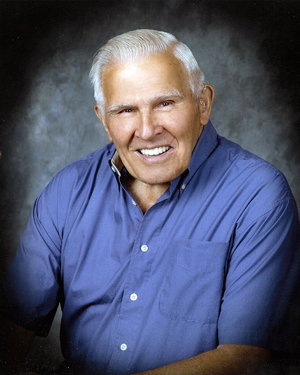 Mr. Luigi Almando (Louie) Rota passed away peacefully at his residence in Revelstoke, BC on Monday, March 7th, 2011 at the age of 80 years.  A Memorial Service will be held at the Revelstoke Community Center on Monday afternoon, March 14th at 2:00 p.m. with Reverend Ken Jones officiating. In lieu of flowers, memorial contributions may be made to the Revelstoke Hospice Society, Box 3133, Revelstoke, B.C. V0E 2S0, or to the B.C. Epilepsy Society, #2500 – 900 West 9th Avenue, Vancouver, B.C. V6Z 1E5, in memory of Louie.
Louie was born in Blairmore, Alberta, on September 7, 1930 and had been a resident of Revelstoke since 1964. Louie started a career with Canadian Pacific Railway in 1948. He worked his way through the ranks in Engineering Services holding positions as Roadmaster and General Roadmaster until he retired with over 41 years of service in 1989.
Louie had a passion for outdoor activities. He enjoyed picking huckleberries and mushrooms and especially loved fishing and tending to his garden. Sports were important aspects of Louie's life. He followed his favourite teams very closely. Many hours of enjoyment were provided by the Blue Jays, the Canucks, the Selkirks and the local Grizzlies hockey club. Louie also enjoyed playing baseball, slow-pitch, bocce, curling and golf. As a card player he was tenacious on his side of the crib board. Louie was a member of the Revelstoke Railway Museum, the Revelstoke Seniors and a Charter Life Member of the Fraternal Order of Eagles (Creston, BC).
Louie was a very proud family man and regarded his family as his number one priority. He took every effort to make time for close friends and many others. He believed in creating new friendships wherever he could. His sense of humour and genuine honesty were attributes that were known by those who were close to him. Louie will always be remembered for his wonderful laugh, his infectious smile and sparkling eyes.
Louie was predeceased by his parents Antonio & Antonietta; his sister Rosie (Titus) Rotar; brothers Guido, Frank (Aldina), Ralph (Joyce), Victor (Agnes) and brother-in-law Fred DeDominicis.
He is survived by his loving wife Muriel of Revelstoke (married 54 years); four children: Bonnie (John) Teed of Revelstoke, Tony (Joanne) Rota of Revelstoke, Wade (Gisela) Rota of Revelstoke and Brad (Connie) Rota of Calgary; 10 grandchildren: Chad Holland, Cole Holland, Toni Teed, Ashley (Matt) Robinson, Tyler Rota (Nikita), Amanda Rota (Tyson), Sarah Rota (Jeff), Claire Rota (Tyler), Blair Rota & Trey Rota; brothers: Sam (Margaret) Rota of Creston BC, Ricky (Verna) Rota of Millet, Alberta; sisters: Olga DeDominicis of Calgary, Alberta, Lucy (Art) Georgini of Creston BC, and Mary (Silvano) Georgini of Quesnel, BC, and numerous nieces and nephews.
Louie's family would like to thank the many friends, relatives and our neighbours for their kind words, phone calls and wonderful visits which Louie enjoyed so much. Special thanks to Gary and Chrissie Sulz; Dr. Chris MacDonald; the entire Queen Victoria Home Care nursing staff, the United Church Women's Group and Reverend Ken Jones. Your support and professionalism helped our family immensely. Words cannot express our sincere gratitude to our family and friends for the gifts of food, cards and flowers delivered to us. Thank you all from the bottom of our hearts.
Messages of condolence may be sent to the family by visiting brandonbowersfuneralhome.com.
Arrangements are in the care of Brandon Bowers Funeral Home, Revelstoke.