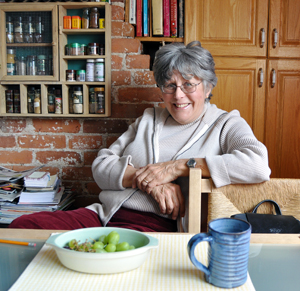 By David F. Rooney
Afraid your turkey and gravy are never going to be as good as mom's? Well, Savage Delights columnist and foodie extraordinaire Leslie Savage can help you overcome your fears and, through her Easter Turkey 101 course at Okanagan College this Sunday, produce the perfect springtime roast turkey.
This is Leslie's first-ever, one-day culinary course but if you've tried her recipes in the past you'll be aware that she really does know her way around a kitchen.
This will very definitely be a hands-on course. Students will be required to bring fresh cranberries, one apple, one lime, an apron, a 750-ml Mason jar (with lid), a chopping board, a vegetable peeler and knife. They will, under Leslie's direction, produce the entire meal themselves and will devour it communally when it is done. As an added incentive, there will be a draw for a refrigerated, stuffed and ready-to-roast organic bird (from Windmill Meats in Salmon Arm) at the end of the three-hour course.
Here's the menu:
Roast turkey with lemon butter and an oregano rub;
Fresh herb-bread stuffing with fennel and lemon-glazed pecans;
Garlic mashed potatoes:
Mandarin green beans;
Carrots with green tea-ginger infused glaze;
Brussels sprouts (or fiddlehead ferns if available) oven roasted with balsamic and walnuts;
White-wine mushroom gravy and Cranapple-lime chutney.
Doesn't that sound fabulous?
This course is coming up fast! It's being conducted at the Community Centre on Sunday, April 3, from 1 pm until 4 pm. If this is a culinary skill you'd like to cultivate call the college at 250-837-4235 to enrol today.