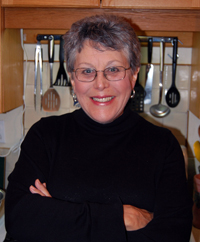 Last week I came across a party of four tall Europeans, male, in high-end ski clothes, looking glumly at the cheese counter in a local supermarket.
"Vat is zis Armstrong?" one said to the other, holding out a long brick of mild bright orange cheddar.
Now, there's nothing wrong with Armstrong cheese, but rows of it, and an absence of much else?—honestly, I wanted to die right there on the spot. Where's a heart attack when you need one? It was embarrassing.
"Better cheese in the deli counter up at the front," I mumbled to them, and they smiled wanly and went off on their cheese-finding mission.
So here's a guide to where to buy specialty foods in Revelstoke—for visitors and residents alike—so that when you've got the steak or pizza and want some really delicious things to add on, or you want different teas or coffees or other items not readily available in our mainstay grocery stores South Side and Cooper's, you'll know where to go.
Start your gastronomic tour south of town, down at Mountain Goodness Natural Foods, and work your way back up. It's a tough slog in the slush, so you may want to drive down Victoria first, then come back up and park somewhere near La Baguette and walk the rest—over to First, a dog-leg down Connaught to Sangha Bean, then back to Pam's Kitchen and up the east side of First, and a right turn at MacKenzie. It's well worth the six block trek around town to find the exceptional food items available in unusual places in Revie. You'll end up somewhere with a great cup of coffee or a lovely tea, to sit down and gloat over your purchases while you ponder the fact that there are 5, count' em five, outlets in Revy for free-run local eggs for $4.00 a dozen or less.
MOUNTAIN GOODNESS NATURAL FOODS
1401 Victoria Road
250-837-4352
E-mail: mntgoodness@yahoo.ca
This is Revelstoke's organic and natural food haven, offering local Bastian Ranch  organic grass-fed beef, free-run chicken from Salmon Arm (no hormones, no antibiotics), eggs and organic turkey, Valley Pride organic milk, goat cheese and yogurt. They also have a large selection of gluten-free products and cookbooks. Their Asian food section is basic but good, with Thai Kitchen curry pastes, Ume Plum Vinegar, chutneys and organic spices. Their line of Clayoquot Botanical teas are made by Carmen Bell, who has moved to Revelstoke so is a real-live local food producer in our own backyard. They also offer organic green teas from China.
LA BAGUETTE
607 Victoria Road, unit 103 (around the corner on Garden)
250-837-3755
E-mail: labaguettecatering@gmail.com
Baguette's enterprising creator Sonia has recently been  joined by Olivier, her partner in both cuisine and life. They bake artisan bread à la façon québecoise, and offer sensibly small pieces of fine cheeses from Québec, Italy and France. Organic sourdough bread among others, traditional and breakfast bagels, scrumptious cheesecake and desserts. Also homemade gelato and sorbets—this is a favorite after-supper stop for families in the summertime, when sidewalk tables grace the admittedly uninspiring view of the supermarket loading bay. (Gazebo makers get out your proposal templates!)
Pesto, dips and spreads, gluten-free chocolate cake and Sonia's fresh pasta and homemade sauces are also available. The teas are specialized, and this is the place in town to get 49th Parallel coffee. And Maldon Salt! (Quality salt the provides the right finish and can turn a plain fried egg into a fit-for-a-king supper.) Also a selection of baked pastas to take away. If you're a "loaf of bread, bottle of wine and thou" diner, this is your stop.
There are three tables and a counter. We had lunch there yesterday, and the secret of the week is that the lunch pasta item is worthy of any high end eatery in Canada, at a third the price. When will Sonia and Olivier get a wine list?
LE CHALET BAKERY
415B Victoria (across Rokeby from Cooper's, beside The Bargain Store.)
250-837-0556
Email: muffinmama@telus.com
One of Revy's most established food outlets, Le Chalet is a stand-by for bread, birthday cakes, bear paws and apple crullers. With a new chef and serving staff there to help Birgitta, Cheryl, Jim and Kyra, La Chalet will open for breakfast  6 am-11 (as of March 19th) as well as for lunch and supper. The breakfast menu includes eggs Bennie on a meat and cheese English muffin, as well as the breakfast bagel with two eggs, ham, tomato, mayo and cheese.
The big space with a fireplace is occupied by regulars most mornings, but there's always room for more. Truckers and loggers stop here for take-away sandwiches—fresh, thick brown bread, ham, cheese, smoked turkey, lettuce and tomatoes—and now there are big salads, as well as all home-made lasagnas, and Cheryl's famous cabbage rolls. As well, there's the deli counter meat and cheese selection and a wide array of traditional baked breads, buns, pizza rolls, doughnuts and pastries. Angelo Pasceri was the baker here for years, and still comes round every morning for coffee and a bran muffin. Birgitta keeps as well a stock of European canned goods—olives, balsamics, sauerkraut, pickles. Generous helpings at reasonable prices make Le Chalet a favorite snowboarder early morning stop, and the bear paws make it a favorite with kids after a visit to the Railway Museum.
PEOPLES' DRUGSTORE
Alpine Village Plaza in the Cooper's mall.
John carries, as a favour to a neighbour, fresh free-run eggs at a reasonable price, if you get there the day his neighbour brings them in.
Also the lowest priced pop in town.
THE CITY OF REVELSTOKE MUSEUM
315 1st St. West
250-837-3067
www.revelstokemuseum.ca
While you're on First St., drop into the Revelstoke Museum to check out their selection of unusual condiments, teas, spice rubs and maple products. Merilee runs the Museum Gift Shop, and she's brought in a surprisingly interesting range of  local Okanagan mustards, jams and jellies, jerky, Murchies Teas, Doi Chaang Coffee—Beyond Fair Trade, these coffees are produced and marketed by farmers—and, my current favorite, Biodelices maple sugar crumbs.  Even if you're not a maple fan, you have to try these maple crumblies over yogurt or ice cream! Some people come for miles to get the spice rubs made in High River, Alberta.
MOUNTAIN MEALS
311 1st St West
250-814-3555
www.mountainmealsrevy.com
Kendra makes fabulous soups, lasagnas, macaroni dishes and meat pies for you to take home for supper, as well as serving these in her nifty little shop on West First, next door to Crescendo. Convenience food that's real food, no preservatives or packaging, all home-made, from fresh ingredients.
Mountain Meals will also cater your event, or do dinner for a bunch of you, and gives cooking classes as well. Kendra used to cook for mountain lodges in the area, so has a great handle on how to feed a hungry outdoor crowd. Her take on food is that simplicity works—yummy home-style cooking with a BC approach—a combination of wild spirit, convenience in the kitchen and really great flavour.
Organic chickens, whole, frozen, also available here.
CRESCENDO
311 1st St. West
250-837-6552
www.crescendocanada.com
Daniel and Elvira hail from Switzerland and their Crescendo stock includes more oils than you dreamed possible, balsamic vinegars so finely crafted you can use them on ice-cream and as the basis for lovely non-A drinks, as well as spices, salts, pastas, and recently, from their friends in Armstrong, hand-made Chocolino chocolates.
Did you know that Revelstoke used to be a centre for hand-made chocolate? The Revelstoke Museum has a great display of the moulds used by Broadway Chocolates that used to operate out of the basement of Mannings. Now we're on the chocolate map again, with these locally made but Swiss-crafted Chocolino products from Armstrong, Crescendo will have a large supply of Easter bunnies, come next week.
PARAMJIT'S KITCHEN
116 1st St. West
250-837-2112
Since it opened in 2009, Pam's Kitchen has offered Indian and Austrian cooking by Goldie, Pam's talented daughter, who trained as a chef in Austria before coming to Canada. She learned Indian cooking from her mother Pam, who you can meet at the Community Market every other Thursday afternoon until May, when the market shifts to the main square on MacKenzie on Saturday mornings. Pam sells her famous samosas, and frozen curries. At Pam's Kitchen,  along with scrumptious butter chicken you can order schnitzel and a chocolate mousse. One customer comes in for a fix every single day! It's a restaurant, but you can take away containers of everything on the menu, plus a selection of stock items such as Pam's amazing Mango Plum Chutney, her home-ground turmeric (from the root), and an array of dips to go with the papadums that sit always neatly packaged on the counter, light as a feather and crispy fresh.
Revelstoke's only Indian restaurant, and fast becoming an attraction in its own right for people who travel through the area regularly.
SANGHA BEAN
111 Connaught Ave.
250-814-0080
(Between Victoria and First, on the north side of the street.)
The coffee and tea shop specializing in organic coffee and teas that are eco-friendly and fair trade. Krista Cadieux, the owner, offers friends and strangers uninterrupted peace and quiet for as many hours as they choose to sit there. She also stocks local arts and crafts on consignment, so if you're looking for gifts by local artists, add this hard-to find coffee house to the list that includes Talisman Trading, The Nickelodeon Museum, The Revelstoke Museum and the Artists' Cooperative—all within two blocks. Relaxed cosy atmosphere and a very clean unisex loo for customers, full of postcards from friends around the world. Watch EVENTS for evenings dedicated to poetry, Spanish conversation and music of various sorts.
ENERGY MATTERS
110B 1st St West
250-837-4244
www.energymatterscanada.com

A cross between a spa, health advisory centre and retail outlet, Energy Matters offers  drop-in infra-red sauna, massage beds. chairs and foot relaxers, as well as crystals, rocks, supplements and a range of health foods that includes organic teas and chocolate, yerba maté, super foods such as vital greens and goji berries, and even Holy Crap cereals, a best-seller. Mona dispenses quiet recommendations with no pressure to buy from her, and is a mainstay of Revelstoke's alternative health community. Perhaps the widest selection of tea in town, and so far as we know, the only place to get that Holy Crap.
CONVERSATIONS COFFEE HOUSE
205 MacKenzie Ave
250-837-4772
A coffee shop with ample seating, Conversations also offers take-out muffins, sandwiches and sweets. Outdoor seating all year round under the awnings.
TALISMAN FIBER & TRADING CO
211A MacKenzie Ave.
250-837-6565
As well as gifts, local and imported crafts, weaving supplies and clothing, Janet's Talisman shop sells fair trade coffee and—hard to find—those eco-friendly washable cotton coffee filters that will one day put the red-green box out of business. Local free-run eggs are sometimes available here.
CHANTILLY KITCHEN AND BATH
215 MacKenzie Ave.
250-837-7005
Mainly a houseware shop, Chantilly also sells a selection of teas, spice rubs, vinegars and—the it's the only place in town to get these—professional quality cake and cookie decorating confectionary. Sprinkles in all colours, food colourings for frostings, and all manner of cake decorating equipment and mixes for fondant. The sprinkles are gorgeous and entirely edible, so pick up the cookie sparkles here for your Easter baking.
VALHALLA PURE OUTFITTERS
213 MacKenzie Ave.
A mountain sports store, RAE also stocks freeze-dried hiking food in lightweight packets.
MALONE'S CONFECTIONARY
210 MacKenzie Ave.
Japanese and Korean food items, including, in freezers at the back, sushi fish, frozen—salmon, shrimp already breaded on sticks, octopus and scallops. (Also tuna, but without any indication as to what kind of tuna I can't recommend it, as bluefin is an endangered species, and it's unethical to buy it.) Free-run eggs, when available, at the cheapest price in town. Malone's is your newspaper and lottery ticket shop—we get our Globe and Mail here every single day— and also offers greeting cards, hand-knits, souvenir items including post-cards, magazines, and nuts and candy.
THE MODERN BAKESHOP & CAFÉ
212 MacKenzie Ave.
250-837-6886, or -6850
Coffees, bread, pastries, sandwiches and soup — The Modern is why Starbucks will never come to Revelstoke. Josée and Kevan do a fantastic job of everything they produce, and it's hard to get a seat here round lunchtime Saturdays. Closes at 5 pm. You can buy everything to take away, or eat in. Catering also.
MAIN STREET CAFÉ
317 MacKenzie Ave
250-837-6888
Primarily a restaurant, offering reasonably-priced fresh and interesting lunches and suppers, Main Street Café produces terrific muffins for take-away, and some baked goods.
REVELSTOKE FARMERS' MARKET
250-814-0214
Every other Thursday afternoon at the Community Centre (600 Campbell Ave, beside the Aquatic Centre) November-April, and every Saturday morning at Grizzly Plaza from May to October.
Herman and his crew from Wild Flight Farms provide Revelstoke with fresh, local organic produce including root veg, greens both usual and not (tatsoi, pea shoots), apples and pears, fresh free-run eggs, and more. Other food vendors join in to sell sausage,  jerky, coffees, baked goods, jams and jellies, hot dogs, samosas and curries. Also a wide array of crafts, jewellery-makers, potters and stitchers sell their wares.
And here, for your viewing pleasure, is a selection of images from these gastronomic hot spots: