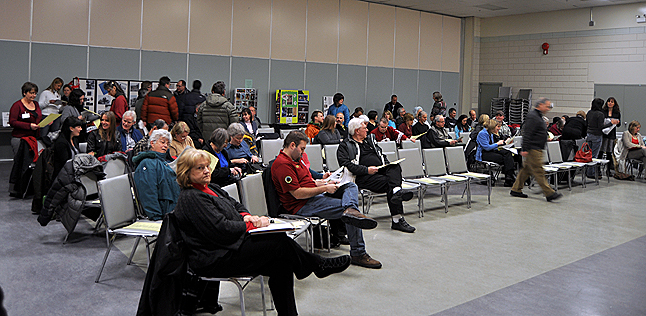 By David F. Rooney
Thirty-eight groups made their pitch for a piece of the $333,961 Community Initiatives Program pie on Tuesday.
The annual get-together at the Community Centre saw presentations on a variety of different projects, ranging from a proposed community radio station to construction of a wheelchair-accessible deck at the summit of Mount Revelstoke National Park.
As occurs every year the people who attended the meeting listened to each proposal and then voted for the 10 projects they thought were most worthwhile.
Here is a list of the projects presented at the meeting:
Nordic Ski Club: purchase a snowmobile and to-behind track setter — total budget, $19,450 — amount requested, $18,640
Revelstoke Acrobats Club: replace two 25-year-old trampolines with new ones — total budget, $19,800 — amount requested, $14,800
Revekstoke Ski Club: purchase equip,ment to support on-hill athlete training and races — total budget $18,850 — amount requested, $18,850
Revelstoke Bear Aware: program delivery — total budget, $34,700 — amount requested, $18,000
Revelstoke Fire Rescue Service: purchase off-road equipment for emergency service work in the Draw Down Zone — total budget $42,305 — amount requested, $29,805
Friends of Mount Revelstoke & Glacier: construction of a 1,600 square-foot, wheelchair-accessible deck by its bookstore on the summit of the mountain — total budget, $18,000 — amount requested, $5,000
Revelstoke Golf Course: funding for a chemical-free fairway treatment program — total budget, $35,000 — amount requested, $30,000
BC Interior Forestry Museum: program consolidation and re-visualization as forest-discovery programs — total budget, $22,000 — amount requested, $13,000
Kootenay Carshare: membership drive and 10th anniversary celebration in Revelstoke — total budget, $4,437 — amount requested, $2,086
North Columbia Environmental Society: offer business audits, community events, speaker series and in-school programs — total budget, $16,723 — amount requested, $14,698
Revelstoke Fair Trade Society: host city's second World Fair Trade Day Celebration downtown — total budget, $1,000 — amount requested, $950
Revelstoke Heritage Railway Society: enhance collection and exhibit management — total budget, $33,000 — amount requested, $24,000
Vintage Car Club of Canada: host June 4 Revelstoke Mountain Paradise Show & Shine downtown — total budget, $3,590 — amount requested, $890
Revelstoke Cycling Association: mountain bike trail reconstruction on Boulder Mountain — total budget, $24,000 — amount requested, $24,000
Stoke FM Radio Society: build a community radio station — total budget, $8,450 — amount requested, $5,000
Revelstoke Museum & Archives: upgrade digitize archives — total budget, $38,500 — amount requested, $25,000
Revelstoke Multicultural Society: celebrate ethnic diversity in our community — total budget, $7,000 — amount requested, $5,000
Revelstoke Arts Council: increase the delivery of local arts and cultural programs — total budget, $117,500 — amount requested, $25,000
Bygone Era Entertainment Society: hold gramophone and dance performances for seniors and others — total budget, $5,925 — amount requested, $3,500
Revelstoke Visual Arts Society: increase office, exhibition and marketing capacity, acquire new computer — total budget, $44,500 — amount requested, $37,500
Association des Francophones des Kootenays Ouest: present a French-language play and community supper as part of 25th anniversary of group's existence — total budget, $8,845 — amount requested, $1,500
Revelstoke Forest Workers Society: hold Revelstoke Timber Das LITE — total budget, $6,450 — amount requested, $2,000
Revelstoke Community Child Care Society: provide early-learning programs — total budget, $24,000 — amount requested, $12,000
Community Connections: delivery of youth services programs — total budget, $77,350 — amount requested, $25,000
Canadian Avalanche Centre: delivery of in-school avalanche safety programs — total budget, $9,500 — amount requested, $4,000
School District 19: deliver of the annual Screen Smart campaign — total budget, $3,000 — amount requested, $2,000
Revelstoke Community Child Care Society: install appropriate play structures at Columbia Park Elementary — total budget, $24,383 — amount requested, $18,000
Community Connections: delivery of summer day camp programs — total budget, $54,650 — amount requested, $12,000
Okanagan College: delivery of programs for the Adult Learning Centre — total budget, $17,780 — amount requested, $15,980
Okanagan College: community training program — total budget, $27,731 — amount requested, $12,000
Royal Canadian Legion: installation of a wheelchair ramp and lift — total budget, $24,985 — amount requested, $14,985
Community Connections: provide Food Bank programs — total budget, $179,000 — amount requested, $25,000
Revelstoke Senior Citizens Association: funding for a volunteer coordinator — total budget, $12,500 — amount requested, $9,000
City of Revelstoke: funding for the social development coordinator's position — total budget, $50,000 — amount requested, $5,000
Community Connections: funding for the social justice advocate position — total budget, $48,700 — amount requested, $28,200
Canadian Canine Search and Rescue: promote growth and recruitment and acquire SAR equipment — total budget, $27,400 — amount requested, $20,000
Revelstoke Women's Shelter Society: funding for the Community Response Network — total budget, $11,700 — amount requested, $5,000
Revelstoke Hospice Society: increase public awareness programs, build Internet capacity and provide volunteer training — total budget $9,000 — amount requested, $9,000
Total budgets: $1,133,833
Total requested: $536,054
Total available: $333,961