By David F. Rooney
After weeks of preparation, the Revelstoke Spirit Festival is set to begin on Friday with a host of terrific events suitable for just about everybody in town.
While there will be plenty of predictably adult-only events, there are a large number of events tailored for families in venues across the city from Revelstoke Mountain Resort to the Visual Arts Centre, all of the major museums and downtown restaurants and businesses.
Brought to you by the Revelstoke Arts Council, which wangled a $20,000 BC Spirit Festival grant in November, and organized with help from
the Chamber of Commerce, the Friends of Mount Revelstoke & Glacier, Powder Springs and other local businesses, the Revelstoke Spirit Festival promises non-stop fun for seven days starting this Friday, February 4.
The activity begins at the Visual Arts Centre at 320 Wilson Street where local artists are exhibiting  40 canvasses in the Anything Goes Art Show and Silent Auction from 7 – 9 pm and the opening of the Swiss Guides: Shaping Mountain Culture in Western Canada exhibition at the Railway Museum beginning at 7 pm.
There will be several highlights of this week-long festival, including a reprise of the Carousel of Nations Multicultural Event at the Community Centre on Saturday, February 5, from 4 pm until 7 pm. As it did last year, this family-friendly celebration of multiculturalism brings together food, music, story-telling, dance and other activities that will delight people of all ages. This is a free event.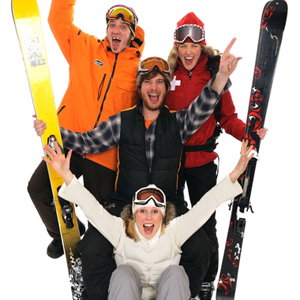 Then there's Ski Bum — The musical at the Community Centre on Sunday, February 6, and Monday, February 7, at 7 pm. This take on, well, ski bums, by Rossland's Iron Mountain Theatre Company will certainly get you laughing. This is a free event.
Of course, where would any festival in Revelstoke be without music. There will be plenty of that this week with acts ranging from FUSE at the Sears Guitar Hero School Challenge at the United Church at 6 pm on Wednesday, February 9, and Maritime Kitchen Party at River City Pub starting at 8 pm on Monday, February 7, to DJs at Outabounds and the sublime Tenorissimo at the United Church at the United Church on Thursday, February 10 at 7:30 pm. Other performers include Tambura Rasa's exotic and theatrical sound, Cornstarr Maggie Davis and Broken Down Suitcase. You can find all of the times for their performances in the official schedule of events.
There will also be ice sculptures at Grizzly Plaza on Wednesday, February 9, from 7 until 9 — along with a hot dog sale to benefit Canadian Canine Search and Rescue, which is the local affiliate of the  the Canadian Avalanche Rescue Dog Association.
And, just for something completely different, there will be a Top Blokes Night on
Thursday and Friday, February 10 and 11, an Amazing Race on Saturday, February 12, featuring 15 teams of people racing around town fulfilling odd tasks and on Saturday and Sunday, February 12 and 13, the very first Mountain Roots Film Festival, organized by the Friends of Mount Revelstoke & Glacier. Many films have been entered into this film festival, many of them produced by local youths. (You can see one, Extreme Tobogonning, on the front of the online Current.)
There's also a salute to the Chinese New Year with a luncheon organized by the Revelstoke Museum & Archives at the Hong Kong Restaurant on Sunday, February 13.
Taken together this is an amazing and ambitious festival. A lot of the events are free and where there are costs they are not onerous. This is a great opportunity to shake off the mid-winter blahs so get out and do it!
You can find all of the times for Revelstoke Spirit Festival events in the official schedule of events.