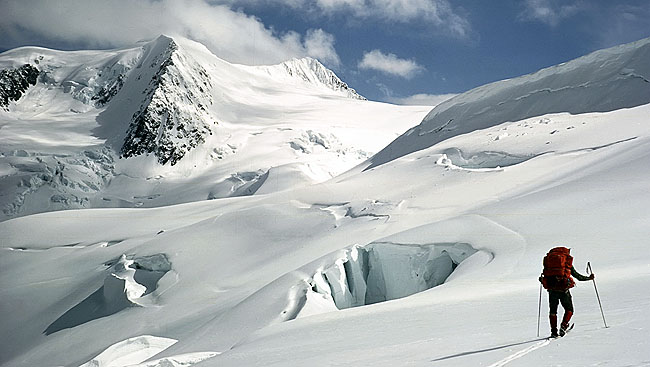 As part of its 125th anniversary celebration this year, Glacier National Park is hosting a special evening event, entitled One Winter's Night in Rogers Pass, with author, adventurer and skier Chic Scott at Glacier Park Lodge.
It has been almost 50 years since Scott discovered the magic of high places. During a lifetime of adventure he has climbed and skied around the world, organized clubs and foundations, written books and worked as a mountain guide.
His odyssey has taken him from the icefields of the Canadian Rockies to the historic climbs of the European Alps, from the grandeur of the Himalayas to the icy solitude of Mount Logan. In all seasons, on foot and on skis, he has followed his passion.
He intends to share that passion through this event, accompanied by amazing images and delicious appetizers, in the Glacier Park Lodge Dining Room on Saturday, February 26, from 5 until 6 pm.
Scott will give a slideshow entitled Powder Paradise: Backcountry Skiing in the Selkirk
Mountains. Chalk full of mouth-watering images of ski touring in the Selkirks, there will be powder turns, stormy tents, campfires, cabins, lodges, grand traverses and even a few old black-and-white images to illustrate past adventures in Glacier National Park.
In recent years, Scott has been honoured by the Association of Canadian Mountain Guides (1995), the Calgary Mountain Club (1997), The Alpine Club of Canada (2000) and the Bill March Summit of Excellence Award (2000). His magnum opus, Pushing the Limits: the story of Canadian Mountaineering, has won four awards including Alberta Trade Book of the Year, and the Wilfred Eggleston Award for Non Fiction.
Scott now resides in Banff, Alberta where he earns his living writing books and magazine articles and giving presentations on mountain topics. When not at his computer he can be found hiking, skiing, or climbing in the nearby Rocky Mountains, or perhaps sitting around the fire at one of the ACC huts telling stories.