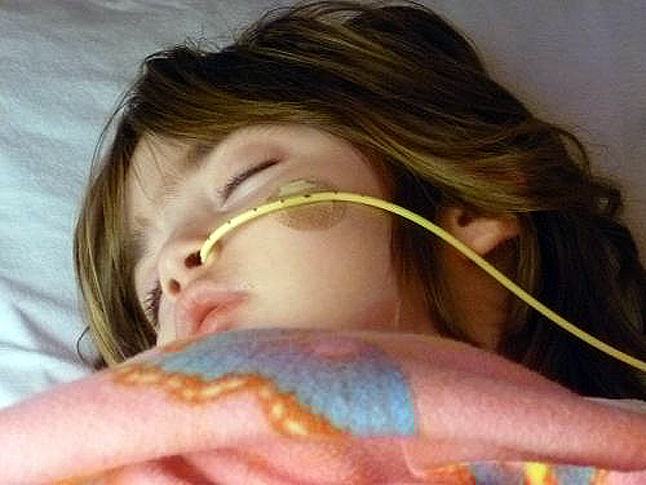 Mischa Arnott spent her fourth birthday Tuesday receiving a bone-marrow transplant her family hopes will ensure she has a relatively normal life.
The youngster was medevaced from Revelstoke to BC Children's Hospital in Vancouver last March in critical condition.  After initial testing and a bone-marrow biopsy, she was initially diagnosed with severe aplastic anemia, in which the bone marrow completely fails.  She was left with less than 5% of normal bone marrow function.
But after recent genetic testing, she was found to have a 1-in-a-million single-gene mutation that causes an illness called dyskeratosis congenita.  Besides bone marrow failure, she is at very high risk for other life-threatening health problems such as various cancers, lung and liver failure, beyond the immediate and long-term risks of her bone marrow transplant.
Mischa's mother, Renata Lewis-Arnott, has been chronicling her daughter's ordeal online at the caringbridge.org website.
"Well its 15 minutes after midnight and the transplant has just been completed, Mischa has slept through most of it as she was pre-medicated with Tylenol, Benadryl and morphine," Renata wrote in the journal she maintains on the website. "Her blood pressure got very high at one point and her heart rate dropped, they are also doing some tests as her pee is looking a little pink possibly showing some liver problem.
"Not sure why but it feels important to immediately talk about the small details in this journal before I forget… I also don't feel in the least bit sleepy.
"We have one-to-one nursing right now with monitoring (vitals) every 15minutes, its been a long night for our nurse as she has been at the bed-side the whole time literally counting the drops going from the bag into the line making sure its transfused not too fast and not too slow.
Not much more to add right now, it all certainly feels a bit surreal. Definitely feeling a little on edge as this is where the fight begins and things can start to go wrong… everyone is different and even the best most experienced hematologist can't tell how one person's body is going to react to another persons marrow… please just let it graft without too many problems or GVHD (Graft-Versus-Host Disease, a complication that can occur after a stem cell or bone marrow transplant in which the newly transplanted material attacks the transplant recipient's body)!
"Goodnight all, and thanks again for all the wonderful support, I can't wait until Mischa is old enough to read this for herself and see how much love and support she had through this crazy chapter in her life
You can read Renata's journal entries and see a photo album of Mischa on the site. You can also make a donation to the CaringBridge organization, which provides free websites that connect people experiencing a significant health challenge to family and friends, making each health journey easier. CaringBridge is powered by generous donors.