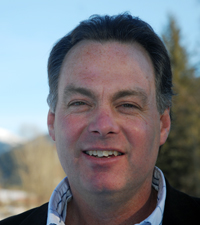 When I look back on 2010, one of the biggest political stories of the year was the success of the citizens' initiative against the Harmonized Sales Tax (HST).  Political pundits said it couldn't be done, but British Columbians proved them wrong.
Hundreds of thousands of citizens signed a petition demanding the cancellation of the HST, a tax that the BC Liberals created despite their promise not to do so.  That successful petition forced the government to agree to hold a referendum on the HST.  It also appears that the success of the campaign ultimately resulted in the resignation of the Premier.
British Columbians fought and won a battle to have their voices heard on this important issue.
But how is it that the BC Liberals felt that they could get away with forcing the HST on you in the first place?  How could the BC Liberals state absolutely that they would not implement the HST, and then turn around and do it?
How could they push the HST legislation through the Legislature even though it was clear that British Columbians were against it?  Why did the BC Liberal MLAs not vote the will of their constituents?
The HST debacle seems to indicate that we have reached a point in British Columbia where our democratic system is in crisis.  I think we all agree that we have to make some changes to the way our government functions.
Based on my experience in the Legislature, I have three ideas about how we can begin to improve the legislative system in this province.
I believe that we need to change the way we elect MLAs.  We need to change our voting system to a mixed member proportional representation system that would make the Legislature more diverse and force elected members to be more responsive to the will of the people.
I am also committed to strengthening the Legislative committee system which would increase consultation and bi-partisan cooperation in the development of legislation.
And I believe that we must reverse the erosion of our tools of oversight such as the Office of the Ombudsman, the Auditor General, the Children's Representative and the Freedom of Information office.  The ability of these organizations to operate fully is critical to the function of our democracy.
What do you think about these ideas?  What would you do to strengthen our democracy?
I look forward to hearing your thoughts.  Please get in touch by phoning 1 866 870 4188 or by emailing norm.macdonald.mla@leg.bc.ca.
Norm Macdonald is the New Democratic MLA for Columbia River-Revelstoke. His website is at www.NormMacdonald.ca.