By David F. Rooney
Local snowmobilers held a party on Boulder Mountain Saturday to celebrate the official opening of the Revelstoke Snowmobile Club's new cabin, which was built this year.
The open house was supposed to attract about 300 snowmobilers, but the extended highway closure kept all of the out-of-town guests from arriving, so it became a strictly local affair. Be that as it may, it was still a pretty good official opening.
"This was a big project that involved a lot of people," said Greg Byman, the Revelstoke Snowmobile Club's Vice-President and MC for the event.
He thanked the many, many volunteers who put time and effort into seeing the project through to completion, "especially my wife Barb for doing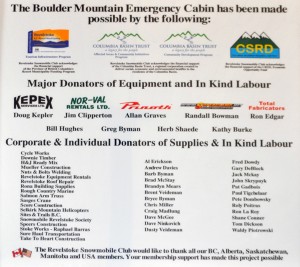 the grant writing and paper work," Cathy Burke and Bill Hughes who spent his six weeks vacation working on its construction. The club raised $340,000, including major funding from the City of Revelstoke and the Columbia Basin Trust. The companies and individuals who contributed to its construction are commemorated in a plaque that hangs inside the cabin.
There was a little nostalgia, too, as Bill Gill and Herb Shaede reminisced about the old cabin, which now has to be torn down and all traces of it removed from the mountain. Gill built the original A-frame cabin on Boulder back about 40 years ago while Shaede built and addition to it some years later. In a wonderful gesture, Shaede presented Gill with the sign — Bill's Place — that used to hang on the original cabin.
The old cabin had its day and now it's time for a new structure.
Councillors Chris Johnston and Phil Welock represented the City at the opening and were clearly impressed.
"What a great place this is," Johnston told the crowd. "From the City's point of view you're doing a great job bringing visitors to Revelstoke. They fill the hotel rooms and restaurants so people can pay their taxes.
One of the high lights of the open house was the presentation of a $5,000 cheque from each club to John Kelly of the Canadian Avalanche Centre.
He was very appreciative of the support which is indicative of the fact that the clubs have been among the Centre's oldest supporters and partners.
After the formal portion of the event, CAC volunteers staged a number of avalanche exercises for interested snowmobilers while others chose to chow down on the great burgers and smokies grilled by Becky Bristow and Ardelle Hynes.
Here is a selection of photos taken at the event: