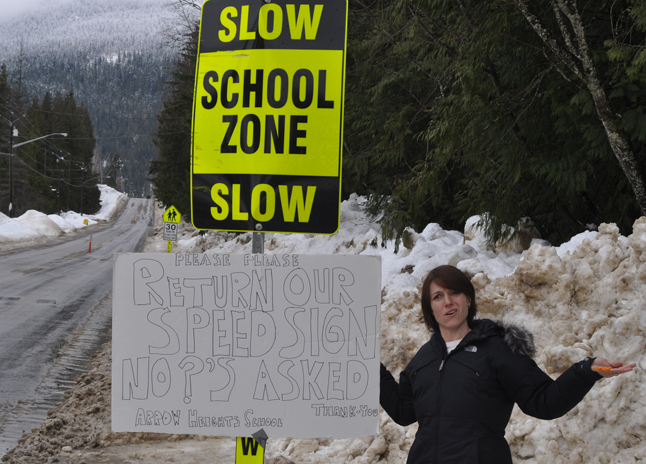 By David F. Rooney
City Council has for years known that speeding through the school zones around Arrow Heights Elementary School is a huge concern for neighbourhood parents but despite all the talk nothing has yet been done.
Drive up Nichol Road from Airport Way and you can see speed signs, traffic cones and even — until it was stolen this week — a digital speed sign that had been loaned to the AHE Parents Advisory Committee by the Rotary Club. All of these measures are, of course, intended to get drivers to slow down when they're passing through the AHE school zone. Most do, of course, but a few don't seem to notice or, perhaps, care.
"I feel we have been lucky so far not to have one of our students seriously injured," says PAC Chairwoman Tracey Vopni.  "Due to the resort, Nichol Road is a very dangerous walk for pedestrians."
And therein lies the problem. From Vopni's point of view what Nichol Road needs is a sidewalk so kids and adults can safely walk along the thoroughfare and it wouldn't hurt if a sidewalk was installed along Park Avenue from Nichol at least as far as the school.
Residents of the neighbourhood have been asking for just that for years and nothing has yet been done.
Now, in light of the theft of the digital sign, Vopni is asking the parents of AHE school kids to put some pressure on City Council to make sidewalks a top priority.
"As you may be aware, the City published their Comprehensive Transportation Master Plan in November with requests for public input closing on February 10," " she said in a letter sent to parents this week.
"This plan is the transportation blueprint for Revelstoke for the next 25 years.  Currently Nichol Road and Park Drive are slated to have sidewalks built on a 'High Priority' rating. What does that mean? It means it could take longer than we hope for us to see anything happen. I am pleased to see we're slated for a sidewalk but what I'm hoping for is to change the timing status from 'High' to 'Immediate' which is the most urgent level of priority, so we receive sidewalks sooner than later. It took a death to have the guardrails and sidewalks installed at Red Devil Hill — we shouldn't need the same to happen."
Vopni said the PAC needs "as many interested folks to write e-mails/letters requesting the importance of making the sidewalk planned for Nichol Road from Airport Road to Park Drive a priority on the City's construction schedule.
"Please e-mail your letter to the Director of Planning, John Guenther, AICP  at  jguenther@cityofrevelstoke.com or mail it to him at City of Revelstoke,  Box 170, 216 MacKenzie Ave, V0E 2S0.  If you could also cc/mail a copy to the Director of Engineering, Brian Mallett, PEng, bmallett@cityofrevelstoke.com.  If you would like to reviewthe Transportation Master Plan you can request a hard copy from the City Planning Office (837-3637) or you can go to the City Home Page and you'll see it listed on the Featured Information Table. (http://www.cityofrevelstoke.com)."