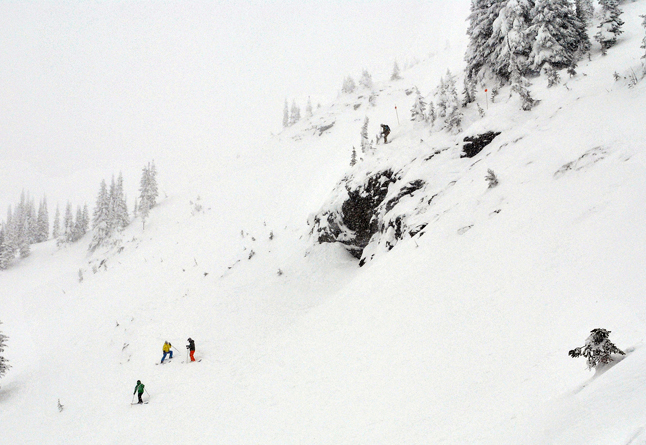 By Karen McColl
Nothing could amp up stop Number Three of the Freeskiing World Tour here in Revelstoke more than a winter storm warning forecasting more than 30 centimetres of new snow over the next three days.
The big dumps that make Revelstoke famous have arrived and will provide a fun venue for Thursday's qualifier event at Revelstoke Mountain Resort. More than 60 athletes will be shredding their hardest through the Separate Reality glades, vying for a spot in Day One of competition on Friday.
On the local front representing Revelstoke are Nicole Derksen, Tatum Monod and Alex Wall in the ladies category and Ryan Kappler, Richard Wrangel, Lucas Gonnthier, Phil Hudec, Gord Spurgeon and Sean Cochrane on the men's side. High hopes lay with Cochrane, who made it to the final day of competition last year. Although he took a couple of big crashes on his final run, his energy and style made him a local favourite.
Revelstoke's competition will be the first time since the FWT's inception in 1997 that that a slightly modified judging criteria will be implemented. As before, judges assess the venue ahead of time and assign difficulty ratings to various line possibilities based on steepness and exposure. Competitors receive a score for their line choice, and then receive a score in control, fluidity and technique that must be within three points of their line score. This spread has been increased from two points, which places slightly less emphasis on the difficulty of the competitor's line choice relative to the other categories.
The other modification is with the style category, replacing aggression. Style is the only category which is assigned points independently of the line choice score, which gives competitors greater recognition for their creativity and flare.
Tomorrow's venue, Separate Reality, is a steep, open slope with gladed areas and two notable cliff sections. Most competitors will plan on hitting at least one of these cliff sections in order to receive a high score in the line category. Last year many qualifying competitors failed to stomp or properly land these drops, which are reported to have a relatively flat landing. Any fall or crash almost inevitably knocks a competitor out of contention.
Four judges are assigned to the competition, including local ski icons Andrew Sheppard and Chris Reubens. Sheppard, who judged last year, will be judging the qualifier, while Reubens will judge Day One and Two.
The women's qualifier starts at 10am Thursday with the men's competition following at about 11am. Separate Reality is accessed by going skier's right of The Stoke chairlift.
Day One of competition on Friday is planned for North bowl, with a helicopter drop outside ski area boundaries planned for Day Two. Sunday and Monday are set aside as back-up days in case of bad weather.
In its 13th year, the Subaru Freeskiing World Tour is the longest running freeskiing competition and awards over $100,000 in prize money over the course of six international stops. This is RMR's second year hosting the event.
Mountain Sport's International announcer Frankie Alisuag dedicated this year's competition to Arne Backstrom, who won the Canadian Freeskiing Championships in Revelstoke and the overall World Tour in 2010. Backstrom died tragically in a ski mountaineering accident in Peru last June.
Current tour leaders Angel Collinson of the United States and Chopo Diaz of Chile will be competing in Day One on Friday alongside other pre-qualified athletes and those that make the cut on Thursday.