By Karen McColl
The Men's Canadian Freeskiing Championships qualifier, delayed one day due to poor visibility, concluded Friday with the top 20 out of 56 men moving on to the next round of competition. They join the 30 or so pre-qualified Subaru Freeskiing World Tour athletes in Day One of competition at Revelstoke Mountain Resort on Saturday.
Athletes from throughout Canada and the United States, as well as individuals from Sweden, Norway and Japan competed in heavy snowfall and low light conditions on the run Separate Reality on Friday, waiting out short and intermittent fog delays.
Although the low visibility added to the already sizeable challenge of hucking cliffs and stomping the landings, several competitors stepped up to the plate, including top three finishers Phil Hudec of Lake Louise, Alberta, Alex Wall representing Revelstoke, and Kyle Taylor of Whitefish, Montana.
Despite the weather, it's not surprising that few athletes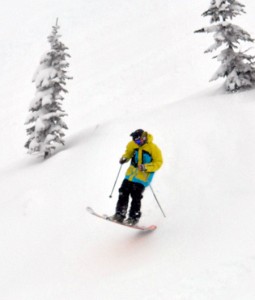 were complaining. Most competitors, like Michael Légaré of Whistler, thought the conditions were "really good".
"I was surprised about the conditions, it's good to have pow," he said. Légaré qualified in 11th place. "At the beginning it was foggy and halfway down it was still foggy but you can see all the deviations." Légaré was happy with his run despite having lost his helmet camera somewhere along the way.
There were quite a few crashes during the course of the day- many competitors missed stomping the landings of the top cliff sections referred to as Huey, Duey and Louie. Most those who took tumbles were able to ski away unharmed but Jason Astle of Alta, Utah, suffered a broken arm.  He finished his run unassisted but was quickly attended to by ski patrol at the bottom. Others showed up in the finish area with banged chins and bloodied lips but almost everyone was smiling.
Those who did not make Friday's cut could perhaps console themselves by the prospect of a few days of freeskiing in the powder, as the snowy conditions are expected to continue until Saturday.
Competition director Byran Barlow was pleased with Friday's events. "I saw a lot of really cool stuff," he said during the evening athlete's meeting. Referring to the conditions he said "I couldn't have ordered it better. It's going to be an awesome event."
Saturday's competition in North Bowl starts Day One of the championships. Competitors will start above the entrance to North Bowl and finish near the Downtowner cat track that leads back to The Stoke chair. The best spectator viewing, depending on visibility, is expected to be from the top of Ripper chair.
Chopo Diaz of Chile leads the men in the tour with a total of 171 points accumulated from the first two FWT stops in Las Lenas, Argentina, and El Colorado, Chile. Angel Collinson of Snowbird, Utah, leads on the women's side with 184 points. Each day of competition is worth a maximum of 50 points, based on line difficulty, fluidity, control, technique and style. Collinson, who skied and won her first ever FWT competition in Revelstoke last year, also won the 2010 McConkey cup for the overall tour winner.
Less than half Saturday's competitors will move on to Day Two of competition on Sunday, scheduled to take place on Mac face in Greely Bowl outside ski area boundaries. Competitors will have time for a visual inspection before being helicopter dropped onto the ridge.  Clear skies are expected for Sunday.