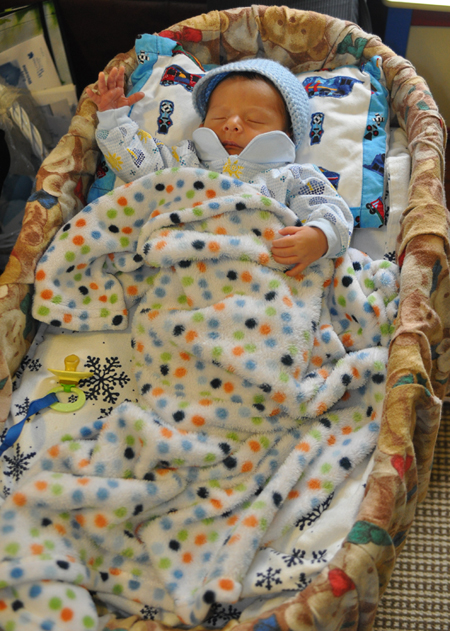 By David F. Rooney
Jack Eden Bailey, Revelstoke's newest citizen — in fact, the very first baby born here this year — was welcomed into the community with a load of gifts delivered on Wednesday by the Welcome Wagon's Marina Ozero and Corylie Dias.
"We deliver gifts to all the new babies and newcomers in Revelstoke," Marina said as she sat with the boy's mother and father, Alma Ramirez and Brian Bailey, in their home on Airport Way.
The infant was born on January 10 at 11:50 pm and weighed 7 lbs 15 oz, said new dad Brian.
"It was not a long delivery," Alma said. "Just two and a half hours and only half an hour at the hospital."
Alma and Brian were quite appreciative of the many gifts brought by the Welcome Wagon Ladies.  Gifts were provided by The Bargain Shop, Chantilly Kitchen Bed & Bath, Conversations Coffee House, Cooper's Foods, Creative Flowers, Energy Matters, Field's. Grizzly Books, Home Hardware, Hub International, Inspiration Gifts, Legends 'n' Heroes, Mary Kay, Nectar tea Bar, the Nickelodeon Museum, Pharmasave, People's Drug Mart, Radio Shack, Revelstoke Credit Union, the Regent Inn, Revelstoke Cable TV, Sangha Bean, Sears Canada, Selkirk Graphics, Spice O' Life Emporium, Talisman Fibre and Trading Company, Universal Footwear and Video Express.
Here are some photos of Jack and his family: