By David F. Rooney
When I first heard that the Revelstoke Theatre Company was going to produce Daniel MacIvor's play, Marion Bridge, my first reaction was, "Oh, boy… a chick play."
Well, having watched the dress rehearsal on Sunday afternoon I am happy to report that this is a deeply engrossing and well acted human drama that should appeal to anyone regardless of their gender.
Marion Bridge is the story of three estranged — and very different — sisters who are reunited at their family home in Sydney, Nova Scotia, to care for their dying mother.
Agnes, the eldest beautifully played by Suzie Cameron, is a tough, profane and jaded some-time actress from Toronto with a serious drinking problem. She sparks off the middle sister, Theresa, a devout nun played by Monica Sia Embury. The two of them both pity and protect their youngest sister, a naive, goal-less TV junkie named Louise played by Sara Joseph.
Their mother's decline and eventual death adds to the tension that quivers through the women's relationships with each other, as does an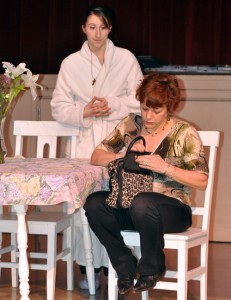 attempted reconcilliation with their father and Agnes' attempts to connect with the daughter she gave up for adoption when she was just a teenager.
These tensions, their causes and resolutions will resonate deeply with anyone who has grown up with brothers and sisters. It will also strike a chord with people who have discovered, to their deep dismay, that their parents are giants with feet of clay.
This is a play that deal with tough subjects: fear of death, teenage pregnancy, alcoholism, the aimless drift of contemporary young people and the anger and disdain felt for parents when their weaknesses are exposed. But it also speaks, most especially through the individual actresses' monologues, to the universal yearning for resolution and reconcilliation, for a rediscovery of love… and hope.
The set for this two-act play is barebones: a table and chairs, a set of stairs, the railing of a bridge and a sideboard. The lighting is well-employed to help set the mood for the action on stage. But it is the acting that really sets this production apart. Cameron, a veteran of many RTC production is simply superb. Embury is a believable nun and Joseph is convincingly naive and aimless. They deliver MacIvor's beautifully written dialogues and monologies with conviction and power, which contributes mightily to the appeal of Marion Bridge.
This is must-see theatre and is easily one of the best dramas produce in Revelstoke.
The Revelstoke Theatre Company's production of Marion Bridge is being performed at the Community Centre at 8 pm on Jan. 14 – 15 and 20 – 22. The January 16 performance will be a matinee at 2 pm. Tickets — $15 for adults/seniors and students are $12 — are available at the Credit Union.