Baby Bok Choy and Yellow Beetroot Warm Salad with Feta and Balsamic Drizzle
Cheddar Omelette with Green Pepper and Sautéed Mushrooms
Spinach Hazelnut Salad with Black Rice,  Roasted Butternut Squash and Yogurt Lime Dressing
Warm Potato and Green Bean Salad with Red Onion Slivers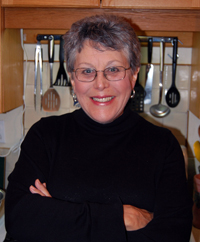 When the world turns white with snowdrifts so that looking out the window makes you feel like a bunny inside a huge marshmallow, it's time to focus on getting some colour onto the plate. Any one of these dishes can make a supper on its own or with a loaf of great bread and a cold ale or a glass of room temp red wine — preferably a Pinot Noir or a Cabernet Sauvignon — something earthy and substantial (forget the Chardonnays and the Merlots here.) And I really like Tall Timber with any of them — beer is great with the slightly acidic flavours of lime/lemon/balsamic in the dressings.
Baby Bok Choy and Yellow Beetroot Warm Salad with Feta and Balsamic Drizzle
This salad is nicest served warm but also delicious the next day. It keeps well, covered in the fridge, and provides a good shift from imported lettuce when the Community Market and Herman's corn salad is still a week away. The sweetness of the beetroot contrasts yummily with the slightly bitter bok choy, and the feta adds oomph, making a balanced dish with root carbs, greens and protein. We ate this with Sonia's ravioli from La Baguette, with a sprinkling of parmesan and toasted pumpkin seeds, for a really scrumptious supper. Great with a cold Begbie Tall Timber, whose bittersweet aftertaste mirrors the choy-beetroot combo.
4 heads baby bok choy
4 golden beets (6 if they are very tiny)
1 tbsp butter
½ cup dry white wine
1 tbsp olive oil
1 tbsp Maletti or Star Apple Balsamic
½ cup feta cheese, crumbled
salt and pepper
Wash the golden beetroot well and cut off the top and tails. In a saucepan large enough to cover the beets with water, put them to boil and cook until easily pierced with a sharp knife, about 20 minutes. (Time depends on size. Don't chop them up before boiling though — you want to retain as much of the juice as possible in the beetroot.) When done, cool enough to peel (sometimes the peel slips off easily, but I find with baby beets you mostly have to use a peeler or paring knife.) Quarter the beets and set aside in a wide, shallow salad bowl.
Heat the butter in a large frying pan. Wash and dry the bok choy, and slice each little head in half. Place the halves cut side down in the frying pan and sauté until they begin to brown a little. Pour in the half cup of white wine and turn down the heat to simmer. When the wine has disappeared and the boy choy are nicely browned on the cut side, and soft enough to pierce easily with a fork on the upside, remove from the heat and set aside.
If the boy choy is really baby, leave in halves. If they are larger, quarter them. Add to the bowl with the beets.
Drizzle over the beetroot and bok choy 1 tbsp olive oil and the balsamic vinegar. Top with the crumbled Feta, freshly ground pepper, and a sprinkling of really good salt — Hawaiian red salt is nice here, or Maldon salt.
Cheddar Omelette with Green Pepper and Sautéed Mushrooms
I learned how to make an omelette by reading Julia Child. The French method uses butter.  (Julia, as we all now know her, tells a wonderful story about her grandmother once firing a cook who fried an egg in oil, and another about Gertrude Stein, and how her friend Alice sneered at an artist she disliked by saying she would serve an omelette but would cook it with oil rather than butter, as he was French and would understand quite perfectly the intended insult.) This is not a puffy meringue omelette, but one that incorporates onion, green pepper, mushrooms and cheese, and is a one-dish dinner or lunch — substantive fare. At dinner, I would perhaps add a glass of red wine and a baguette, but for lunch a glass of milk or a cuppa is very satisfying.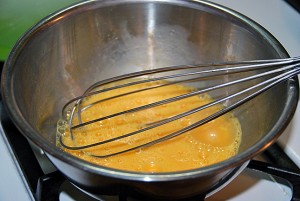 Serves two very amply, four with additions such as toast, a baked spud, or a stuffed tomato.  Pay attention here to the heat instructions — the eggs need to start at high, but then you turn down the heat. At the same time, pre-heat the oven broiler to high.
4 large eggs, preferably free-run and fresh, beaten well
1 small green pepper, cored and diced
1 small onion, peeled and diced
6 mushrooms, washed, dried and sliced very thinly
2 tbsp butter
3 oz. strong cheddar cheese, grated
salt and freshly ground pepper to taste
Melt 1 tbsp butter in a large frying pan with a non-stick surface. Add the onion and green pepper and stir fry for about 10 minutes over medium heat, until the onion is transparent. Turn the heat up to high, push the onion/pepper mix to the edges of the pan, and add the other tablespoon of butter. When it's melted, add the  sliced mushrooms. Now turn the heat back down to medium, and sauté the mushrooms until they begin to brown. Now mix all the veggies together and spread them evenly across the pan. Turn up the heat.
Add the eggs. Tilt and turn the pan until the egg covers the surface. Turn the heat down to medium low again. Use a spatula to push the edges of the egg mixture about an inch towards the centre, and tilt and turn again so that any still-runny egg reaches the edges and cooks. When the centre is beginning to look done, add the grated cheese.
Open the oven and put the frying pan, handle outside the oven, onto the top shelf underneath the broiler. How long you leave it there depends on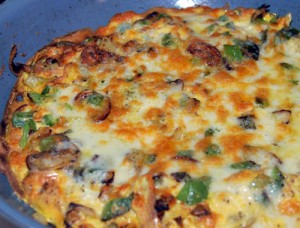 your broiler. Mine is gas, and very quickly, the cheese melts and browns. In an electric oven, this may take up to 10 minutes in a pre-heated oven. Leave the oven door open all the while so you can check on the progress of the cheese.
As soon as the cheese is beginning to brown, remove the pan from the oven, and serve. You can fold the omelette over in half if you like, or just cut slices, like a pizza. Let people put on their own salt and pepper at the table.
Spinach Hazelnut Salad with Black Rice,  Roasted Butternut Squash and Yogurt Lime Dressing
I love winter salads that make for a one-dish dinner and include some green, some carb and a real zing. You could serve this with fish or chicken if you wanted a heartier meal, but for us, this with some nutty bread — walnut and cranberry for instance, makes dinner. Baked apples, or an apple crumble or a pie, would be a great dessert.
This is an easy salad and a great way to use up leftover rice or squash. Re-heat them before composing the salad.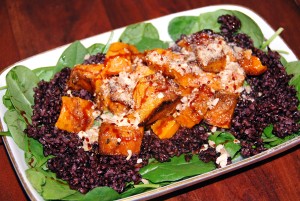 1 cup black rice, either wild, or a mixture of brown and black rice, or the black European rice from Crescendo
1 small or ½ large butternut squash, peeled and diced into large-bite sized pieces
1 tbsp olive oil
½ pack (3-4 cups) fresh baby spinach
handful toasted hazelnuts
Dressing:
½  cup Balkan style yogurt
1-2 tbsp fresh lime juice
1 tbsp olive oil
½  jalapeño pepper, flesh only, minced finely
Balsamic vinegar
Cook the rice.
Peel and dice the squash, and roast it with 1 tbsp olive oil, at 425 F for about 25 minutes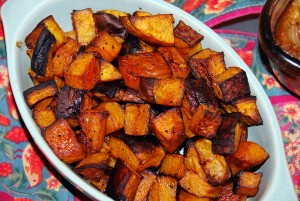 or until it pierces easily with a fork and the sides of the dice are browned.
Toast the hazelnuts in a frying pan over low heat for 2-3 minutes, stirring all the time, then remove them and chop coarsely.
Arrange the cleaned spinach leaves, the black rice and the roasted squash on a serving dish. Sprinkle the toasted hazelnuts on top and drizzle with balsamic.
Mix the dressing ingredients together, using ½ the lime for juice to taste, then adding the other half if you want it really punchy.
Serve the salad with dressing on the side, and ask everyone to salt and pepper their own.
Warm Potato and Green Bean Salad with Red Onion Slivers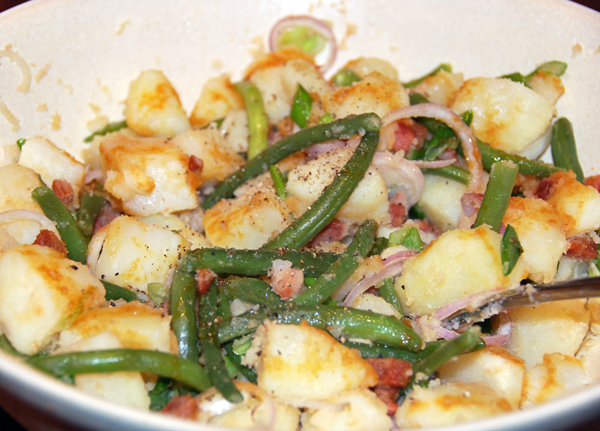 Counts as yellow food only when you add the golden olive oil, but the green beans are colourful, and the red onion adds zing as well. This is a delicious potato salad hot or warm or cold and refried three days later. It's amazingly versatile, tastes great, and is cost effective too.  I made it with large baking potatoes that were on sale in 10 lb bags. When I bought them I thought we'd never use them all up, but when I created this, changed my mind.
6 large potatoes, peeled and diced large
½ lb green beans, topped and tailed but left whole
½ red onion, sliced very thinly
½ cup finely minced fresh parsley
3 tbsp best quality olive oil you can get your hands on
1 tbsp lemon juice
1 tbsp red wine vinegar
Peel the potatoes and cut each one into 6 pieces. Boil until just done—don't overcook, but make sure each piece is cooked through. This takes me about 20 minutes. Drain with a slotted spoon. Put the beans into the potato water and boil for 10 minutes. Drain well. Reserve the water for soup.
Put the beans and potatoes into a large bowl with the slivered onions. Drizzle with 3 tbsp good olive oi l— the flavour of this dish is in the oil, so use the good stuff for this. Mix well. Now drizzle with the lemon juice and the olive oil. Mix again. Top with the minced parsley, and add salt and freshly ground pepper to taste. (When I started tasting this for salt, I had to stop myself eating great spoonfuls of it, it was so good.) If you have leftovers, save them in a covered container, and the next day, put a knob of butter in a frying pan and add the potato and bean salad. Cook until the potatoes are browning and the beans too, over medium heat for about 10 minutes.