By Karen McColl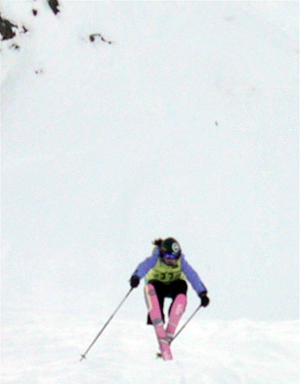 Revelstoke skiers showed their best Sunday, yielding very impressive results in stop Number Three of the Subaru Freeskiing World Tour at RMR. Tatum Monod (officially of Banff but spending the winter in Revelstoke), Nicole Derksen, Sean Cochrane and Gord Spurgeon all made the cut to ski in Day Two: The Canadian Freeskiing Championship final.
Monod's run was an obvious standout among the women; she really 'sent it' as they say, entering North Bowl with speed, control and confidence. She took one of the more challenging lines, descending an exposed rocky cliff and taking a nice air off a lower lip.
Derksen dropped into 'Meet the Neigbours' and took a small drop into a shoot that she straight-lined.
"I knew at the bottom that I had a pretty clean run," she said. Thrilled to be participating in Day Two, Derksen plans to stick to what she is good at: skills she would have developed through her ski racing and freestyle skiing background.
"I'm going to stick to my strengths which are skiing fast and aggressive," she said about Monday's final.
Monod and Derksen are among seven women to be competing in Day Two. Even though they are up against more experienced competition, they have both proven that they can hold their own among the best. A podium finish for one or both of these ladies is not out of the question.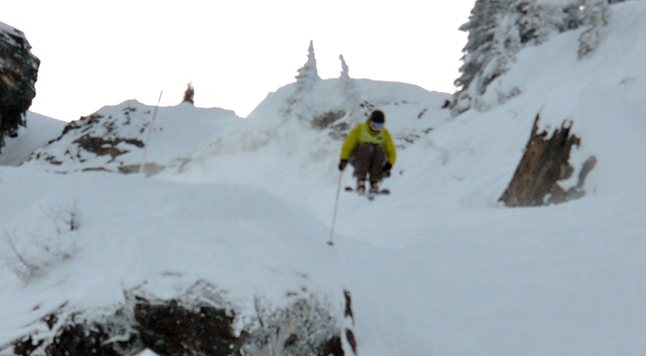 Cochrane is the only local who participated in this event last year, finishing 18th overall. This time he has a little extra ammunition in his belt: He has skied Mac Face more than a dozen times in the past year. Even still, he plans to challenge himself by trying a new line.
"I haven't skied this line yet…Got to save them for the competitions; it's much more fun that way." he explained. That sounds just like Cochrane, who gave a very high energy and crowd-pleasing performance last year. He is currently in 14 place (last year he went into Day Two in 13th place) and will be looking to gain line score points and climb the ladder.
Gord Spurgeon currently sits in 18th place with 30 points out of a possible 50. Still only 8.53 points behind current leader Drew Tabke of Chile, anything can happen at this point.
The competition kicks off in Greely Bowl at 11:30 Monday morning.  Don't miss it.
In the meantime, her are additional photos from Sunday's action: