By Karen McColl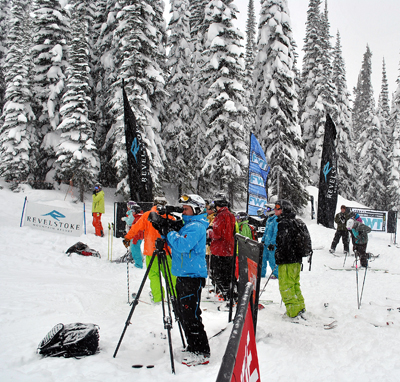 Friday was a very good day for Revelstoke's local talent as five out of seven quasi-local competitors qualified for Day One of the Canadian Freeskiing Championships, taking place in North Bowl on Saturday.
Revelstoke representatives qualified accordingly: Alex Wall, 2nd, Lucas Gonnthier, 10th, Rylan Kappler, 14th, and Sean Cochrane and Gord Spurgeon in 18th place out of 56 competitors. The cut off was made after the 20th skier; Rory Camm and Richard Wrangel did not make the cut.
Although it's great to have a variety of new skiers representing Revelstoke, little can be sweeter than seeing home-grown freestyler Rylan Kappler, 18, soar into the standings.
Kappler would surely credit some of his current success to his father, Trent Kappler, who has been coaching and running the Revelstoke Freestyle Ski club for more than 11 years. Veteran freestyler Rylan has assisted him in recent years.
Lucas Gonnthier, 21, is a fresh arrival to Revelstoke. He has spent the past few weeks here while on break from university in Quebec and was able to sign up for the competition after bad roads prevented a couple of competitors from arriving.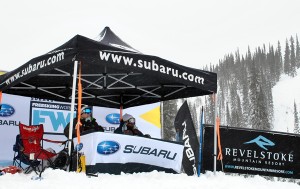 Event announcers admired Gonnthier's "nice air up top" and his "smooth and aggressive" style. Not bad for someone who usually skis at much smaller mountains.
"Usually I ski at Mont Sainte Anne," he said. "I'm not really used to big mountains."
Freeskiing World Tour veteran Sean Cochrane may have held back a little today, but it was all part of his master plan. "I took a line that I thought would score high enough to go through [to Day One]," he said.
All 20 male competitors will start from scratch on Saturday against current Subaru Freeskiing World Tour leaders which could include the likes of Chopo Diaz of Chile, Griffin Post of the United States, Aaron Schmidt of Fernie, BC, and Julien Lopez of France.
Revelstoke female skiers Tatum Monod and Nicole Derksen, who qualified on Thursday, will also be participating in Day One of competition in North Bowl. The ladies are scheduled to start at 10am with the men to follow.
Less than half Saturday's competitors will move onto Day Two, the final day of competition, on Sunday.