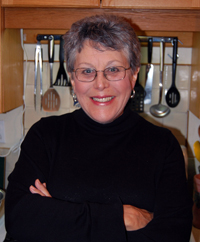 When I was living in China, it horrified me to learn that the Number One item faculty there wanted us to bring from Canada was Kraft Dinner. I won't say I've never enjoyed it, but it's so easy to make pasta from scratch that you have to wonder why.
My first inkling that pasta wasn't always either mac & cheese or sphagetti & tomato sauce came on a camping trip when I was twelve. We drove through upstate New York  and stopped at an Italian diner — one of those 50's places with booths and a soda fountain. I ordered — quite bravely, I thought — pasta with peppers. This came as a big dish of sphagetti turned with about a pound of fresh green sweet peppers, skinless and seedless, sautéd until black with oil and garlic. The peppers and pasta melded into a gorgeous slightly bittersweet and pungent fullness, the parmesan was fresh (a true novelty back then) and the sphagetti still a little chewy.
Children love pasta. There's the great slurpiness and fun of getting sphagetti into your mouth, first. Then the nice variety of flavour as you get more or less of whatever sauce comes with it. And the great range of things that do go with. We were amazed last summer to watch one of our grandchildren refuse everything except spaghetti alla vongole — with clams. The other two kids ate it plain or con burro, with butter.
Easy but not sloppy is the way to buy and cook pasta dishes: you need a large pot — a small saucepan doesn't cut it. The water has to be plentiful, with lots of room for the pasta to be free to burble around in the rapidly boiling water. You need a colander or strainer to drain the pasta. The pasta itself: try to buy an Italian variety such as DeCecco or Attilio for these dishes. They're no more costly than the North American pasta, and better. Pasta should be made with hard durum wheat.
Two things determine great pasta. One is the quality of the olive oil you use: it should be just a little fragrant, with a sweetly nutty flavour under the oil. Parmesan cheese is the other must-have. If you can afford it, buy a chunk and grate it finely. If you must buy pre-grated, ask the deli counter to do it for you from fresh. The Kraft variety is almost not parmesan at all; it's so sweet I swear they must put sugar in the cheese. I like a grater to look like a woodworking rasp — they used to be available only through Lee Tools but now have become part of kitchen equipment.
I don't put salt in the pasta cooking water any more — there's enough in the parmesan or other cheese. Salties can add it at table.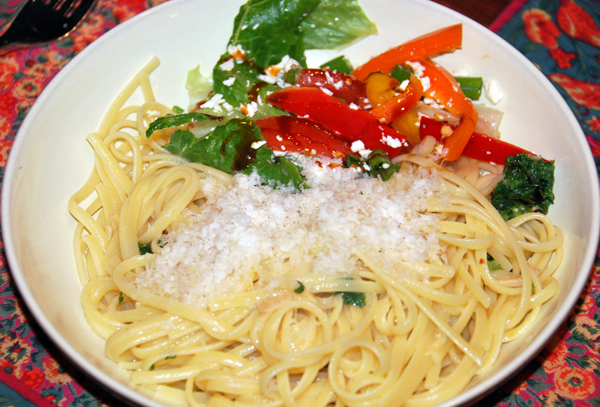 Spaghetti olio e aglio (oil and garlic)
Serves 4 as a main, 6 as starter or primi, as Italians call the first course. You could use any form of pasta with this dish, but the traditional recipe calls for spaghetti. Spaghettini, the really thin kind, is good too. The idea for using the pasta water as part of the sauce comes from the Barefoot Contessa, Ina Garten, in her new book, How Easy is That? I tried it with beer as well, and it's great — the echo of bitter hops complements the garlic and oil. Pasta alla vodka uses guess what instead. Cooking the sauce for 4 minutes vaporizes the alcohol so you can indeed eat and drive. This recipe is repeated in almost every Italian cookbook with slightly different proportions, so don't be afraid to vary them a little to please your own diners.
1 lb spaghetti
4 litres water
½ cup good olive oil
10 cloves of garlic or 1 whole bulb
1 jalapeno pepper, seeded and minced, or 1 tsp red pepper flakes
200 grams grated parmesan – about 1 ½ cups
½ cup minced fresh parsley
Optional: ½ cup lager
Boil the water until rapidly swirling and put in the pasta. Cook al dente, about 8 minutes, or 6 for spaghettini. Taste to see – take a strand out of the pot, run it under cold water and bite on it. It should be slightly resistant but not hard nor gluey.
Slice the end of a bulb of garlic so that every clove is slightly exposed. Put it on a plate and into the microwave for 30 seconds. The meaty cloves should now slip out of their skins with no trouble. If they don't, nuke them for 2-3 seconds at a time untll they do. Be careful — the little garlic cloves will be hot. Once you remove them from their skins, mash or smash them on a chopping board or small plate with the end of a knife.
Put the oil in a large high-sided skillet or a big wide saucepan — either should be large enough to take the whole of the pasta dish once finished.  Turn the heat down VERY low and add the garlic once the oil curdles a little with the heat. Add the pepper or pepper flakes and continue heating just until aromatic but not browned. Turn off the heat.
Using a ladle, reserve 2 cups of the pasta cooking water, then drain the pasta and run it under cold water. This removes excess starch that adheres to the pasta even in the boiling water. Shake off the cold water and put the pasta into the pan with the oil and garlic. Stir gently, and add either the lager or enough of the reserved cooking water to ensure the pasta does not stick to the pan. It should be moist but not swimming in water. Add half of the grated parmesan cheese. Mix well. Add the parsley, and add freshly grated black pepper if you like. Serve into hot dishes and pass the rest of the parmesan cheese.
This works as a main dish or a side, especially with fish and lemon. Add a salad, a loaf of bread and thou, however, and you have a 15-minute dinner that tastes great and satisfies the soul as well as the tum. Add a bottle of light red wine such as Merlot or a new Bordeaux, or one of the Okanagan vins ordinaries — and you're set.
If you use the lager with this recipe, serve with the rest of the bottle. Begbie Brewery High Country Kolsch or Powerhouse Pale Ale nicely greets this garlic-infused dish.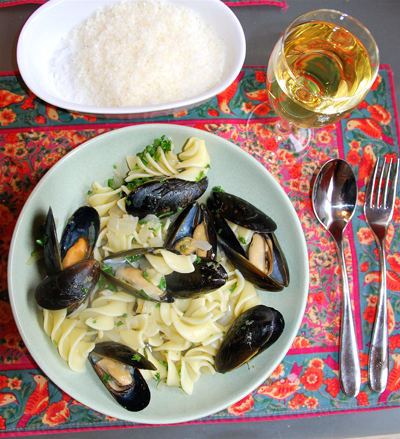 Rotini with Mussels
For 2-3 people. Double for 4-6.
This is the easiest supper of all, and the second least expensive. I used frozen mussels from High Liner that come in a pack of about 20 cleaned, bearded small mussels packed in garlic butter. For 3-5 people, 1 pack of the mussels is enough; for 6-8, get two. At $5.49 a package, this is still a very economical supper, and a hit with seafood lovers at any dinner. I adapted the recipe from spaghetti alla vongole, because we don't often see fresh clams in Revvie.  You could make it with any shaped pasta; I like rotini because the spirals pick up the yummy sauce. Set the table with a bowl for the empty shells.
Note: this is for small mussels with the black shells, not the large greenish ones, which are frankly a little much except for very stalwart diners. If you're young and brave, try this dish with beer and big mussels and let me know what happens.
½ lb rotini – Attilia brand if possible, from Crescendo
4 litres boiling water
1 package deep frozen High Liner Mussels in Garlic Butter
1 tbsp butter
1 cup white wine
1 onion, finely chopped
1 clove garlic, minced
Boil the water and throw in the rotini. Cook for 12-15 minutes, or until done al dente. Rotini take longer to cook than other pasta. Make sure the spirals are cooked through.
While they cook, use a large skillet and sauté the onion and garlic in the butter. Five minutes before the pasta is cooked, add the frozen mussels and the white wine to the onions. Drain the pasta, run it under cold water briefly, and add it to the mussel pan. Toss gently. Serve into hot bowls and pass the parmesan and the salt and pepper. Serve with the same white wine you used in the dish.
NB: I didn't try it, but you could substitute beer for the wine for an even more robust flavour.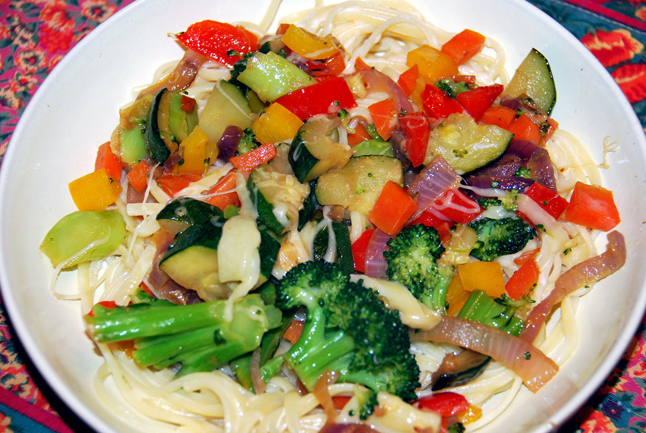 David's Linguini Primavera
Of all the pasta we've eaten this week, this one is David's favorite. It's also the least high in calories and carbs, because so much of the meal is vegetables. It's a little more trouble than the first two recipes, but still pretty quick, about 30 minutes from start to finish. You can add more, or use fewer, veggies, according to what's in the fridge.
For 4-6 people
½ lb linguini
4 litres water
½ cup olive oil
1 medium zucchini
2 small onions
2 cloves garlic
2 carrots
2 stalks celery
2 red or orange peppers, in baby-finger sized slices
2 cups broccoli in small pieces and florets (stalk trimmed but used)
1 pack grape tomatoes
1 tbsp balsamic vinegar
2 tbsp fresh basil or 1 tsp dried
2 tbsp fresh oregano or 1 tsp dried
1 tbsp olive oil
200 gms parmesan cheese
Boil the water and add the linguini. Cook for 10-12 minutes or until done al dente.
Use a large high sided skillet, and heat the olive oil over a medium fire. Dice the onion, mince the garlic, and add to the oil. Sauté for 2-3 minutes, until the onions are transparent.
While the pasta is boiling, split the grape tomatoes into two and swish them around on a flat baking tray with the balsamic vinegar, then pop into a 450F oven for 10 minutes.  Roasting them brings out the flavour, which after days in a truck from Mexico let's face is isn't exactly your summersweet delectableness.
Cut all the veggies into more or less equal sized pieces. I like the carrots in large julienne, that is, split lengthwise into four and then cut into pieces about the size of a baby's finger. The zucchini can be treated the same way, ditto the peppers. Cut off the broccoli florets and break into nice small pieces; shave the stalk, cut off the end, and use the fleshy part of the stalk (anything you can eat raw without gagging) cut into small pieces.  Add all the veggies including the roasted tomatoes to the sauté pan with the onion, and turn the heat to low. Sauté for about 10 minutes, stirring occasionally so nothing sticks. If things do begin to brown too much, throw ¼ cup water into the pan and cover it to steam the carrots and broccoli. The veggies should be tender-crisp, that is, cooked but not soggy or mushy.
Drain the pasta and run it under cold water. Drain again. Put 1 tbsp olive oil into the pasta cooking pot and return the pasta to the pot. Add half the parmesan cheese and mix gently. Add the veggies and mix again. Serve, top with the mixed minced herbs, and pass the remaining parmesan cheese.
Serve with fresh leaves—baby spinach, say, with slivers of dried apricots and chopped almonds, or arugula with oranges and red onions. Wine: Any dry red that's not too heavy, or a white wine with  hint of sweetness (A German white, an Alsatian, or an Okanagan Gewurtztraminer, for instance). Also nice with a Tall Timber Ale.
Baked Penne with Chicken
Serves 8-10 people
I invented this a few years ago, and have promised to write out  the recipe ever since, so here it is. This dish isn't particularly fast, except when you make it the day before and put it in the oven to reheat an hour before dinner. It's very delicious, though, and a one dish meal that needs just a few leaves with a tomato to make it into a great meal. Sweet pickle is nice too, and crusty bread rolls. I like to buy enough chicken to serve 2 of us at one meal with the remainders going into this dish. You can do it with a whole chicken or with boneless breasts or thighs. Don't include the skin, and make the pieces of chicken big enough to notice — it's not chicken salad. I make this into two casserole dishes, but for a crowd one big one would be spectacular. Cut the veggies into large enough pieces that a fussy child could pick them out. I leave out the mushrooms when kids are around. Don't plan on leftovers — people love this dish.
1 lb penne (large macaroni will do, but the pasta needs to be substantial enough to hold up through the double cooking)
4 litres water
2 lbs chicken cooked and cut into bite-size chunks
2 tbsp oil
1 onion
2 garlic cloves
2 sweet peppers
2 carrots
½ to 1 lb mushrooms, optional
2 tbsp flour
1 cup milk
1 cup cream
1 cup dry white wine (use chicken stock if none available)
1 tsp basil citrus salt (Crescendo)
1 cup diced mild medium soft cheese, such as Friulani, mozzarella, Gruyere or mild cheddar
1 cup parmesan
1 cup Panko crumbs
Cook the pasta
Boil the water and cook the penne until JUST al dente. Reserve.
Make the sauce
Heat the olive oil in a large sauté pan and add the veggies cut up as follows:
carrots — slice diagonally and quite thin
peppers — slice down around the core, and into 1 cm wide strips
onions — dice fairly small
mushrooms — remove stems and slice into wide chunks; brown in 2 tbsp butter
Once the veggies seem near to cooked, sprinkle the 2 tbsp flour over top and stir well, coating all the veggies with a little flour. When the mixture begins to brown, add the milk ¼ cup at a time and stir well after each addition, so that the flour and the milk form a roux that will eventually thicken the sauce. When all the milk is added, stir well and keep stirring so that the sauce begins to thicken. Add the cream and the wine, a little at a time, stirring well all the time. In the end, the veggies will be in an aromatic sauce that is about the consistency of whipping cream—not really thick or gluey, but coating the back of a spoon. Add basil citrus salt and black pepper to taste.
Dice the cheese and grate the parmesan. Mix these together and reserve in a bowl. Take ½ cup of the mix and add it to the Panko crumbs in another bowl.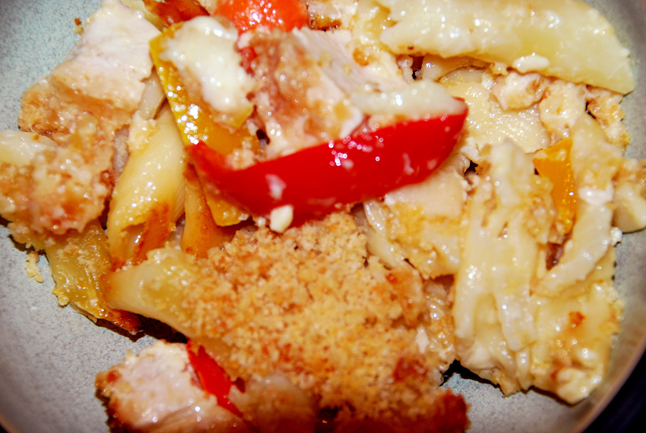 Now assemble the casserole
1.  First, butter the casserole dish or dishes.
2.  Put in a layer of the veggies in sauce; add a layer of penne; add a handful of cheese. 3.  Repeat three times or until everything is used up, ending with cheese.
4.  Top with the Panko-cheese mixture.
5.  Bake covered at 350F (make a foil top if your dish doesn't have a cover) for 45 minutes; remove cover and bake another 15 minutes until the top is beginning to brown. Don't overcook or the sauce will evaporate and it will be too dry.
This dish will keep 2-3 days in the fridge, but I have not tried freezing it, and fear the sauce might separate or curdle.