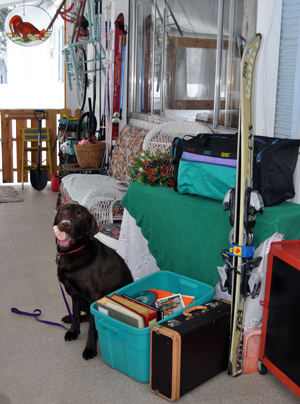 By Barbara J. Little
Disaster is imminent!  You have an hour to pack a bag.  Want to know what you value — try packing that bag as I did last Tuesday when the reports went out about an avalanche plugging the Illecillewaet River near Rogers Pass.
I first heard about it when a friend who works at the hospital phoned in a flap to say they were on alert and would I get her dog in case the bridge was damaged and she couldn't get home.  What?
Okay, now I'm envisioning the worst-case scenario.  I needed information but had no idea where to find it. I called the local PEP office, no answer, then the fire hall. Gary Rota allayed my fears, gave me an update and the emergency program website www.revemergency.com, and told me our online papers had the story.
I visited both papers and the website and learned about Revelstoke's emergency preparedness plan that had kicked into gear early that morning.  According to Emergency Preparedness Co-ordinator Gerry Silva, if the pond of water behind the debris in the river broke loose it would take 11 hours for the mess (my panicking mind read Wall of Water) to reach my backyard, metres from the berm (not dyke) that keeps the Illecillewaet out of south Revelstoke.
I was in a dither when I read that we who live near the river should "pack a bag" and be prepared to possibly evacuate on short notice.  I had no idea what to take and flew around digging into closets, filing cabinets and boxes searching for what I thought was important.
When I couldn't find my mother's wedding rings, my birth certificate or those critical documents I'd been meaning to store in the safety deposit box I didn't yet have, I began to hyperventilate.
I had to physically restrain myself from going through the china cabinet and kitchen cupboards.  I didn't even think about the contents of my computer and mourned the potential loss of four decades of my writing which is on paper only.
One bag became three, but I did it in an hour.  What I packed were mostly things money can't buy; Mom's rings, all of the family photo albums, Dad's 1933 UBC grad picture, my favourite mug made by a potter friend, a studio photo of me and my brothers when we were two, four and six, and another of us decades later leaning on each other at Dad's funeral, my business appointment and invoice books, Charlie Brown's dog food, my feather pillows, my meds and cell phone charger, a 30-year-old Henckle chef's knife (don't ask) and reams of documents. My skis were already in the car.
Seems I'm hoarder with enough stuff to outfit a dozen Third-World families. Changing that's at the top of my to-do list, after making a will, getting a safety deposit box, saving everything on my computer to disk, and packing a permanent "grab and go bag" which will live by the front door.
In that existential yet all too real exercise what I valued most was that the friend I called to ask if I could stay with her should disaster strike, said yes immediately. And discovering that my mementos, relics and totems are where my heart lives.  I didn't give a moment's thought to clothes, jewellery, electronics or appliances — I could walk away from all of it if my family, friends and dog were by me.
Barbara J. Little is a third-generation Revelstokian, environmentalist and writer