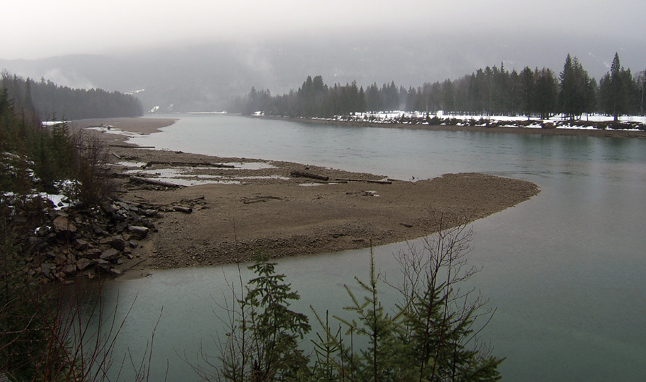 In an effort to benefit fish and fish habitat and following four years of data collection on mid-Columbia river productivity, BC Hydro has changed its operations at Revelstoke Dam to discharge water at or above a minimum flow.
"Water flows in the mid-Columbia River downstream from the Revelstoke Dam are highly variable," Karen Bray, BC Hydro natural resource specialist said in a statement.
"The minimum flow is intended to benefit production in the river from the bottom to the top of the fish food chain by providing a minimum amount of continuously wetted river habitat. Our monitoring program will evaluate this by comparing river productivity across the range of BC Hydro's Revelstoke Dam operations both with and without the minimum flow."
She said this minimum flow, as recommended by the 2007 Columbia River Water Use Plan (WUP), is expected to benefit a variety of fish species including mountain whitefish, burbot, rainbow trout, bull trout and white sturgeon.
BC Hydro is now maintaining water releases from Revelstoke Dam at or above 142 cubic metres per second.
This is the first time that a minimum flow has been maintained at the Dam and it is the level recommended by the 2007 Columbia River Water Use Plan.
As part of the WUP requirements, BC Hydro will continue monitoring productivity in the river for the next nine years with minimum water flows in place.
This data will be compared with information collected during the past four years when minimum flows were not in place and not required by the WUP. Through long-term monitoring enough information can be analyzed to distinguish between the effects of the minimum flow and the effects of other factors that influence river productivity.
While the mid-Columbia River extends from the Revelstoke Dam south to Arrowhead, the benefits of the minimum flow are expected to be greatest in the upper reaches from the Revelstoke Dam to the Illecillewaet River.
While the minimum flow is the only operational change recommended in the Columbia River WUP, BC Hydro is also delivering a large number of projects and monitoring programs. Those projects and programs are expected to benefit recreation, vegetation, fisheries, wildlife, and heritage interests along the Columbia River.
The Columbia River Water Use Plan, approved in January 2007, has a 12 year implementation period and is now in its fifth year. The total expected cost of delivering BC Hydro's projects and programs through the WUP over the full 12 years is $180 million.