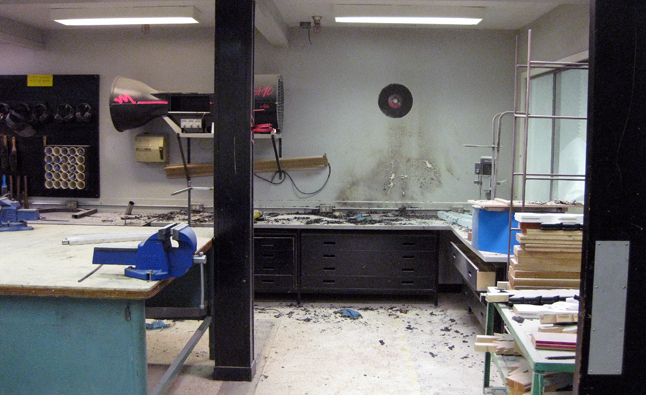 As if Thursday's steady accumulation of wet heavy snow wasn't challenge enough, local fire fighters were called to a fire at RSS and a a flipped vehicle on the Illecillewaet Bridge on Thursday.
"The fire was isolated to a bench area of the Ed/Tech (Metal Work) Shop" said Girard. "All students and staff of the school were out of the building when fire crews first arrived on scene. If it wasn't for the quick work with a fire extinguisher by a student and the shop teacher, the outcome may have been significantly different."
He said there were no injuries to staff, students or the 14 Revelstoke Fire Rescue Services personnel during the 9:26 am fire.
As to the cause of the fire, the fire chief indicated that it was started by sparks from a hand grinder coming into contact with some paper projects.
Girard would like to remind residents that, in addition to having a working smoke detector, it's a good idea to have a fire extinguisher in their homes, garages and vehicles and know how to use them.
Later that afternoon at 3:01 pm First Responders attended a motor vehicle accident on the Illecillewaet Bridge.
When the First Responders arrived on scene, the occupant was out of the vehicle, but the Ford truck was on its side blocking both lanes of traffic. This blockage was a major concern for the firefighters as the truck prevented the ambulance and any other emergency vehicle from reaching the South East side of Revelstoke.
With the assistance of BC Hydro, firefighters quickly winched the vehicle to the opposite side of the bridge, opening one lane in order that the ambulance could take the patient to the hospital.
"I am very thankful to BC Hydro working with our firefighters to clear the bridge," said the chief, "the bridge is such a huge concern for all emergency responders when accessing the South East side especially when it is blocked and we must work quickly to open it again."