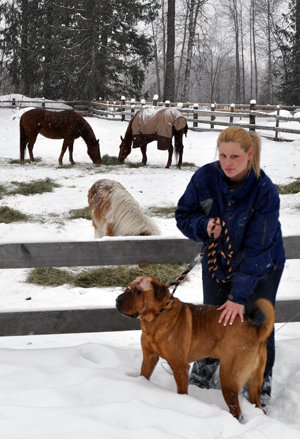 By David F. Rooney
One day after he was attacked and savagely mauled by three coyotes at the Selkirk Saddle Club on Tuesday, Angie Threatful's dog, Wrinkles, remained deeply anxious. You could see it in the way he whined and pressed his trembling body against his mistress' leg. And why shouldn't he be afraid?
He's lucky to be alive.
"I was right there — just five feet from him," Threatful said. "I had my back to him when I heard this commotion and turned around. There were three of them attacking him."
Threatful said she grabbed a shovel and started hitting the predators.
"One of them broke away and then they all ran," she said as she gazed at the fenced in paddock where the attack took place.
Threatful is also very concerned for the safety of her horses, in particular her miniature horse, which she has to put in the stable every night to ensure its safety from the brazen coyotes, which she says are members of a pack of at least 10 animals roaming the south end of the city.
"They have lost all fear of people," she said.
The pack is believed by many to be responsible for all, or at least most, of the recent cat and dog disappearances in South Revelstoke and Threatful is concerned that, given the coyotes' bold attack on her dog while she was just a few feet from him, an attack on local child is increasingly possible.
With Adam Christie, Revelstoke's Conservation Officer on vacation, Threatful was
directed to Golden CO Justyn Bell.
"I'll be attending there in the coming days," Bell said in an interview Wednesday afternoon. "I don't know what we can do until I've had a chance to make a scene assessment."
Bell said there is "a legal open season on coyotes" until March, but that doesn't necessarily mean people can just go out an shoot the creatures within city limits — "not legally anyway."
In the past year the Conservation Officer Service has only received five formal complaints about coyote predation in Revelstoke but he thinks many more people in this community are concerned about the problem.
"I suspect a lot of people don't call in for one reason or another," Bell said. "They probably think nothing can be done about them."
However, area residents can mitigate the problem.
Cat owners can ensure the safety of their felines by keeping them indoors and all homeowners can help by keeping their garbage secured jus as they would to deter bears.
As for young children, they should not be left unattended or unsupervised.
For m ore information about how to deal with coyotes (other than with a .22 or a shotgun), please click here.