By David F. Rooney
Tyler Smith's family and friends love him very much, and now the 18-year-old heart disease victim is hoping the rest of the community will come out and help him raise enough money to pay for his year-long stay in Vancouver after he has a heart transplant.
The Revelstoke boy doesn't know when that new heart will be available but he does know that his life won't be the same afterwards, says his uncle, Martin Ralph.
"Basically, they told him a heart should be available in the next three months because more hearts are available in the winter," Ralph said in an interview Friday. "The doctors (at St. Paul's Hospital in Vancouver) are very confident and that's been good for all of us. But Tyler's life is going to change dramatically after he has the operation."
Not only will he be on anti-rejection medication for the rest of his life, but he'll have to take extra-good care of himself and for the first year after his operation he has to stay in Vancouver. He won't be able to work and life in that city is, as most of us know, pretty expensive. With no income that stay can only be accomplished with community support.
That's why Ralph is hoping Revelstokians will find it in their hearts to help his nephew. In an e-mail making its way around the community, he listed some of things people can do to help:
"The official Tyler Smith fund (trusteed by Stephen Hui and Dave Bennewith) is held at Revelstoke Credit Union. You can simply walk in to a member service representative and make a donation. Or mail a cheque payable to the Tyler Smith Fund to Revelstoke Credit Union at Box 989 Revelstoke, BC  V0E2S0. This fund was set up to cover the many large expenses involved with Tyler's care. It is controlled and administered by the trustees, Stephen Hui and Dave Bennewith.
"If you would like to contribute in a more personal way; my mother, Elaine Ralph has set up a separate fund for Tyler to help with the more personal things Tyler will need on his journey to recovery. She would welcome your help and can be reached at home 250-837-5923 or email elaine.ralph@revelstoke.net.
"If you would like to be actively involved in things happening around town to help, or do something special yourself, please contact Dave or Jan Bennewith at 250-837-5215 for information. They have come up with some amazing and heart-warming ways to assist Tyler! As you can imagine our family is focused on Tyler's immediate needs so we are unable to be directly involved in all of the things people are doing, but want everyone to know how very touched we are for the many acts of kindness! Your love and care means so much to us, and to Tyler!
"Light Up A Tree for Tyler Smith… (Click here to view the poster) December 11 at 3 pm at Revelstoke Pharmasave. My understanding is you can purchase bulbs at Pharmasave or other participating merchants, the proceeds of which will go to the Tyler Smith Fund. Then the tree will be lit on December 11. For more information please contact the Bennewiths at 250-837-5215."
Ralph said Tyler has "always had health issues" but it was not until this past summer that it became apparent to physicians that he had major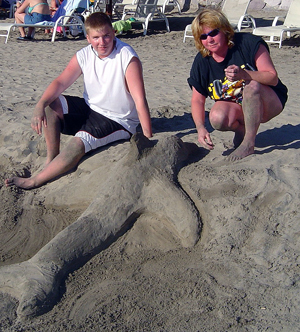 heart disease and that was linked to his other health problems. And the only solution to his heart disease is a transplant.
That's a real kick in the head to an 18-year-old who had just graduated from high school and still hadn't decided what to do with his future.
It's a heck of a challenge, but Tyler has been meeting it with determination and grit. (Click here to read his online blog)
"He's very focused and very, very determined," Ralph said.
But he's also pretty weak. He is very tired for most of each day and is currently staying with his grandmother.
"It's like this big locomotive ploughing through his life," Ralph said. "I don't think anyone can really understand what that feels like."
Well, maybe his mother, Marie Ralph, and father Barry Smith, can understand.
"It has been very hard on Marie," Ralph said. "She works and yet she was back and forth to Vancouver all the time. It has been very, very stressful."
Now the family and all of Tyler's friends are playing the waiting game…
You can help Tyler for as little as $2 by purchasing a bulb for his tree at Pharmasave. The tree will be lit at 3 pm on Saturday, December 11. Everyone is welcome to come down and watch it burst into light.