FESTIVE THAI DINNER AT HOME
8-10 people.
Thai Spring Rolls with Sweet Chili Dipping Sauce
Saté with Peanut Dipping Sauce (Beef, pork, shrimp or veggie)
Crispy Deep Fried Calamari in Beer Batter
Fragrant Red Thai Coconut Curry with Chicken
Thai Fried Rice
Stir Fried Asparagus
Arugula, Mint and Mandarin Salad with Coconut Shrimp and Ginger Lime Dressing
Mango Ice Cream
These recipes include for meat and fish, with veggie alternative suggestions. On its own, any one recipe makes a nice casual supper (except maybe the asparagus and the mango ice cream.)
Equipment: regular kitchenware, including two large pots, a food processor if possible (or a blender), sharp knives and chopping boards, a lemon zester or grater, lemon squeezer, a large wok, and several large serving platters and bowls. A deep fryer helps but I manage without. One thing you do need for this chop-intensive feast is a blender, food processor, or the nifty 4-cup chopper now available at Chantilly for $52.95. If you need sharp knives, their two-knife kitchen chef set, a Santuco and a paring knife, by Zwilling, at $81.99, are an excellent buy that will give years of service.
Why Thai?
Turkey is probably the most common Christmas feast—rare to find a Revelstoke household not planning to cook a large flightless bird for Christmas. But given the widespread cookery advice for cooking turkey—every magazine on the shelf, radio hosts and the Butterball hotline—I though it might be useful to provide an alternative feast, one that can be adapted to include chicken or meat, or fish or veggies only, and a menu that taps our interest in diversity at the table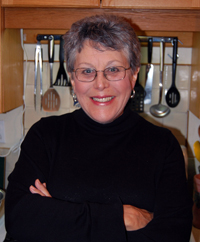 Since I started this column, I've become more aware than ever just how differently we approach food and cooking. You are vegetarians, vegans, gluten sensitive, hunters and fishers who live at least partly off the land, regular meat and potatoes guys, gourmet high enders, family cooks on a tight budget, seniors who cook for just one person, fast and slow food fans, gardeners and organic farmers. Not to mention ethnic backgrounds.
A Thai feast is fun to cook for family or friends over the holiday season. When you make Asian food at home, some historical realities become clear. Centuries ago, when our various international cuisines were developing, Asia was a vast and rich culture compared to Europe. Think of the spice trade, the Raj in India, the Emperors in Imperial China, and the heraldry of Japanese warlords, and of the history of kitchens. The VAST number of kitchen servants needed to prepare Asian food in the quantities normally served to kings and princes proves the great wealth of these nations. When Europeans were spearing huge shanks of wild meat with their only table utensil, the knife, Asian chefs were in the process of developing refined, and labour-intensive cuisines negotiated delicately with chopsticks. Emphasis on labour intensive. To roast a haunch of game requires fewer kitchen staff than to chop and season meat, fruit and vegetables in a series of dishes each with its own texture, flavour and aroma.
The lesson is: time this dinner carefully and get some help in the kitchen. Thai food takes time to prepare. The thing is, it's so delicious in the end you won't mind.
Make some things ahead: the curry can be made the day before; the saté sticks can be marinated from morning to evening; the ice-cream must be made ahead; most of the ingredients for the fried rice can be prepped ahead, as can the ssalad dressing and the sauces. Think like a restaurant chef and invite a sous chef and some bussing help.
A word about the ingredients: I've tried to get these locally. Some things, such as lemon grass, are occasionally available but not always. When available, I buy it, chop it and put it with water into ice cube trays, then pop the cubes into Ziplocs. Substitute lemon zest for lemon grass.
The best source for Thai chili or curry paste is Mountain Goodness Natural Foods.  Thai Kitchen is my favorite brand, and they have it in four varieties: Mild Roasted Red Chili Paste, and red, green and yellow Spicy Chili Pastes. Warning: ALWAYS taste the chili paste for spiciness before using it. Put ¼ tsp into ¼ cup of yogurt and try it. There isn't necessarily much consistency between one jar and another, even of the same brand. I like to buy Mild, and if necessary add red pepper flakes or Tabasco for heat. You want flavour, not burn.
Mountain Goodness also carries Thai Kitchen Lite Coconut Milk in cans, rice wine vinegar, and Ume Plum Vinegar.  Malones Confectionary next door to The Modern Bakery also carries a wide variety of Asian, mainly Japanese foods, and sometimes has squid, but right now the frozen fish is limited to very large octopus, not at all the same thing. They have fish sauce and oyster sauce, as do Cooper's and Southside. The frozen boxed spring rolls and the coconut shrimp are from Cooper's. Limes are plentiful just now, cilantro always on offer.
High quality salt is a must: you don't need much, but it makes a difference. I like the Peruvian or Hawaiian salt from Crescendo. As well, their Pineapple Curry powder is terrific. I used Star Apple Balsamic vinegar for the salad and Maletti in the the curry. Star Apple highlights the freshness of the salad, with its lovely arugula nuttiness offset by the sweet tang of mandarin orange and the crunch of coconut shrimp.
Finally: what to drink with Thai food. Beer seems a natural. Try Powerhouse Pale Ale from Mount Begbie Brewery. It's mild enough to let the highly flavoured food shine, but distinctive and thirst-quenching, with a nutty and slightly resinous flavour that complements the sweet-sour-hot of Thai cooking.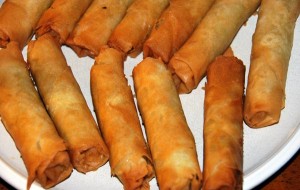 Thai Spring Rolls with Sweet Chili Dipping Sauce
This is the easiest dish of all because you can buy quite good spring rolls frozen and excellent sweet chili dipping sauce ready-made. It's sort of generally against my principles to cheat like this, but these are a heck of a trouble to make and really quite acceptable frozen in the box. Just heat the rolls in a 400 F oven for 20 minutes and serve. Allow 2 per person. It's amazing how they disappear.
Saté with Peanut Dipping Sauce
Pork loins were on sale for two bucks each (really) at Cooper's last week so I bought two and made these delectable morsels. The week before, beef was on sale. Look for the specials and this can be an economical dish. Saté is very popular, and while the peanut sauce makes it spicy for adults, kids like these little skewers plain. You could also use shrimp, scallops, or mushrooms, cherry tomatoes and butternut squash cut into bite-sized pieces and steamed for 15 minutes before skewering.
1 pack short wooden skewers
2 pork loins, cut into small bite-size pieces
Marinade:
4 tbsp vegetable oil
4 tbsp light soy sauce
2 cloves garlic, minced
1 tbsp sugar
1 tbsp fish sauce
½ tsp ground cumin
½ tsp ground coriander
2 tsp turmeric
Marinate the saté pieces in the sauce for 2-24 hours for meat, 1 hour for veggies or fish. Soak the wooden skewers in water for 1 hour. Thread the pieces onto the skewers. Barbecue for 15-20 minutes. Using a BBQ grill pan simplifies this task enormously. Without it, you risk losing the skewers into the BBQ grid. Alternatively, broil for 10 minutes, turn over and broil another 10 minutes.
Peanut Dipping Sauce
Combine in a small saucepan and bring just to a boil then remove from the heat the following ingredients:
1 cup light coconut milk
¾ cup all natural peanuts only chunky peanut butter
2 cloves garlic minced finely
1 thumb of fresh ginger grated finely
1 ½ tsp Sambal Oelek chili paste or other hot curry paste, more if you like heat
juice of 1 large lime
1 tbsp soy sauce
1 tbsp Maletti Balsamic vinegar
1 tbsp rice wine vinegar
2 tbsp finely minced cilantro leaves and stems

Crispy Deep Fried Calamari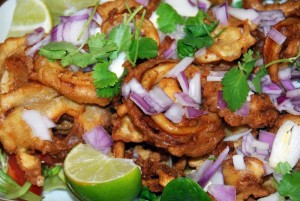 Lots of you cook calamari at home, because Cooper's staff tell me they have frequent requests for frozen squid. One variety comes from China, frozen in a brick with no preservatives — lovely small squid tubes and very delicate "flowers" — the tentacles — all cleaned and ready to go. This variety is already cleaned, but if you find some that come directly from the sea, buy them anyway. It is less trouble than you might imagine to clean squid, once you get used to the idea. You cut off the head with its rather horrible little eyes, and cut the tentacles away and reserve them, discarding the face. Rinse the whole thing under running cold water as you get rid of the ink. Then you have to cut out the "beak" — the cartilage backbone that runs inside the hollow squid body. It comes away quite easily and once you do it the first time it's not much trouble. If you buy large tubes, check them to make sure all the cartilage is out. Then it's just a matter of slicing the tube (the body) into rings.
I've experimented with five different techniques to make calamari, and the beer batter below is so far my best effort. Deep frying is easier if you have a deep fryer. I don't so I use a large high-sided saucepan 10" in diameter. Use 3 cups of fresh sunflower or canola oil. Heat the oil until a cube of fry starts to sizzle when you throw it into the pot. You must keep the oil temperature about 360, so watch the heat — you don't want the oil to burn, but each time you add more calamari to the pot, the temperature will fall, so it's a matter of constant adjustment. The challenge in deep frying is to keep the temperature high enough. (This is where a deep fryer does the job for you.) Deep frying has lots in common with sex — scary the first time, often messy, but once you get the hang of it, well… Do not re-use cooking oil — the fats disintegrate in the process. (Hence that fried food odor from some low end restaurants.) Drain the calamari well on paper towels and keep hot in the oven (200F) until dinner time. This should be last thing you cook for this dinner.
Ingredients:
1 cup all-purpose flour
½ tsp salt
1 tsp baking powder
2 eggs
¾ cup beer
½ cup milk
½ tsp chili powder or paprika
1 lb calamari, cleaned, thawed and cut into rings
3 cps canola oil
Step 1:
Mix up the beer batter ingredients.
Step 2:
Wash the calamari and cut the tubes into rings about 1 cm wide. Use the tentacles as they come. Drain the calamari well on paper towels and put them into the bowl with the batter. Let them sit for 30 minutes.
Step 3:
Heat 3 cups canola oil in a large deep saucepan with a heavy bottom. Use a thermometer and heat oil to 360 F, or drop into the oil a cube of bread. When it immediately sizzles and turns golden, the oil is hot enough.
Step 4:
Put calamari pieces into the hot oil one at a time. Do not overcrowd. Four or five pieces at a time is likely enough. Adjust heat. When the calamari turns golden brown on the bottom side, use tongs and flip each piece over. Each side will take 3-5 minutes. This can be messy and even dangerous: use long tongs, wear oven mitts to protect your hands from spitting oil when you flip the pieces over, and be very careful not to pour any water from anything else into the oil as you cook—the splashes can give you a no-joke burn. I wear an apron. Some spits are inevitable.
Step 5:
When golden brown all over, the calamari go onto a platter lined with absorbent paper towel and into a 200F oven to keep warm while the rest cook. Serve with chopped red onion, chopped cilantro and wedges of lime.

Fragrant Red Thai Coconut Curry with Chicken
I used chicken legs and thighs as they were on sale at Cooper's. I bought them bone and skin on, and poached them first in 3 cups of water plus some slices of ginger and garlic. The next day I deboned and skinned them, and cut the meat into pieces. Skinless breasts would be a lot easier, but you wouldn't then have the lovely chicken broth that comes from poaching the chicken first. A whole chicken would be good too—try the free range frozen ones at Mountain Meals or Nature's Goodness, for instance, whose flavour beats the regular chicken pieces.
Alternatively, you could make this with veggies only (try butternut squash, onions, white potatoes, yams, cauliflower and eggplant.) Vegetarians might want to replace the chicken stock with mushroom broth (soak dried mushrooms in water for 24 hours.) You could also use almost any kind of white fish, cleaned and put into the curry sauce at the very last minute—cook it for no more than 4 minutes with the fish in it. Shrimp, lobster tail and cod would be a spectacular mix. I added bean sprouts but this dish is prettier without, and easier to eat.
The Coconut Curry Sauce
2 tins light coconut milk
1 cup chicken stock
2 tbsp fish sauce
2 tbsp lime juice
1 tsp lime zest, fresh
2 jalapeno peppers, deseeded and minced
a fat thumb of ginger, minced
2 tbsp chopped cilantro leaves and stems
2 tbsp chopped lemon grass, puréed with ½ cup stock plus the cilantro the ginger above
1 tsp hot curry or chili paste (Sambal Oelek or Thai Kitchen)
2 tsp Pineapple Curry powder (Crescendo)
2 lbs. chicken pieces, or fish, shrimp or veggies
1 large baking potato, peeled and finely diced
1 large yam, peeled and diced into 1 cm pieces
2 cups snow peas, destringed
1 cup bean sprouts (optional)
1 tbsp Star Apple Balsamic vinegar
Step 1:
Purée ½ cup stock with the lime zest, jalapeno peppers, ginger, lemon grass and cilantro.
Add this purée to the coconut milk and stock, and heat.
Step 2:
Add the fish sauce, lime juice, chili paste, curry powder, and heat to boiling point, then simmer for 30 minutes.
Step 3:
Add the chicken, potato and yam. Simmer until chicken is cooked, about 30 minutes. For fish, go to Step 4 now.
Step 4:
5 minutes prior to serving:
If using fish, add the fish .
Add the snow peas.
Stir in the Star Apple Balsamic.
Garnish with chopped cilantro, and serve with lime wedges.
The broth in this curry is quite thin; if you like a thicker sauce, add 2 boiled and mashed potatoes.
Thai Fried Rice
2 cups brown Basmati rice, cooked and cooled the day before
1/3 cup safflower oil
2 large onions, finely chopped
3 cloves garlic, minced
1 tsp sugar
1 tbsp chili paste or Tabasco
2 tbsp fish sauce
1 green pepper, sliced
2 eggs
1 lb shrimp, scallops, ham, chicken or pork, or green peppers and mushrooms, cut into small pieces
1-2 tbsp tomato paste
1-2 tomatoes, chopped
2-3 scallions, chopped
cilantro for garnish
strips of garnish: green pepper, cooked green beans diagonally sliced, or matchstick zucchini strips, add colour and texture.
Step 1:
Cook and refrigerate the rice with salt and a tiny bit of sesame oil, according to directions on the package.
Step 2:
In a big wok, stir fry the onions and garlic in the oil until transparent. Add the chili paste, sugar, and fish sauce. Add the seafood, meat or peppers and stir fry another 2-4 minutes.
Step 3:
Push the above aside, and put the eggs, beaten, into the wok. Scramble eggs.
Step 4:
Add the rice and mix everything together until heated and well mixed. If you want a pink-red colour, add 1-2 tbsp tomato paste.
Step 5:
Just before serving, add the chopped tomato, scallions and cilantro. Strips of green pepper, finely sliced zucchini, or green beans, add colour but are optional.
Stir Fried Asparagus
2 bundles fresh asparagus
2 tbsp vegetable oil
2 tbsp oyster sauce
1 tbsp fish sauce
1 tsp sugar
½ tsp pepper
Clean the asparagus then slice the spears on the diagonal. Heat the oil in a frying pan and add the asparagus. Stir fry for 3-4 minutes. Add the oyster and fish sauces, the sugar and the pepper. Stir fry another minute or 2 until the asparagus is tender-crisp. Remove from heat. This can be served room temperature or even cold.
Arugula, Mint and Mandarin Salad with Coconut Shrimp and Ginger Lime Dressing
A zingy refreshing salad.
1 large pack of arugula, or 2 bunches
4 large seedless mandarin oranges
¾ cup grated carrot
1 box frozen coconut butterfly shrimp
½ cup shredded fresh mint leaves
½ cup shredded basil leaves
½ cup good olive oil
1 tsp sesame oil
2 tbsp Star Apple Balsamic vinegar
1 tsp grated ginger
1 tbsp lime juice, fresh
Step 1:
Clean and dry the arugula leaves. Arrange on a large plate. Grate the carrot and scatter on top of the arugula. Peel and slice the mandarins. Add to the salad. Scatter the minced basil and mint.
Step 2:
Cook the coconut shrimp according to directions on the box.
Step 3:
Make the dressing: shake together the oil and sesame oils, the Balsamic, the lime juice and the grated ginger.
To serve: arrange the shrimp around the edge of the salad platter; drizzle with dressing.
Mango Ice Cream
3 ripe mangoes
2 cups sugar
1 tbsp lemon or lime juice
zest of one lemon or lime
1 ½ cups cream, or for a less rich dessert, ¾ cup each of cream and yogurt
1 tbsp gelatin softened in 3 tbsp hot water.
Step 1:
Peel and stone the mangoes. Purée them in a food processor. Add the lemon juice and zest.
Step 2:
Combine the mango purée with the softened gelatin and the cream, and refrigerate for at least 6 hours.
Step 3:
In an ice cream maker, freeze according to machine instructions.
No ice cream machine?
Whip the cream until stiff before adding it to the mango purée. Pour into a shallow glass dish and freeze for 2 hours. Remove from freezer and mush with a fork. Repeat this mush process 2-3 times until desired consistency attained.