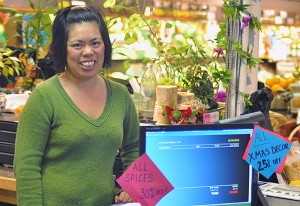 By David F. Rooney
PT Farm Market is closing its doors by the end of January, says proprietor Thu Thai.
That will make it the second business to close since November and unlike the other it is closing for good
Thai said she is closing the market, which sells organic vegetables and products, because she wants to pursue her career as a paramedic on a full-time basis. She is currently a part-time paramedic with the BC Ambulance Service unit in Sicamous. She said she will continue to live in Revelstoke.
As for the business, the building on Victoria Road is up for sale (you can find out more about that by contacting Todd Arthurs at Re/Max).
PT Farm Market is the second business to close in recent weeks. The Frontier Restaurant has also closed, but owner Matt Singh says that closure is strictly temporary.
A sign on the door of the restaurant says it's closed for renovations. It was reopened for the Community Christmas dinner on December 25 and Singh told writer Laura Stovel that stay open until January 4 before closing until the renovations are completed, most likely in February. The restaurant will probably have a new menu when it reopens.