By David F. Rooney
Greg Hill is, by turns, remarkably determined and very modest and today, with the fulfillment of his dream of skiing two million vertical feet in one year, the local ski mountaineer stands as the first person to set a world record in Revelstoke since Nels Nelsen in 1925.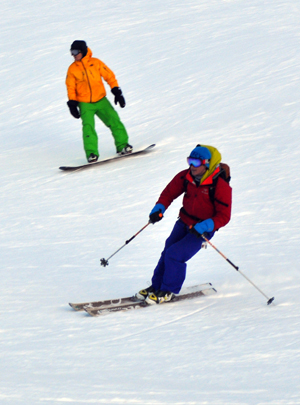 An 11-year resident of Revelstoke, Hill skied on 71 peaks to achieve his record, which he set by ascending and descending Mount Mackenzie on Friday afternoon as family, friends and supporters watched.
"I still haven't figured out why I'm doing this," he joked with the crowd, though his mother Deane Brebner said he has always been determined.
"I could sense something like this coming from the time he was a child," she told the crowd, to the delight of Hill's wife, Tracey.
In fact, Hill loves the exertion and the challenge of ski mountaineering and said "that's why I've chased the dream."
A list of Hill's accomplishments on his website (www.greghill.ca) is really quite instructive:
Won the Whistler Randonnee race 3 years in a row, 2002-3-4;
3rd place North American Championships 2003;
Set the Spearhead Traverse record of 4hr1min, and the complete Spearhead with 11 summits, 20 000ft in 13 hours.
First North American to climb and ski 40,000 ft in 24 hrs and set a World Record of 50 100 ft in 24 hours.(no longer the record);
Possibly First North American to climb and ski Mont Blanc in a day, 11 hours, 12000 ft.( anyone know different?);
Pioneered the Northern Monashee traverse, a 21-day ski traverse where he summitted 21 peaks along the way;
Pioneered many first descents throughout the Columbia mountains, Canada;
Has climbed and skied 9 of the 10 highest peaks in the Selkirk mountains;
National Geographic Adventure Magazine 14 amazing adventurers 2006
for his first Million feet climbed and skied in a season 2004-05;
Climbed 80 ten thousand foot days in 2006-7 season, 990000 ft total;
Has summitted and skied over 165 mountains;
The Unbearable Lightness of Skiing a movie, he filmed, edited and produced, made the Finals at the Banff International Film Festival and their world tour. As well as many other international festivals, even translated to Spanish for the Torello Festival.A shortened version is set to air on National Geographic Television;
He has planted over a million trees; and he
Has a signature ski The Stoke by Dynafit.
Perhaps Hill's father, Derek, said it best: "A million vertical feet was great; two million is better — thank you Revelstoke for supporting Greg and Tracey."
Here are a few photos from this event: